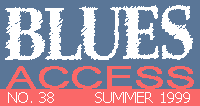 ---

All Snook up: Like many a Crescent City musician, Snooks Eaglin is revered by New Orleans-ophiles but elicits an "Oh yeah, I think I might've heard of him" from the rest of the blues/R&B public. He's also an enigmatic artist, as Karl Bremer's article starting on page 12 makes abundantly clear. Back in the late '50s, researcher Harry Oster (who made historic recordings of Robert Pete Williams when Robert was still in prison) came across Eaglin working for tips in the French Quarter. Seeing a blind man playing guitar on the street, Oster assumed Snooks was a folk-blues musician and cast him as such in his first solo recordings. Snooks went along, though at the time he had already recorded and played with Sugarboy Crawford, Allen Toussaint and other New Orleans R&B and rock'n'roll greats.
And true to his reputation for being somewhat capricious and suspicious, the present day Mr. Eaglin blew off our intrepid reporter after initially granting his interview request. Undaunted, Bremer came up with a captivating portrait of this stellar guitarist that at last reveals him to the world, inscrutable quirks and all.
On the road again: Summer's here and the time is right for … hitting the road to your favorite blues festival. Every year it seems like there are more and more of these events, and that's a good thing, both for the musicians — who have more gigs to play — and for those of us looking to get out and hear bands that don't come through town every week. And every year you'll find the absolute most complete listing anywhere right here in BLUES ACCESS. That's because we take the time to actually double-check each festival to make sure it's really taking place, as well to find out what artists you can expect to find playing when you get there — a BLUES ACCESS exclusive!
On the Web again: As many festivals as there are listed in these pages (and there are plenty), you'll find even more at our award-winning online edition, where we'll be adding stragglers and updating what we've already got throughout the summer and fall. There's even a "Festival Feedback Page" where you can write your own review of festivals you've been to and alert us to ones we might have missed. Just go to www.bluesaccess.com.
While you're there, have a good look around. You'll find highlights from our issues dating back to spring of 1996, an expanded "Where to Find 'Em" list and a Guestbook with lively commentary from occasional and regular visitors. The CD Rack gives independent musicians a place to display their wares (contact Jack Angus at (206) 767-9701 if you're interested in knowing more), and the Random Blues Links on our Hot Page let's you surf to a different blues web site with each click on the Wheel of Fortune. There's even more, but we'll let you find out for yourself.
Lookin' good: So didja notice? Yes, things do look a bit different around here, from the cover to the inside design. What's going on? Well, meet our new art director Kurt Simmerman. Young Kurt has some definite ideas about freshening things up and giving us a more modern appearance. In keeping with our managerial style — which, for lack of a better description, could be called somewhere to the left of laissez faire — we just said "Go for it." We think Kurt's approach to the cover spells out more clearly what we're all about and should help our newsstand sales. (And if you're standing at your local bookseller's right now reading this, then maybe we're right.) At any rate, we hope you like the difference — and if you don't, I'm sure we'll hear about it.
In welcoming Kurt we also say goodbye to an old friend. Conde Freeman took over the art chair for BA#20, our winter 1995 issue, which was the first one to bear a multi-color cover on heavy paper stock. This also debuted a major re-design from the all-newsprint editions that had preceded it. Two issues later we had gone to the full-color cover with glossy interior you've seen in every one since.
Conde spent many an hour in her cave-like basement office, a cat often perched on top of her monitor, working to make everything fit and look just so. But after nearly five years of our deadlines, on top her other graphic design work, she decided it was time to decompress and get more of her life back (something I personally have yet to figure out how to do). Her efforts have gone a long way toward making BLUES ACCESS the quality publication that it is today, and given us something to build on for the future. Thanks, Conde.
And the winner is … Our big sweepstakes generated a whole lot of interest — both from our print and online editions — from people who were absolutely certain that owning a B.B. King "Lucille" Epiphone guitar would allow them to play just like the Master. Alas, only one of them will know for sure. And that one is Scott Cantor of Boulder, Montana, which last time we looked was about halfway between Butte and Helena with a population of 1,750 souls. We're sure Scott will soon be serenading the caribou with his new axe.
Congratulations, too, to the 15 second prize and 20 third prize winners who'll be receiving the Mojo Workin' Blues five-CD set from Legacy Records and/or the On the Road with B.B. King: An Interactive Autobiography CD-ROM.
Speaking of winners, we owe a tip of the Rooster's topknot to photographer David Horwitz who was honored with the Keeping the Blues Alive in Photography award at this year's W.C. Handy Awards dinner in Memphis. The KBA awards (you can find the complete listing on page 117) are chosen by a committee drawn from the blues industry. David's work has appeared in numerous issues of BLUES ACCESS (including this one) and on the covers of BA#25 (Luther Allison) and BA#30 (Jessie Mae Hemphill), as well as his photo feature "Oh Dem Blues Women" in that same issue and "Luther Allison's Last Session" in our last offering. Good on ya, "LPF."
— CW
---
This page and all contents are &copy 1999 by Blues Access, Boulder, CO, USA.