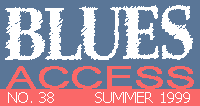 ---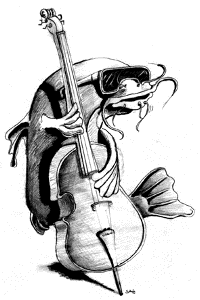 Feelin' His Greens
Corey Harris has developed a solid reputation among the current wave of acoustic blues musicians keeping the flame of traditional blues burning, oft mentioned in the same breath with Guy Davis, Keb' Mo', Alvin Youngblood Hart and Chris Thomas King.
His 1995 debut, Between Night and Day, was a mighty start, a set of traditional songs in a variety of acoustic Delta styles performed by a young man with a genuine mojo for country blues and an inordinate feel for the textures of resonating steel guitars and the use of the slide on said instruments. Vocally Harris sounded decades older than he was on convincing versions of Charlie Patton's "Pony Blues," Mississippi Fred McDowell's "61 Highway" and Muddy's "She Moves Me." Fish Ain't Bitin', in 1997, was a welcome addition, adding a New Orleans horn band for several tracks and carving some more notches on his roots chops.
Now, given his own head — he's listed as producer and arranger, and he wrote most of the material — Harris takes a giant, deliberate step forward with Greens From the Garden (Alligator), a quasi-concept album intended at least partly to separate him from the pack of aforementioned "new traditionalists." By interspersing the songs with culinary commentary he recorded from friends and other connoisseurs on a favorite Southern staple, he breaks up the linearity of the song list (similar to what Mem Shannon did several years back on his Cab Driver's Blues).
This loosens things up and gives the album more immediacy and the music room to grow; two of the tracks were recorded live, but all of them sound like they were. And he is making the not-so-subtle suggestion that, as there are many ways to prepare turnips, collard and mustard greens, there are equally different ways to play blues.
That's not a particularly profound notion unless you have the goods to back it up, and Harris more than qualifies. He turns "Just a Closer Walk With Thee" into a rock-steady Rasta hymn. "Honeysuckle" and "Congo Square Rag," both anchored by Henry Butler's piano and a variety of wonderful percussive elements, are among several songs steeped in the ambience of Harris' adopted New Orleans home; "NOLA Rag," in fact, is a running commentary on the Crescent City's many colorful denizens. His own seductive "Sweet Black Angel" and unplugged "Diddy Wah Diddy" would probably fit tidily on Fish Ain't Bitin' or Between Midnight and Day.
But the real legacy of Greens From the Garden are some of Harris' new songs that probably wouldn't fit on his earlier albums and that indicate he's coming across new ways to cook those collards. All feature a small combo, with bass, drums and lots of percussion. None would sound entirely out of place on any AAA radio station that programs Keb' Mo' and Susan Tedeschi.
"Basehead" isn't much different in structure from anything Harris has ever done — listen to his stinging electric lap steel dance all over and around the lyrics — but the small drum kit and percussion help kick it into another dimension. It sounds like country blues at the crossroads, but the lyrics tell an urban folk tale that equates "slavery" and cocaine. "Seen the devil last night, walk like a natural man," Harris moans. "Had a pipe in his mouth, a rock in his hand."
"Wild West," another story of inner-city chaos, uses the sound of a jagged electric guitar to lurch and stumble like blown synapses inside a crack addict's head. "Lynch Blues," with its sinister images and nod to "Strange Fruit," turns Delta blues inside out.
Greens From the Garden has elicited some interest in rock circles via his connection with last year's Mermaid Avenue album, a project in which British folk/rocker Billy Bragg and the American group Wilco wrote music for some Woody Guthrie lyrics the revered folk singer had never got around to turning into full songs. Harris played guitar and sang on the album.
An outtake from those sessions, "Teabag Blues," a Guthrie lyric set to music by Harris and Bragg, seems to be getting the most attention. It isn't among Greens' strongest numbers — it's listed only as a bonus track on the disc — but if that's what it takes to get Harris' music to AAA radio, so be it.
The irony, however, is that if music directors would only shake their fear of deviating from the all-too-familiar (or slavishly following the Gavin Report) and look beyond just the Bragg/Wilco connection, they would find "Basehead" or "Wild West" or "Lynch Blues" much closer to their programming sense.
Alas, that's not likely to happen. Meanwhile, let's hope Alligator Records continues to support Harris' musical endeavors. He's certainly shown that there's a lot on his plate worth chewing on.
— Leland Rucker
---
This page and all contents are &copy 1999 by Blues Access, Boulder, CO, USA.