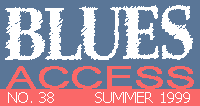 ---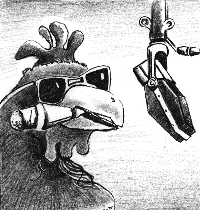 The Songbird Always Eats
In over 20 years of doing somewhat esoteric radio Iíve often been asked, "How do you come up with this stuff?" And Iíll answer that ó given that Iíve listened to and have access to a lot of great music ó itís whatever moves me at the moment. But what exactly is it that does the moving? Well, I bethink to meself, paraphrasing a line from Robert Downeyís crazed í60s movie Putney Swope, "Rooster music has got to have soul." Now, defining soul, well thatís a toughie.
In an essay on "Blues & Groove in Jazz" in the All Music Guide to the Blues (Miller Freeman Books, $22.95), Michael Erlewine discusses "the groove" and how some musicians are so deep in it we canít immediately comprehend all theyíre doing. On appreciating Bob Dylanís sometimes off-putting nasalities, he says, "The problem is that he is singing so far in the future that we canít yet hear the music."
Then, warming to the subject like a good jazz musician, he riffs on one of the great vocal talents of our age:
Billie Holiday is another voice that is filled with microtones that emerge through time like an ever-blooming flower. You (or I) canít hear the end or root of her singing, not yet anyway. As we try to listen to Holiday (as we try to grasp that voice), we are knocked out by the deep information there. We try to absorb it, and before we can get a handle on her voice Ö she entrances us in a delightful dream-like groove and we are lost to criticism. Instead we groove on and reflect about this other dream that we have called life. All great musicians do this to us.
Yowzer, that one really flattened me. In a few rhapsodic sentences Erlewine has perhaps gotten to the heart of manifesting soul in the musical plane. Itís the kind of thing that makes a music writerís head go all wiggy.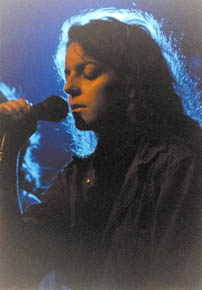 I donít know that Toni Price ever had to entertain such thoughts. The Austin-based singer brings that same quality to the table every time she steps up to a microphone. Largely unschooled in the theoretical side of music, she doesnít try to analyze the intricacies of what she does. She doesnít even write songs, but she knows a good one when she hears it. And, brother, when she sings one Ö step back. Or maybe fall in. Deep.
"I feel the greatest compliment to me is when people classify me as a blues singer," she told us in a recent phone conversation. "In my heart Iím singing the blues. Iím singing to that heart of hearts in each person."
Why would anyone doubt it? Well, Price, who has just released her fourth ó and maybe her bluesiest ó CD on the Antoneís label, Low Down and Up, doesnít always approach the blues from the normally prescribed angles.
Born in Philadelphia, 38-year-old Toni (nee Luiese) Price moved with her family to Nashville when she was five. Growing up listening to the radio in Tennessee, she was raised on the Beatles Ö and country music. She also heard Ray Charles and Aretha, but it was Bonnie Raitt who turned her on to the blues.
After years of singing solo and with bands, she felt stifled by Nashville and its emphasis on money and making it: the soul-lessness of a place where the art of the deal supersedes art. In 1989 Lou Ann Bartonís former manager, Cameron Randle, got her into a showcase at the South By Southwest conference and turned her on to Austin. Within a few months she had moved there for good.
"When I came to Austin," she told writer Stanley Booth, "I was like, Oh my God, there are people like me in the world, that want to have fun, want to dance, and hear live music, and respect the musicians for what theyíre giviní íem Ö Itís another world."
It didnít take long for her to find an audience in that world, a tenacious one at that. Her regular weekly gig at the Continental Club (capacity 200) soon became more of a happening than a mere show. Except for a few months off for the birth of her second daughter, Della, and the night a tornado roared through, Price has spent every Tuesday night of the last seven years right there. Her following is so devout that it prompted an article in the Austin American Statesman on the "Cult of Toni Price."
The rest of the world got a flickering chance to find out about Austinís little secret when two of her songs ó a boozy anthem called "Twelve Bar Blues" and the Bill Carter-penned powerhouse "Richest One" ó made it onto the Antoneís Women (Antoneís) anthology, alongside such established female artists as Marcia Ball, Angela Strehli, Lou Ann Barton and Lavelle White. Her debut album, Swim Away, was scheduled to follow shortly thereafter but was delayed for a year when Antoneís nearly went under before being pulled out of the fire by an alliance with a larger company.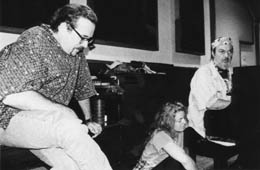 For her loyal fans and those simply intrigued by the two tracks on the anthology, the wait was worth it. Swim Away was a knockout debut, with nary a bad cut to be found. The liner notes to Antoneís Women had propounded that "If Patsy Cline and Junior Parker had conspired to produce a daughter, she might have sounded very much like Toni Price." The new release showed that suggestion to be more truth than record publicist puffery.
The disc opened with Price wailing over a hard-driving band (Derek OíBrien, Tommy Shannon and Doyle Bramhalls I and II) with one hook of a Gwil Owen lyric: "Iíve forgotten why Iím living/Shouldíve tied a string around my finger." With a dozen other great songs ó a cuppa country, a bowlful of blues, a ration of rock ó it all came out as one mighty tasty Texas soul stew.
The follow-up, Hey, is more of a country-rocker with the blues underneath but audible in those microtones. In Priceís mind, itís still all blues.
"Hank Williams in my mind was a blues singer. He was singing the blues. I donít think itís just a chord progression or whatever. To me, Iím singing the blues all the time."
1997ís Sol Power, a live recording with just fiddle and guitars by Toniís Tuesday night compadres Champ Hood, Scrappy Jud Newcomb and Casper Rawls, is in an acoustic-soul, folk-funk bag.
Before returning to the studio, Price used her ears as a tool to further her growth. "Last year Etta Jamesí Mystery Lady: Songs of Billie Holiday really turned me on. So much attention was paid to every nuance of the singing." Booth hipped her to Mildred Bailey, a jazz singer from the í30s, and she began paying more attention to Ella Fitzgerald and Charles Brown.
"I felt I grew a little bit in what I knew about singing. That crooning style. I guess Iím just learning more about using your power ó you donít have to always be shouting. Everything Iíve done before has been just instinct."
The lessons seem to have sunk in. On Low Down and Up Price often uses a cooler style than she showed in her earlier work. The passion and sexuality are held at a low simmer until sheís ready to let them bubble forth in controlled bursts.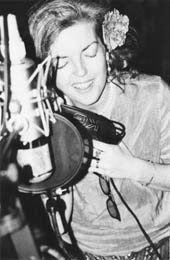 But where a singer like Holiday could, and often did, turn the fluffiest piece of Tin Pan Alley treacle into an edgy walk on the blue side, Price has been able to draw on the significant gifts of songwriters like Bill Carter, Herb McCullough, Butch Hancock and, especially, old Nashville crony Gwil Owen, who contributed a stunning 22 songs to her first three CDs. Even with such bounty, sheíll occasionally alter lyrics and add her own touches. "The songwriter designs the dress and I pick the right necklace for it."
All the song choices ó and their sequencing on disc ó are hers alone. "I have the final say on everything. (Co-producer) Derek OíBrien and I consult, but he understands that I have strong feelings. Every one of the records is what I wanted to say. Iím soft hearted and hard headed."
For the latest waxing, she has gone a bit farther afield. Owen still chips in with a few numbers, but the writing of several other Texas pals is included, along with Charles Brown and Mac "Dr. John" Rebennack. "I heard ĎRemember Meí on a Roland Stone album. Derek sent Mac the demo we did of the tune and he agreed to come record it with us at Willie Nelsonís place. He was so magical ó but he was real."
Thereís also a nod to Lady Day on "Comes Love" ó a simple lounge tune that seemingly only she could give substance to. Priceís interpretation is almost shy at first but she soon fills it with her own sultry earthiness, lots of that "deep information." Itís one of the discís highlights.
Someday the world outside of Austin will be treated to Ms. Priceís presence, the part that doesnít fit onto a compact disc. But for now, she wonít tour while she raises her daughter as a single mom, leaving Austin only for a rare festival date. And of course, she wouldnít want to miss those Tuesday nights. But in Nashville, and a lot of other places, theyíd call that a bad career move.
In her hard headed way, at this stage sheís content to "just sing, to make great records and make a living as much as I can and be happy. Weíre all poor but we donít do nothiní we donít want to do.
"Iím an interpreter. Iím supposed to bring songs to people. Old and new songs. And thatís a folk tradition. Itís like that old Rogers and Hart song ó ĎSongbirds Always Eat.í"
---
Blues from the Red Rooster Lounge originates on Boulder's KBCO 97.3 FM (where it can be heard Sundays at 9 p.m.) and airs weekly on 15 radio stations around the U.S.. Check with your local station for availability. (Station program directors can receive a sample copy of the program by calling the Longhorn Radio Network at 1-800-457-6576.) The Rooster also consults for the MusicChoice digital cable radio service, a 24-hour commercial-free, all-blues channel available from hundreds of cable providers nationwide.
---
This page and all contents are &copy 1999 by Blues Access, Boulder, CO, USA.