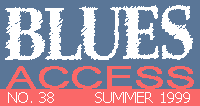 Snooks Eaglin: On the Trail of the Most Elusive Guitar Player in New Orleans
by Karl Bremer





---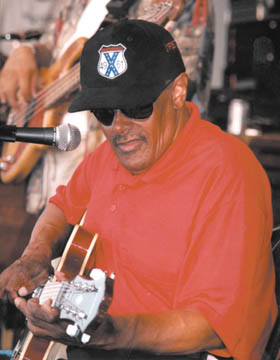 It's after midnight the Monday following the first weekend of the New Orleans Jazz & Heritage Festival. People are still streaming up the stairs to Mid-City Lanes Rock'n'Bowl, an appropriately tacky second-floor bowling alley-cum-nightclub located above a strip mall in the city's midtown district.
Tenpins clatter in the background as sun-soaked Jazz Festers unwind with some late-night frames and more than a few bottles of Abita. Over the house intercom someone announces a cheeseburger order. The dance floor that runs the length of the bowling alley is comfortably filled with a mix of out-of-towners, locals and a number of musicians enjoying a night off-stage. Some are dancing, some mingling and talking, but a large number of them are simply staring at the stage grinning in amazement.
Above the din is a guitar sound so pure and crisp the notes sizzle as they fly off the strings. If you didn't know better, you'd think there were two guitars playing. A Professor Longhair-like piano trill calls out in the background and a high-pitched voice cackles, "Play it, Cleary!"
Perched on a chair in the middle of the stage is Snooks Eaglin, compact and slightly stoop-shouldered with a stocky, almost muscular upper torso, his slender legs and knobby knees sticking out of a pair of shorts. The blind 63-year-old guitar virtuoso cocks his right arm back, floats his claw-like fingers across the strings of his red Epiphone hollow body guitar like a butterfly and stings them like a bee. You almost expect to see sparks fly off the tips of his sculpted fingers.
"Y'all hear that?" he shouts, flashing an impish grin framed by a thin black mustache and a stubble goatee.
Eaglin is plainly enjoying himself and pushes guest pianist Jon Cleary to turn up the heat. Cleary obliges with a romp through Professor Longhair's "Tipitina." Snooks was Fess' favorite guitar player, and the pairing with Cleary, a Longhair disciple, goes together like a knife and fork.
Delightful to listen to and a marvel to watch, Snooks confounds even the best players with his inimitable finger-picking style. Radiators lead guitarist Camile Baudoin is on the dance floor, giddy with laughter. "When Snooks plays, that's all I can do is laugh it, makes me feel so good," Baudoin chortles. "Nobody plays like Snooks Eaglin. Nobody."
They Broke the Mold
Snooks was born Fird Eaglin Jr. (often seen on credits and liner notes as "Ferd" or even "Ford") January 21, 1936, in New Orleans. At 19 months he lost his sight following an operation for glaucoma and a brain tumor that required a two-and-a-half year stay in the hospital.
Eaglin's father, a harmonica player, gave him a guitar at the age of five, and young Snooks taught himself to play by replicating songs off the radio and phonograph. Fird Sr. had an acetate recording machine, and the two would often jam together to make home recordings in the evenings. As much as his blindness may have made his life difficult in other ways, the younger Eaglin used it to his advantage to invent an original playing style that no one yet has deciphered and compile an ear-popping repertoire that today tops 2,500 songs.
A little troublemaker himself, Fird Jr. was given the nickname "Snooks" after a mischievous radio character named Baby Snooks. (That mischievous streak still shows up in his occasionally bawdy, mid-song stage banter.) His guitar playing developed rapidly and he was singing and playing in area Baptist churches by the time he was ten. At the age of 11, Snooks won first place and $200 in a local WNOE radio talent contest with his guitar rendition of "Twelfth Street Rag," and that encouraged him to practice even harder. Three years later he dropped out of the school for the blind to become a full-time musician.
Eaglin's first regular gig was with the Flamingoes in 1952, a seven-piece horn combo started by 13-year-old Allen Toussaint on piano. It was Toussaint's first band, too, and he also served as musical director. Along with rival Art Neville's band, the Hawketts, the Flamingoes were one of New Orleans' most popular R&B groups, playing school dances and social and pleasure club events.
One story Eaglin tells has him driving the band's 1949 Studebaker back to New Orleans from a gin-soaked gig in Donaldsonville late one night. With the rest of the band members too hammered to get behind the wheel, Snooks told Offbeat magazine in a 1995 interview, one of them asked him, "'Hey, Snooks, you wanna drive this sucker home, baby?' I said, 'Y'all suckers better just sleep — I'm gonna bring ya home.'"
But before they hit the road they had another problem to resolve. "The car didn't have no water in it. I said, 'I'll give you all the water you need, baby!'" After the band members relieved themselves into the car's radiator, down the road they went with Eaglin at the wheel. "I damned near liked to burn myself," said Eaglin. The gravel on the side of the road alerted him to the need to steer the car back to the center, Snooks claimed, and miraculously, the band arrived safely home early on Sunday morning.
"That's a true story, baby," Eaglin insists.
Even while playing with the Flamingoes, Snooks was making a name for himself and picking up side gigs. By 1953 he was recording with Sugar Boy Crawford in his backing band, the Cane Cutters, and played on Crawford's biggest record, the Mardi Gras classic, "Jock-a-Mo."
The Flamingoes were managed in part by Snooks' father. After he died and Toussaint left the band, the Flamingoes disbanded. Snooks had a small R&B combo of his own and worked a variety of musical jobs as a sideman in the '50s, sometimes billing himself as "Little Ray Charles."
If club or studio work was sparse, Eaglin often would play on the street for tourists in the French Quarter. That's where Dr. Harry Oster, a folklorist from Louisiana State University in Baton Rouge, found the 22-year-old Eaglin in 1958. Oster recorded more than three albums worth of mostly country blues material by Snooks in 1958 and 1960–'61, accompanied on several numbers by Lucius Bridges on washboard or guitar and Percy Randolph on harmonica and washboard.
According to one account, Eaglin was supposed to record another session with Oster, accompanying the popular pre-war husband-and-wife blues duo Billie and Dee Dee Pierce, but Snooks never showed for the session.
The Oster recordings, released on the Folkways, Folklyric and Prestige labels, drew some attention to this new discovery. But the attempt to pigeonhole Eaglin as a country blues street musician was too confining for a young man who already had built an impressive and wide-ranging repertoire that stretched from traditional to pre-war blues, standards and spirituals to the R&B hits of the late '40s and '50s.
Snooks' life changed in 1959, when he met his wife and constant companion of 38 years, Dorthea, or "Dee." She was waiting outside a New Orleans hall for a gig to begin when Snooks and the band's drummer pulled up. She asked if she could wait in the car until the doors opened, and after talking with the musicians for a spell in the car, assisted Snooks into the hall. He came over to her table at the set break; the rest is history. Two years later they were married, and they've been virtually inseparable ever since.
Meanwhile, Eaglin's musical career was taking another turn.
New Orleans bandleader/songwriter/trumpeter Dave Bartholomew, who had produced a string of hits at the locally-based Imperial label for more than a decade, signed Snooks in 1960 and produced seven sessions with him through 1963.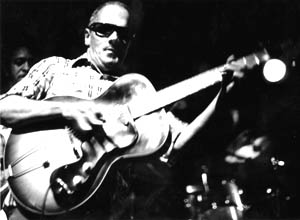 Sidemen on those sessions included New Orleans Piano Prince James Booker and a host of other Crescent City regulars who had worked with Bartholomew at Imperial. The material was perfectly suited for Eaglin, who had grown up with and now played much of the music written or produced by Bartholomew and recorded by his impressive stable of artists: Fats Domino, Smiley Lewis, Earl King, Lloyd Price, the Spiders, Roy Brown, Chris Kenner and others.
The sessions resulted in nine singles that brought Snooks regional acclaim but never vaulted him onto the national R&B scene in a big way. The Imperial era did put some distance between Snooks and his reputation as a country blues singer, which he reportedly disdained.
There was a definite attempt to bring a more soulful, Ray Charles feel to some of his Imperial recordings. Snooks' voice was maturing, and the inclusion of Booker and horns to some of the sessions brought a fuller, richer dimension to the more sparse context in which Snooks had recorded before. Many of the Imperial sides remain in the rotation of Snooks' vast repertoire today. But other than some stellar session work, they would be the last Snooks Eaglin records to be made until 1987.
Eaglin continued to work the New Orleans club circuit sporadically throughout the '60s, including a three-year stand at the Playboy Club. He and Dee, who had become Snooks' de facto manager, moved to Donaldsonville, about midway between New Orleans and Baton Rouge, and then to St. Rose just west of New Orleans in 1970 and went into semi-retirement.
Snooks, Fess and the Indians
In 1971, the planets lined up with the sun and the moon, and an historic event took place at the fledgling New Orleans Jazz & Heritage Fest. After a long search with Allison (Miner) Kaslow, festival producer Quint Davis located lost legend Henry Roeland Byrd, better known as Professor Longhair, or Fess, living in obscurity in New Orleans. Davis teamed him up with Snooks for a performance that stunned the Jazz Fest crowd and propelled Byrd's star as a "rediscovered" piano patriarch of New Orleans.
Shortly thereafter, Eaglin recorded an album for the Swedish Sonet label in June 1971, The Legacy of the Blues, Part 2, that was produced by Davis. Later that year Davis and Parker Dinkins arranged for a Baton Rouge recording session with Fess, Eaglin, drummer Shiba (Edwin Kimbraugh) and Will Harvey Jr. on bass, where 34 demo tracks were cut. The demos caught the ear of Atlantic Records' Jerry Wexler and Albert Grossman, who was then managing the Band, and they brought them to Bearsville Studios in Woodstock, NY, for some more sessions.
Eaglin wasn't particularly comfortable in Woodstock and complained, according to one widely circulated story, that the sound of falling snow on the rooftop kept him awake at night.
For whatever reasons, the Woodstock sessions never worked out for Wexler and Grossman. Davis took the group to New York for another session with Earl Turbinton on sax and George Davis on bass, and another in Memphis in 1972 with Joseph "Zigaboo" Modeliste on drums. But the tapes from all those sessions, including the Baton Rouge demos, languished at Bearsville for years until they were unearthed and released in 1987 on Rounder Records as Professor Longhair's House Party New Orleans Style: The Lost Sessions 1971–72. The disc remains one of the definitive Longhair collections available today, with Eaglin's searing guitar, sublime phrasing and intricate fills providing the perfect foil for Fess' rollicking syncopated piano.
Quint Davis launched another landmark project that involved Eaglin in 1973 when he approached New Orleans keyboardist Wilson Turbinton, a k a Willie Tee, about assembling a band to back a recording by the Wild Magnolias Mardi Gras Indian group.
Turbinton recruited his brother Earl on sax and clarinet, Eaglin on guitar, Julius Farmer on bass, Larry Panna on drums and Alfred "Uganda" Roberts on congas and called it the New Orleans Project. The band provided the fuel for a fiery blend of New Orleans funk, driving Indian percussion, the raspy-sweet vocals of Big Chief "Bo" Dollis and the steady rhythms of Big Chief Monk Boudreaux.
The New Orleans Project went up to Studio in the Country in Bogalusa, Louisiana, recording the music tracks before the Indians arrived. Turbinton wrote some songs based on old Indian chants and threw in a mix of his and the Magnolias' own arrangements of some New Orleans traditionals. Out of the session came The Wild Magnolias, originally released on Polydor in 1974 and re-released in 1993. "It was the rhythm of seduction," producer Philippe Rault recalls in the liner notes, "with plenty of Mad Dog 20/20 to go around."
The record was the first broad commercial exposure of New Orleans' unique Mardi Gras Indian culture to the rest of the world, and probably for Snooks Eaglin's playing as well. His churning guitar licks slash and burn behind Willie Tee's funked-up keyboards and brother Earl's wailing sax to forge a deadly groove with the Wild Magnolias. This is probably Snooks' wildest workout ever recorded, even utilizing a considerable — and uncharacteristic — amount of wah-wah and other distortion.
Erving Charles replaced Snooks on guitar for the Wild Magnolias' brief tours to the East Coast and Europe following the release of the album. Eaglin returned to play on one track of the Wild Magnolias' follow-up, They Call Us Wild, in 1975, and their 1990 Rounder release, I'm Back … at Carnival Time!.
The Black Top Renaissance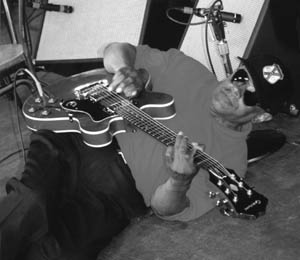 Eaglin continued to play at the annual JazzFest and around the clubs of New Orleans sporadically throughout the '70s. But his recording career remained inactive and public profile low until the mid-'80s, when Black Top Records' Hammond Scott finally convinced Snooks to return to the studio.
Baby, You Can Get Your Gun was the first in a string of terrific Black Top outings that numbers six to date, including a pairing last year with Crescent City pianist Henry Butler. Released in 1987, it sparkles with Snooks' hand-polished treatment of such gems as Tommy Ridgley and Dave Bartholomew's mournfully sweet "Lavinia," a nod to the Ventures on "Profidia," the finger-popping Earl King-penned title song, and Eaglin's own 20-megaton funk theme, "Drop the Bomb."
Snooks' return to recording brought with it a new vitality in his singing and playing; it was obvious he hadn't been just sitting around all those years. Surrounded by a gang of hellfire musicians from the Black Top roster, Snooks Eaglin emerged in the late '80s to a whole new audience of fans who had never had the opportunity to see him perform live, nor heard any new material from this living legend.
Most musicians mellow a bit as they get older. But Snooks Eaglin isn't like most musicians, and if anything, he's gotten funkier in his later years. His playing still is sharp as saw grass, and he gets more crisp tones out of a straight guitar and amp than the average player gets from a bank of effects pedals.
His voice has gotten better with age, richer and more expressive. His range sounds greater than ever — including his absurd falsetto "Lillie Mae" alter ego that comes out in the middle of his live shows. He has an uncanny ability to adapt his voice to capture the very essence of every song he sings, yet still leave his own signature on it.
A romantic crooner one minute, a blues shouter the next; mournful and joyful in the same mouthful. That's Snooks Eaglin.
"He's one of the most naturally talented people I've ever met," says keyboardist/producer Ron Levy, who played with Snooks on Baby You Can Get Your Gun, the stellar 1989 follow-up Out of Nowhere, and also I'm Back … at Carnival Time! "He can play any song just off the top of his head. If he can think about it and hear it in his head, he can play it perfectly," Levy enthuses. "He didn't have to learn it — he'd just do it. I never heard him play a bad note. And even if he played something that was wrong, he'd make it right.
"He'll just all of a sudden start playing some Hendrix stuff — perfectly, with the same exact tone. What Hendrix overdubbed himself two or three times, Snooks does it all at once. He never ceases to amaze you."
Playing live with Snooks is something else, says Levy. "Most people tell you the key, the name of the song, or they'll count the song off. He'll just say, 'Ready, go!' But he never loses you, as crazy as that sounds. You always know what he's gonna do. His concept is so direct and pure you can't help it."
New Orleans bassist George Porter Jr., a regular partner of Snooks' on stage and in the studio for the past decade, agrees.
"It's ears-up playing with Snooks," laughs Porter. "'If you follow me, you can't go wrong,' he'll tell you. You have to have a certain knowledge of intervals to know what he's playing." Playing out of Snooks' songbook is fun, Porter says, "because a great part of what he's playing was a part of my growing up, so a lot of those songs I knew. But there are some songs that he'd pull out sometimes that would throw me for a loop."
In the beginning, Porter remembers, "I used to always try to sit in front to look at his hands. But then I noticed that sometimes his guitar was strung up wrong — his hands are in the right place on the frets but the string is in the wrong tuning place. I just decided to stop looking at his hands. He has a formula that works only for him."
Many guitarists, professional and amateur alike, do look at Snooks' hands, studying them intensely as he flails the strings at lightning speed. Most often, they end up simply shaking their heads as they walk away. On the genealogical tree of guitar styles, there will always be a separate branch for Snooks Eaglin.
Levy warmly recalls his days with Black Top. "We used to hang out a lot in New Orleans — Hammond Scott, myself, a bunch of other people — and Snooks would be there, and he'd just play by himself. And he'd play the melody, the bass, the chords, it seemed like all at the same time.
"One of these times we were just partying and Snooks was sitting in the corner playing, and he sounded great. But after awhile I noticed that he was missing a couple strings on his guitar but it didn't seem to make any difference. He still sounded great."
Radiators bassist Reggie Scanlan says playing with Snooks "is kind of like the guitar version of playing with Fess." He remembers the first time he was called to fill in behind Eaglin at the last minute. "It was me and Snooks and Smokey Johnson on drums." And even though he knew many of the songs Snooks played, there were a few surprises.
"It was like being hit by a big storm and being taken along for the ride," says Scanlan, himself a Professor Longhair alumnus. "There were a couple of things that night that I didn't even play on they were so obscure. Part of the fun is not knowing what he's going to do — the thrill is in hanging on."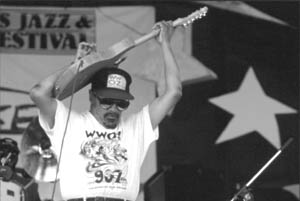 Brit-turned-Crescent City keyboardist Jon Cleary has played with Snooks on and off over the past 10 years or so and says it's no mean feat keeping up with Eaglin by watching him play. "It's hard to tell what chords he's playing because of his fingers. They're like talons, they're so long. And he doesn't use a pick."
Cleary, who keeps busy playing in Bonnie Raitt's band and with his own band, the Absolute Monster Gentlemen, was delighted to work with Snooks again in April. "The challenge is to support him without getting in his way," he says. "I grew up playing here in town with Walter Washington. I'm a guitar player myself, and I know what I want to hear from a piano." That means playing "sympathetically" behind Snooks. "It allows him to do what he does and play all the busy stuff."
A light fan of the strings here, a staccato burst of notes there. A finger-picked melody amplified by a machine-gun power chord. A flamenco flourish followed by some classic R&B phrasings. It always seems to work for Snooks.
Has anyone figured out Snooks Eaglin's guitar style? "If they have," says Porter, "they ain't talking about it."
The Enigma
It's just as unlikely that anyone will figure out Snooks the Person any time soon, either.
Long known for his quirky, suspicious ways, Eaglin avoided recording contracts from the time he left Imperial in 1963 until he signed with Black Top in 1987. He rarely agrees to interviews, much to the dismay of his label. And when he does, he sometimes backs out of them, as he did for this article.
"He's an interesting character outside the fact that he's an excellent musician," says Porter. "He's not a very trusting person. I guess having the disadvantage of not being able to see, it's like, things that go wrong around him are multiplied because someone else has to deal with them."
Porter says Eaglin was reluctant to do his last album, Live in Japan. "He's not felt very good about live recordings — and with merit. But the people came to me and asked me to convince Snooks that they would do a good job. And it took a great deal of convincing for me to get Snooks to do it."
Produced by Eaglin himself, the effort is a terrific representation of Snooks live, even though it lacks the intimacy of seeing him up close in a small New Orleans nightclub.
His religion reportedly keeps him from playing dusk on Friday until dusk on Saturday. Explains Levy: "He's a Seventh Day Adventist. He keeps an Old Testament Sabbath — Friday night to Saturday night. I admire him for that. He sticks to his convictions."
So well, in fact, that on tour with Snooks, Levy said, "When it was Friday night, me and the rest of the fellows would go out and play with someone else, and he and his wife, Dee, would honor their Sabbath."
Porter says Snooks also honored "any and all religious holidays. That meant a lot of days in the year Snooks wasn't working."
Eaglin got sick in the fall of 1993 and reportedly decided he wouldn't leave his house until the following summer. Word on his condition was mum for months, until he finally surfaced in the spring and announced he was ready to play, just in time for the 1994 Jazz & Heritage Fest. A collective sigh of relief could be heard from worried fans everywhere.
Eaglin's personnel decisions sometimes are equally mysterious.
Long-time associate Porter says Snooks told him in April that his JazzFest appearance backing Snooks would be his last. And at that time, Porter still was clueless as to why. "I'm puzzled," he says, although he has heard some rumors through the grapevine. And sure enough, the night after his JazzFest set, George Porter was nowhere to be seen on Snooks' stage.
Cleary played with Snooks regularly in the late '80s and early '90s and got a call out of the blue for his post-JazzFest gig with him. "This was the first time in ages," says Cleary. "My agent got a call from the club owner (John Blancher at Rock'n'Bowl). Snooks had been in there and heard some of my stuff on the radio and decided on the spur of the moment that he wanted me to play with him for that gig."
The Human Jukebox
Eaglin's amazing repertoire and tape-recorder-like ability to play back virtually anything he hears has earned him another nickname over the years: the Human Jukebox.
It's de rigueur for his set lists to be called out from the dance floor. Don't like what Snooks is playing at the moment? Stick around and request your own favorite.
"What do Y'all wanna hear next?" Snooks shouts out from his perch on the bandstand.
"Get your 'Red Beans' cookin', Snooks!" the call comes back.
"'Red Beans?' Alright! Ready, Jon? Hit it!"
Snooks flies into a finger-picking frenzy as the dance floor boils like a crawfish pot. People are bouncing hip-to-hip, sloshing cold beer on each other and loving every minute of it, while club owner Blancher twists the night away on the side of the stage.
It's just like the T-shirt says: "There's nothin' more New Orleans than Snooks at the Rock'n'Bowl, Y'all!" And as long as this "Human Jukebox" wants to keep playing, I'll keep plugging in the quarters to hear him.
---
This is only one article from our current issue. For the complete magazine,
get the hard-copy version of BLUES ACCESS.
---

&copy 1999 Blues Access