Rhythm and blues has evolved from the gritty soul vocals and raw rhythms of the early í60s and í70s to the current computer-generated sound of pounding beats and mundane lyrics ó far from the art and sound of the soul genreís distant past
But Barbara Lynn still has the soul that contemporary rhythm and blues has lost. Her latest CD, Hot Night Tonight, isnít just a return to recording: It could possibly introduce a new generation to the old soul of R&B.
At 58, time has been kind ó both vocally and physically ó to Ms. Lynn, who first sprouted her soulful wings and flew into the pop charts in the early 1960s. Her mature beauty can be seen on the cover of her new release as the singer poses in a booth in a dimly-lit nightclub with her guitar on the seat across from her.
"Oh yes, that picture really makes me look like Iím ready for a hot night," Lynn chuckled out loud. "I hope this will be my comeback recording. I am excited, and I want listeners to hear that my voice is still strong. I just feel like itís been so long for me to be without a hit song."
Barbara Lynn, a left-handed guitarist and singer, was born to a Creole family in Beaumont, Texas. She studied piano through her childhood, but the moment she heard Elvis Presley, she switched to guitar ó becoming one of the first female practitioners of the instrument in rock or blues.
Barbara started a band in high school, Bobbie Lynn & the Idols, and met legendary regional producer Huey P. Meaux upon graduating to the rough-and-tumble world of Beaumontís juke joints. Meaux took her to Cosimo Matassaís legendary New Orleans studio where she recorded, among many other sides, her hit "Youíll Lose a Good Thing," and in no time she was being hailed as the Empress of Gulf Coast Soul.
Several years before Aretha Franklin demanded "Respect," Lynn was bold and brash with a song she penned from a poem she wrote to her boyfriend, telling him: "If you lose me, oh yes, Youíll Lose a Good Thing." Her song was so soulful that even the Queen of Soul recorded the tune while Aretha was with Columbia Records.
As "Youíll Lose a Good Thing" topped the charts, Ms. Lynn made a pair of appearances on American Bandstand and toured with soul artists Jackie Wilson, James Brown, Chuck Jackson, Al Green and Sam Cooke while she was still a teenager. The Rolling Stones recorded her song "Oh Baby (We Got a Good Thing Goiní)" in 1964 ó all before she was old enough to rent a car
But faulty management, marriage and a move to California led to Lynnís gradual disappearance from music. She put her career on hold to be a full-time wife and mother, but when her children grew up and her second husband died, the music inside her still burned to get out. She began playing again and recorded a live album, You Donít Have to Go (Ichiban), during a 1986 tour of Japan. She made a second album, So Good, for Bullseye Blues in 1994 and was the recipient of a Rhythm & Blues Foundation Pioneer Award in 1999.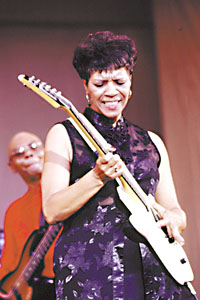 &copy 2001 Jeff Jaisun
A trip to Austin in the late í90s kick-started Ms. Lynnís renewed musical quest and led Antoneís Records to record Hot Night Tonight, which the record company describes as "soulful blues bridging the gap between the past and future and hip hop."
One highlight is Ms. Lynnís original composition, "Youíre the Man," the first single from the album, featuring a rap vocal by her son Bachelor Wise Johnson. Lynn is hoping the song will spotlight her sonís creativity in rap music and help elevate his musical career.
She also believes the song has what it takes to be a hit and has the same intuition she felt after recording "Youíll Lose a Good Thing." Although sheís enjoyed airplay in Lake Charles with "Youíre the Man," the R&B station in Beaumont, Lynnís home town, has yet to climb on board.
"I was told years ago by Jerry Butler that some entertainers donít get support in their home town," Lynn said. "Jerry told me ó and it has seemed true throughout my career ó that home is the hardest for some singing professionals to get recognition for their artistry. Sometimes it bothers me, but most of the time it doesnít. But especially right now I am bothered because the DJs here arenít playing ĎYouíre the Maní on the radio."
Lynn and bandleader Charles Belial are rehearsing her ensemble, Solar System, for dates in Texas and Louisiana and a quick trip to Europe to promote her comeback recording. But her recording sessions for Hot Night Tonight feature a group of top studio musicians assembled by California producer Don Smith.
"I had heard Barbaraís demos," Smith says, "and what caught my attention most of all was her cool rhythm guitar playing. I got into it, and for her CD I wanted to back up her guitar with some of the best musical artists Iíve worked with before."
Smith, who produced one of Keith Richardsí solo efforts and has engineered projects by Johnny Taylor, LeAnn Rimes and Tom Petty & the Heartbreakers, cut Ms. Lynnís sessions at his home studio with some of the Rolling Stonesí musicians to get the sound he and Barbara were seeking.
Smith urged Lynn to play her left-handed guitar on all of the tracks on the new CD. In fact, Smith was so impressed with Lynnís guitar playing that he suggested she record her song, "Itís Been So Long" (written in her hotel room in about 45 minutes) with just her own accompaniment.
"Don had me play on every song," Ms. Lynn recalls, "and when I couldnít figure out the chords because I donít read music, Pierre, one of the musicians, would show me where to put my fingers and I would play the song." Other musicians on Lynnís new recording included Charlie Drayton and Ivan Neville on keyboards and background vocals.
Lynn was very comfortable with Smith. "He basically knew what I wanted and had the musicians ready. Don made suggestions and made me feel comfortable, and the recording went so well that we completed the project in a week. Don let me be me in the studio."
Smithís only mistake was changing the title of Lynnís song "Wild Night Tonight" to "Hot Night Tonight." "I kept writing the title wrong," he laughs. "Each time I would write down [the wrong title] on everything, quite by accident, so Barbara changed the title of her song because of me."
The singer composed all but two of the songs on the album: the R&B classics "Never Found a Man," a reworking of an Eddie Floyd tune, and Sam & Daveís immortal "When Something Is Wrong With My Baby."
Barbara Lynn has managed to carry her classic R&B sound over into the new century, blending her youthful-sounding pipes with her original compositions, soulful guitar and top-flight backing to create a fresh musical offering thatís bound to please her devoted fans and likely to attract a younger audience to her mature artistry. Her return to success couldnít be more richly deserved.