Blues & Roots
by John Sinclair
I'd like to start my first column with a tip of the hat to Wayne Robins, the veteran music writer whose "Blue Again, New Again" column covered blues reissues in this space. I really enjoyed his dispatches from the world of reissues and hope to maintain the high standard he set as Wayne goes on to other assignments.
My column will be called Blues & Roots, a concept first advanced by the great jazz composer Charles Mingus as the title of an Atlantic Records album released some 40 years ago, and not coincidentally the name of my Saturday night radio program on WWOZ-FM in New Orleans.
Appropriately enough, the first CD collection we'll look into — Big Walter Horton and Alfred "Blues King" Harris, Harmonica Blues Kings (Delmark) — contains, for the first time on CD, the very first 45 rpm single in my personal collection: Big Walter's "Hard Hearted Woman" b/w "Back Home to Mama," produced by Willie Dixon in 1954 and issued by Leonard Allen as States 154.
When I turned 14 on October 2, 1955, my dad gave me a little RCA 45 rpm record changer with the big spindle that fit the hole in the middle of the new 7" single discs which were just beginning to replace the 10" 78s that had been the industry standard for more than 50 years. The 45 player plugged into the back of the AM radio my dad had made me from a kit for my seventh birthday — you turned the radio dial all the way to the left (where there were no stations to pick up) and used the radio as your amplifier to play those precious 45s.
Then my dad took me to a downtown record shop in Flint, Michigan, to pick out a record to go with my new player, and in a cut-out bin I found the beautiful blue-and-silver-label Big Walter Horton 45 on States for only 25 cents. I took it home and played it over and over again — so many times that, fully 45 years later, I still know every word and every note on the record.
Now here it is again in the 21st century, Big Walter's powerful version of Robert Johnson's classic "Kind Hearted Woman," with a hard-hitting arrangement by Dixon featuring his big bass sound and Big Walter's impassioned vocal and harmonica. Harmonica Blues Kings also offers both sides of a single issued under the name of Tommy Brown, "Southern Women" b/w "Remember Me," with Brown on vocals and Big Walter on harp; two unissued sides from the same session; alternate takes of both sides of States 154; and seven tracks recorded for States by harpman Alfred "Blues King" Harris with singer James Bannister, including the only sides released on 45 at the time: "Gold Digger" b/w "Blues and Trouble."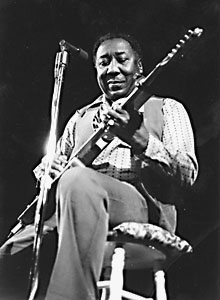 The classic 78 rpm recordings of Big Walter's contemporary, Muddy Waters, made in Chicago between 1947 and 1952 for Aristocrat and its successor, Chess Records, have been reissued again and again, but their latest incarnation on CD, Rollin' Stone: The Golden Anniversary Collection (MCA/Chess), is simply the finest presentation yet of the seminal blues singles which would reshape the sound of modern popular music.
The first disc of this two-CD set chronicles all of Muddy's Aristocrat recordings, from his first session for Sammy Goldberg and the Chess brothers in 1947 which produced "Gypsy Woman" b/w "Little Anna Mae"; through the April 1948 date which gave Muddy his first local hit, "I Can't Be Satisfied" b/w "I Feel Like Going Home"; through sessions cut in August 1948 ("Train Fare Home"), November 30, 1948 ("Mean Red Spider," "Streamline Woman"), and the Summer of 1949 ("Little Geneva," "Screamin' and Cryin'"); through the February 1950 date that gave the world the magnificent "Rollin' and Tumblin'" (Parts 1 and 2) and Muddy's own musical tribute to Robert Johnson, "Walkin' Blues."
The 24 timeless cuts on disc one are matched on the second disc by two dozen more magnificent Muddy Waters masters, starting with his first Chess release, "Rollin' Stone" (also recorded in February 1950), and continuing through the sessions of June 1950, October 23, 1950 ("Louisiana Blues"), January 23, 1951 ("Long Distance Call," "Honey Bee"), July 11, 1951 ("She Moves Me," "Still A Fool"), December 29, 1951 ("All Night Long") and dates in May and September 1952.
There are no words of praise strong enough to describe the immense power and almost unfathomable emotional depth of these recordings by Muddy Waters. Accompanied only by bassist Ernest "Big" Crawford on 15 of the selections, Crawford and second guitarist Leroy "Baby Face" Foster on another six, and Crawford and Little Walter on eight more, Muddy projects his voice and lead guitar with unprecedented impact into mid-century America, indelibly defining his own formidable artistic persona and outlining the shape of blues to come in the process.
Leonard Chess was well satisfied with the spare instrumentation that had backed Muddy's lucrative string of blues hits on Aristocrat, but by 1950 Muddy was more eager to feature his working band — Little Walter on harmonica, Jimmy Rogers on second guitar, and Elgin Evans on drums — that had been tearing up South Side nightspots for the past two years. Rogers finally comes aboard for "Louisiana Blues" and most of the following dates, and Evans is allowed into the studio by the end of 1951, finally giving full definition to Muddy's startling conception of the deep urban blues band sound that would dominate the idiom from that point on.
Hearing these sides in the order in which they were recorded, five full years worth of the relentless musical genius of Muddy Waters, is an incomparable listening experience which should be afforded every music lover in the world. This is the best possible place to start your investigation into Muddy's musical world, and even those blues mental patients (like myself) who have heard this music again and again will gain new perspectives on its development by spinning these particular discs.
Another great Chess Golden Anniversary compilation is Chuck Berry: The Anthology (MCA/Chess), offering 50 of the most influential recordings of the modern era by the man who put the electric guitar at the very center of popular music and created the template for rock'n'roll music with his fiercely idiomatic songs, brilliant playing and hyperbolic presentation style.
The first 40 sides, cut between 1955 and 1961 under the direction of Willie Dixon, resulted in a series of smash hit singles for Chess which almost single-handedly redefined what popular music would be about for the rest of the century. Backed by a Chicago blues trio anchored by Dixon, driven by pianists Johnnie Johnson, Otis Spann and Lafayette Leake, and soon joined by the great Fred Below — the Earl Palmer of the blues — on drums, Berry propelled his voice and guitar through a succession of wildly imaginative original compositions like a mighty force of nature.
Starting with "Maybellene," "Thirty Days," "No Money Down" and "You Can't Catch Me" in 1955, Chuck hit with "Roll Over Beethoven," "Brown Eyed Handsome Man" and "Too Much Monkey Business" in 1956, "School Days," "Rock and Roll Music," Oh Baby Doll," "Sweet Little Sixteen," "Reelin' and Rockin'" and "Johnny B. Goode" in 1957, "Carol," "Jo Jo Gunne," "Memphis, Tennessee," "Sweet Little Rock Roller" and "Little Queenie" in 1958, and "Almost Grown," "Back in the U.S.A.," and "Let It Rock" in 1959 — an incredible achievement indeed.
They're all here on The Anthology, along with great sides from the '60s like "Come On," "Nadine," "Promised Land" and "No Particular Place to Go." Let me say it right out: This is the shit, fellow music lovers, both in terms of what it sounds like — and believe me, it sounds terrific today! —and its impact on American life, which was nothing less than cataclysmic. Even if you've got The Great 28 — and if you don't, shame on you! — Chuck Berry: The Anthology has another 22 selections that belong in every American home.
Rhino Records continues its excellent Blues Masters: The Essential Blues Collection series with another important single-artist set, The Very Best of Lightnin' Hopkins (Rhino), setting out 16 of the finest possible selections from the massive catalog of one of the most widely recorded bluesmen of the 20th century.
Lightnin's wholly idiosyncratic approach to guitar, voice and repertoire is lovingly delineated here, from his 1946 "Katie Mae Blues" with pianist Thunder Smith (billed by Aladdin Records as "Thunder and Lightnin'") to "Shotgun Blues" and "Baby Please Don't Go" from 1948; "Give Me Central 209" and "Coffee Blues" from 1951; both sides of a rare Jax single, "I'm Beggin' You" and "Contrary Mary," from 1952; "Moanin' Blues" for TNT Records in 1955; "Penitentiary Blues" and the great "Fan It" from a 1959 Folkways LP; "Mighty Crazy" from his Candid LP and "Mojo Hand" for Fire Records, both from 1960; and "Last Night Blues" and "Baby, Don't You Tear My Clothes" from his Prestige/Bluesville sessions in 1960–'61.
If you can't figure out where to start exploring the vast output of this singular Texas blues giant, The Very Best of Lightnin' Hopkins delivers a potent dose of musical medication that may well get you hooked and desperate for more of this supremely funky stuff.
Delmark Records checks in with three more important reissues that fill some gaping holes in the CD superhighway. Roosevelt Sykes' Raining in My Heart collects the veteran bluesman's stellar work for United Records during 1951–'53, a period which found the pianist struggling to maintain a popularity with record buyers that had lasted more than 20 years. Another profusely prolific recording artist, Sykes had enjoyed blues hits in the 1920s, '30s and '40s for Okeh, Victor, Paramount, Decca, Bluebird and other widely scattered labels, but his heyday had ended by the time he cut these 18 sides (and two alternate takes) for Leonard Allen in the early '50s. Although only "Security Blues" enjoyed encouraging sales, Sykes' output for United included excellent songs like "Fine and Brown," "Boogie Sykes," "Been Through the Mill," "4:00 Blues" and the title track.
Another fine Delmark compilation from the vaults of United and States is Long Man Blues, 25 truly obscure tracks recorded between 1951 and 1957 by ten almost equally obscure artists. Of those we might recognize, pianist Eddie Boyd leads off the set with "Blue Coat Man," a cops-raided-the-party jumper that's actually a ringer from the J.O.B. catalog; Harold Burrage contributes "I Feel So Fine" and "You're Gonna Cry," backed by Lafayette Leake, Willie Dixon and Fred Below; and Arbee Stidham has guitarists Earl Hooker and Lefty Bates aboard for "I Stayed Away Too Long" and "Look Me Straight in the Eye" from one of the last States sessions in 1957.
A T-Bone Walker-styled L.C. McKinley is featured on four tasty tracks, including the unissued "Disgusted" ("I'm too nervous to work /and too tired to play") and "Tortured Blues." Saxman Ernest Cotton sings on another unissued side, "Empty Bed Blues," and "Cowboy" Jack Cooley offers a smug "I Could But I Ain't." Dennis "Long Man" Binder contributes the title track, two takes of "I'm a Lover" and a convincing "Feel So Good," and Eddie Ware swings smoothly on "The Stuff I Like." Cliff Butler and Edward Gates White are also represented with some good songs, including Butler's "Adam's Rib" and White's States coupling of "Mother-in-Law"/"Rockabye Baby."
Long Man Blues is the kind of album that makes the CD era so wonderful for blues fanatics: We hear artists we've never encountered before doing tunes we'd otherwise never have heard, including cuts that never saw release when they were recorded. And the superb liner notes by Bill Dahl could well serve as a model for annotators of collections of this sort.
Finally, there's Jump 'n' Shout: New Orleans Blues & Rhythm, a fantastic compilation finally brought into the digital domain with several cuts added to the program from the original LP release on Delmark's Pearl imprint. Drawn from DeLuxe and (mostly) Regal recordings made between 1949–'51 — and augmented by four unissued Ernie K-Doe masters cut for United in 1953, including "Process Blues" and "Too Drunk to Drink" — Jump 'n' Shout restores to currency the masterful Dave Bartholomew sides "Country Boy," "Gert Town Blues" (mislabeled "Girt Town") and "Mister Fool"; Larry Darnell's magnificent "Pack Your Rags and Go"; a pair of unissued takes by Joe August, better known as "Mr. Google Eyes," including the over-the-top weeper "I Cried"; five wonderful cuts from Ms. Chubby "Hip-Shakin'" Newsome, including "Hard-Lovin' Mama," "Please Throw This Poor Dog a Bone" and Roosevelt Sykes' "Where's the Money, Honey"; and fine work from Annie Laurie, Erline Harris, Plas Johnson & the Johnson Brothers Combo, Sammy Cotton and James "Blazer Boy" Locks. No New Orleans R&B collection should be without this compilation.