"I don't care who writes the songs, as long as I can make them my own."
Curtis Salgado has a piano in his kitchen. It's an old upright — almost 100 years old — and it sits nestled in a corner of his Portland, Oregon, kitchen as comfortably as the singer blends past and present in his music. Deeply rooted in home and family, Curtis will proudly explain how the piano journeyed from his grandmother's western Oregon home to his mother's house in Eugene, where a young and ever-curious Curtis pried the genuine ivory inlay off the piano keys at the same time as he was learning to play them.
Born in Everett, Washington, the 46-year-old Salgado has been singing all his life. He's a talented blues harmonica player, too, well-schooled in the nuances of what he laughingly describes as "an annoying little instrument." His live performances glow white-hot. His personal mix of blues, soul and R&B is emotionally raw, fiercely soulful, technically in command and always from the heart. He and his killer band put on knock-out exhibitions that leave audiences dancing in the aisles and hooting for more.
The gregarious Salgado is a fascinating mix of showman and scholar. His dazzling musicianship is grounded in a serious grasp of musical history that extends to a collection of rare film and video shorts he's amassed featuring his musical heroes in blues, R&B, jazz, gospel and rockabilly. He began collecting and showcasing the clips more than 20 years ago, during his touring days with the Robert Cray Band,.
Salgado's second disc for Shanachie Records is due to be released next month. He's well-known In the Pacific Northwest, where he fronted bands as a teenager and played with Robert Cray from 1976 to 1982. He sang for the acclaimed jump-blues band, Roomful of Blues, from 1984–'86. In a highly competitive music scene, he's been awarded "Best Male Vocalist" honors by the Cascade Blues Society nine times since 1989. And if you look really closely at the Blues Brothers' Briefcase Full of Blues disc, you'll see it's "dedicated to Curtis Salgado."
"It tickled my auditory nerve …"
Salgado plays with words like a jazz player improvises with notes. Even his speech has musical cadences and dynamics. His conversation switches easily from a rapid-fire, fast-and-furious delivery to deliberate pauses, and from hipster-musician slang to well-read, carefully-chosen words.
"I grew up around music, and I grew up around black music. 'Cause my parents were hip! They listened to Ray Charles and Count Basie, and boogie piano players — there's a lot of that in the family. My mother played piano. My father used to sit there at the piano and do scales, and listen to opera. And then he'd put on Count Basie.
"My folks were just hip. But they were sensible. My father worked very hard. He was a foreman in a bakery, and we lived in the same house all my life — in the neighborhood, you know, across-from-the-railroad-tracks kinda thing."
Filling the house with music, the Salgado family created the perfect environment to nurture a young singer. "I was getting a full-meal deal on the vocalist side of things," Salgado remembers, "There's Joe Williams singing. There's Jimmy Rushing, 'Mr. Five by Five.' And Ray Charles — what can you say? I mean, you're hearing Ray Charles at the age of nine years old? It hits ya.
"It was really, really fascinating to me. It moved me. It tickled my auditory nerve — and, man! My dad would sit there, and he'd point out all the finer little aspects of music. He'd go, 'Listen to this right here — listen to how Count Basie utilizes space in his piano solos,' stuff like that.
"You know what we argued about around the house? We got in fights over music. Particularly as I got older, and I'm payin' more attention, and popular music is changing. Music on the radio is changing.
"And see, I have an older brother, older sister, so all those little Elvis Presley 45s are at my house. And Wilson Pickett comes home. Aretha Franklin. Some great country & western. My brother had the jazz phase — Jazz at Massey Hall. He was deep into it, they were passionate for it, and, of course, it spilled over to me."
By his teens, Salgado was hearing the Rolling Stones. From the Stones he was turned on to Paul Butterfield. "Paul Butterfield, that was the huge one. Wow! How mean sounding — it was just mean music. And you read the liner notes: 'So Paul Butterfield, hmmmm: Little Walter, Muddy Waters, Howlin' Wolf. Well, if Paul's into it, let me check it out.' Bingo. That was it."
Asked if he can narrow down his influences, Salgado lists Muddy Waters, Little Walter, the Sonny Boys, Lightnin' Hopkins, Otis Spann and Magic Sam "for blues records I burned a hole in the most." The late Johnnie Taylor, "one of the greatest soul singers of all time," was his favorite singer. Sam Cooke, Jackie Wilson, O.V. Wright and Little Milton also left big impressions. Then there's Dinah Washington, and Joe Williams with Count Basie.
And Salgado's emotion-drenched vocals are rich with the influences of his gospel favorites, the progressive sounds of the Soul Stirrers and singers like Ira Tucker of the Dixie Hummingbirds, Dorothy Love Coates and the fabulous Archie Brownlee of the Five Blind Boys of Mississippi.
"Treat it like it's the biggest night of your life …"
By the time Salgado turned 18, he was playing in bands. It was the early '70s, and his hip and supportive family let him spend the small amount of money they'd saved for his college education on pursuing a music career. "I was all ready, obviously, for my whole life into music."
Salgado bought vocal lessons, dance lessons and an amplifier. His real continuing music education came from his working exposure to some of the great old-timers of the music who were still active in the '70s.
"I hung with Buddy Ace, and I hung with Little Frankie Lee and Sonny Rhodes, Luther Tucker, L.C. "Good Rockin'" Robinson, all those guys down in California — Jimmy McCracklin, Floyd Dixon." These artists' advice helped Salgado focus his vocal abilities and shaped his sense of showmanship.
"'Quit tryin' to sing like a black man and just sing as yourself,' they advised, 'but worry the note. Hold the notes out and worry 'em. And pay attention to the phrasing, and how they shape the vowels and the consonants, and how they take their time when they sing.'
"They opened up a whole new thing for me," Salgado exults. "On record now I knew what to pay attention to, because they told me what to pay attention to. And then seein' 'em play and seein' 'em sing, there's nothing like that.
"I'll never forget playing with Buddy Ace, who was this great blues-soul singer. Buddy could sing. We're playing at a private party, and this guy literally went into the kitchen and did a costume change. He treated this house like it was the Apollo Theatre, and it blew my mind.
"Buddy came out in this fire-engine-red three-piece suit that's just, like, cut right. And then, after we got through playing, while people are sitting around and drinkin', he stepped into the kitchen, which was open, changed and came out in this fuckin' copper-colored gold suit. We're sittin' there in our jeans and t-shirts, and he has a costume change!
"I mean, that changed my whole thing right there: 'God, it doesn't matter how many people' — there were 35 people there — didn't matter to him! It was the Apollo Theater: Show Time! No matter how many people are out there, give it your best. Treat it like it's the biggest night of your life."
When Robert Cray and Richard Cousins moved to Eugene from Tacoma, Washington, a natural friendship formed and Cousins and Salgado became roommates. Salgado's band, the Nighthawks, and the Cray outfit began doing shows together. Eventually a splinter group called the Crayhawks was formed as a side project by Salgado, Cray and Cousins which, later on, became the core of the Robert Cray Band.
During this period Salgado and Robert Cray formed a lasting friendship with the great Albert Collins. "Albert was like our father. He taught us a lot about business and show business. You know, how to move an audience, the whole bit." And, in return, it was Salgado who dubbed Collins "the Master of the Telecaster."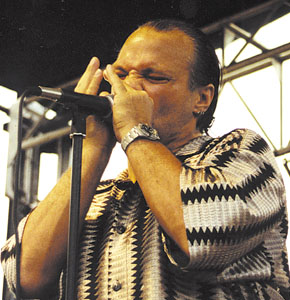 &copy 2001 Jon Helgason
Soul Man
The fact that you are reading a blues magazine in the 21st Century might be directly related to the friendship formed in 1977 between Curtis Salgado, musician and music scholar, and John Belushi, Saturday Night Live comedian. it was Salgado's stage show that turned Belushi on to the blues while the actor was in Eugene filming Animal House.
"I am the inspiration for the Blues Brothers," Curtis admits. "Belushi and I made friends, and he would come and see the Nighthawks every opportunity he got. And I was bringing blues records over to his house. He was not listening to the blues — this man was nowhere near it. He was listening to Blue Oyster Cult and Ozzie, Black Sabbath. I brought him over Magic Sam, Muddy Waters, Sunnyland Slim, Little Walter. I brought him over all of the stuff.
"And when he came to see the Nighthawks, guess what? It was us that was doing 'Groove Me' by King Floyd. It was us that was doing 'Soul Man.' And it was us that was doing 'I Don't Know' and 'Messin' with the Kid.' We were also playing — and I taught him — 'Hey Bartender,' by Floyd Dixon, because he wanted to jam with the Nighthawks. And I said, 'This isn't a place to jam. You should come and jam with our splinter group, the Crayhawks.'"
After this exposure to the blues, Belushi sought the singer's approval for a Saturday Night Live skit idea he called "The Blues Brothers."
"I still hadn't seen Saturday Night Live, so I don't know the implications of what this is going to be. And I go, 'Those records are my life. I just want you to give credit where credit is due, if you're gonna do this.' And Belushi said, 'I'm gonna give you credit where credit is due, and I'll give these artists credit, and we're gonna do this on television.'
"It was just so weird. You know, here I am, this guy from Eugene. I shake hands with John Belushi, and — just remember this: After Animal House, John would become the biggest star in the United States, if not the world. And so he takes and he absorbed me, and he absorbed a bunch of other stuff. Next thing I know, he's doing five obscure songs on his record that've been in my act for years. They're being played on the radio. They have a Number One fucking hit. Robert and I don't have a record deal, ya know?"
While admitting it was a bittersweet adventure at times, in the end Salgado chooses to focus on the sweet side: "So the bands they used were Curtis Salgado & the Nighthawks, Roomful of Blues and a band in Canada called the Downchild Blues Band. Then they hybrided it and put their characters together with the brilliance of Dan Aykroyd and the brilliance of John. Make no mistake, they are the Blues Brothers — this whole thing is them.
"It actually relaunched and reintroduced to a whole new generation, and maybe to some people who had forgot: blues guys. I am an essential part of that, because it started with me. It was a good thing. The bottom line is, it did turn a whole lot of people on to the music, and Belushi and Aykroyd always gave credit where credit was due. Floyd Dixon," one of Salgado's musical heroes and the writer of "Hey Bartender," "came up to me and thanked me in person."
"Life works in mysterious ways"
Like many bluesmen, Salgado's own life has seen some serious hard times. He is surprising in his candor when he discusses his past problems with substance abuse, addiction and recovery:
"I had some scary things happen to me, as far as physical overdoses and stuff. Just about every negative thing that happens in my life, somewhere drugs and alcohol either play a large part in it or a small part, but they're there somewhere."
It was in the middle of a cocaine high that he had the unlikely "moment of clarity" that turned his life around. "Life works in mysterious ways," Curtis muses. "I laid in my bedroom. We had just done a shitload of cocaine — and by doing, I mean shooting up. We were bangin' it: B-A-N-G-I-N-G," he spells it out to make sure there is no mistaking his words, and continues with great deliberateness: "We'd been up, and probably went to bed around one in the afternoon. And I was thinking, 'What am I doing? Who am I? I wanna be better and bigger than this.'
"I saw my life flash before me, and I thought: 'What if I reinvent myself?' Something came to me and … just said to me, 'Hey, you're killing yourself. You gotta quit this.' And it kept tellin' me: 'You gotta stop, man, or you're just gonna be some barfly bar band.' And I don't wanna be that.
"I went in, checked myself into a hospital, October of 1988. And quit. Haven't used since. Best thing I ever did to myself. Believe me, it wasn't like I was sittin' on my butt — I'd been playin' and playin' and playin' and playin'. But what I should've done was throw away the partyin', throw away the drugs, and just really focused on practicing and getting better and better and better. I think I would have been a lot farther than I am now.
"Because I didn't get a record deal until I straightened up. I didn't get serious and actually start smelling the roses until I quit drugs and drinkin'. I've always played the music I wanted to play — but I think I would have started playin' my own music a lot sooner, had I not been so lazy, ya know?
"I took, I think, a part of my talent for granted, where I really should have knuckle-buckled down. But I didn't. And that's the path I chose. I'm not ashamed — I mean, I've done a lot of stuff that a lot of people have not done. I also feel like I'm just startin' to come into my own. I don't feel my age. I've never been married, I don't have kids. I feel like I'm just startin'. Another thing — it's an old saying, but: Patience is a virtue. It truly is."
"Are you with us, music lovers?"
Like the piano in the kitchen, long-term partnerships have been part of Salgado's professional history. Marlon McClain has been Salgado's producer since he began recording solo material. McClain was part of the '70s group, Pleasure, the band famous among musicians for a track called "Glide" — "music that was ahead of its time, kinda jazzy funk-fusion," Salgado remembers.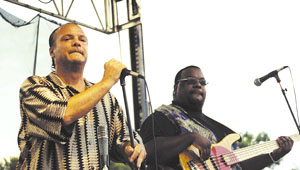 &copy 2001 Jon Helgason
Salgado met McClain in the '80s and approached him with an idea. "I love funk and I love R&B and I love contemporary R&B, but I love the old school, too. And what I wanted to do was try — and I'm still tryin' to reach for it — is mix: What if Lightnin' Hopkins played with
Parliament? Just the vibe. The feel. The inflections. The idiosyncrasies of those kind of blues guitar players and singers, and you put it in a funk groove. What if Sonny Boy Williamson was to play harmonica with D'Angelo, to bring it up to date?
"And Marlon was the man I went for. Then it turned out that Marlon is one of the most positive people I've ever met in my life. He is my mentor, about the business of music and the business of life."
McClain, whose other 1990s credits include work as a guitarist and producer with the Dazz Band and En Vogue, has produced all of Salgado's solo work. And on Soul Activated, Salgado's upcoming disc for Shanachie, McClain and Salgado continue to explore and define "Curtis Salgado music."
"My big dream is to become an innovator," Salgado says. "And can you be an innovator? It's all been done. All music is a hybrid of something else, even down to the roots. So that's what Marlon means to me. He helps me make my music sound like me."
Soul Activated is a collection that Salgado calls simply "rock 'n' soul." His musicologist personality is deeply reflected in this collection of tunes featuring guest artists Lou Ann Barton, the Memphis Horns, Lloyd Jones and Jimmie Vaughan.
"I'm his biggest fan," Salgado says of Vaughan. "He's got a certain vibey funk to him — the guy's brilliant." Vaughan plays lead guitar on "Old Enough to Know Better" and appears on a new version of "More Love Less Attitude," a regionally- popular song from Salgado's first disc that appears here as a bonus track.
The material on Soul Activated covers a cross-section of styles, including an old rockabilly hit, "Hip Hip Baby," with guest vocals by long-time friend Barton and Vaughan on guitar. There's also a blues-funk version of Jimmy Cliff's "The Harder They Come" and a knock-out version of the Leon Russell song popularized by Freddie King called "I'd Rather be Blind." A big surprise is the Memphis soul sound Salgado uses to redefine the '80s pop hit "Everytime You Go Away," turning the song into a wicked, soulful ballad with a delivery that breaks your heart. And Salgado further reveals his heart-wrenching prowess in the soul-blues bag with another original, "I Sleep With the TV On."
"My voice sounds a certain way. I am a certain kind of personality with a certain kind of aura, and I wanna capture that. That's exactly what all my material is about. It's about me in search of and putting out something that's 'Curtis Salgado music,' so that it becomes recognizable: 'That's a Salgado tune. That's Curtis Salgado.' That's exactly what Wiggle Outta This and what my new record are about."
Soul activated — that's definitely what 'Curtis Salgado music' is all about, and it's driven by a passion for music that has kept Curtis Salgado on course all his life. "I don't care who writes the songs, as long as I can make them my own."
And that he does — with all his heart and soul. Count on it.
---
CURTIS SALGADO DISCOGRAPHY

Soul Activated (Shanachie Records, 2001)
Wiggle Outta This (Shanachie Records, 1999)
Hit It 'N' Quit It (Lucky Records, 1996)
More Than You Can Chew (Rhythm Safari/Priority Records, 1995)
Curtis Salgado and the Stilettos (JRS Records, 1991)

Salgado also appears on:

Perfume & Grime with Otis Grand (Sequel Records, 1996)
Nothing Else Matters with Otis Grand (Sequel Records, 1994)
Live at Lupo's Heartbreak Hotel with Roomful of Blues (1986)
Too Many Cooks with the Robert Cray Band (1980)
(also released as Who's Been Talkin')