From the late í80s to 1991 I found myself living in the Bay Area of California. It was a welcome change from Chicago, and no snow to shovel either. I found myself working with most of the local and internationally-known artists, and it was there that I rekindled my friendship with Luther Tucker, one of the greatest blues guitarists ever to walk this earth.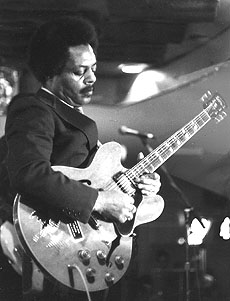 I had originally met Luther during the mid-í70s. One of Lutherís kids had been killed, and Luther spent a few months after the funeral hanging out in Chicago. I was working with Taildraggerís band, which then included Hubert Sumlin and Big Leon Brooks. We used to work every Sunday afternoon at a West Side club called Bow Ties, and Luther and Johnny LittleJohn would frequently show up together to hang out and sit in with us.
While in the Bay Area I did a few gigs together with Luther and a local harmonica player by the name of Birdlegg. When it came time for Luther to find a new drummer for Birdleggís band, I got the call.
One of our bigger gigs was to be a trip to the Waterfront Blues Festival in Portland, Oregon. A week before the gig we still had no transportation plan, but finally our bass player said he would rent a trailer and we could go in his SUV.
The day we were to leave, I went off to my day gig and we planned to meet after dinner to begin the drive to Portland. About an hour into my job, my pager began to go off every 10 minutes. I knew it was the bass player, but I was doing some work on a house in the Oakland hills, miles from the nearest pay phone, so I just let it go. When I returned home, I got the message that the bass playerís ex-wife had got wind of the trip, called the creditors he owed money to for the car, told them he was going out of state with it and had it repossessed. Arggghh!!
Now we had a nice gig and no way to get there. My van was on its last legs, and the trip would have killed it. After some scrambling the bass player found a guy who owed him some money who agreed to drive us.
Our driver came in the form of your typical California surfer dude. I guess the kid owed him a couple hundred bucks, so Bill talked him into working it off by driving us in his motor home to Portland and back. The thing had plenty of room and should have made traveling really easy.
Freddie Roulette, Bill and I all rode in the motor home, while Luther and his wife Jill followed behind, riding with Lutherís friend Bernie in his newer Cadillac. About 15 minutes into the trip I began to notice that our driver, whose name I never did know, was a little on the crazy side. It turns out he had spent years of his life in prison for clubbing someone over the head with a hammer and killing him! Nice one, Bill, you got us out here on the road with an ax murderer ówell, hammer killer, anyway!
A little bit outside of Sacramento, the lights in the motor home began to get dimmer and dimmer. Finally we were down to almost no lights at all. Surfer Boy pulled off into a car wash. "Hey, no problem, dudes, I do this all the time," he exclaimed as he pulled an extension cord out of a storage compartment. He proceeded to find an electrical outlet in the car wash and hooked up a battery charger to get us some power again. Two hours later the battery was charged and off we went.
About another hour into the trip, the lights began dimming again. Obviously the alternator was not working, which was cool in the daytime since you really donít need it as long as the engine starts and you are running no electric in the car. So we pulled off again, this time into a 7/11. Surfer Boy got out his extension cord and ran it into the 7/11 and plugged it into a wall socket, never bothering to ask the cashier if it was all right. Man, this kid had some balls! We charged for an hour or so and headed out again. This went on I donít know how many times. Finally we just stopped and decided to wait for daylight, when not having to have the headlights on would let us go much further.
After stopping at a junkyard to pick up a used battery and one overnight stop in Eugene to play a gig, we made it all the way to Portland. I was so relieved when we got inside the Portland city limits. We were following Luther at this point, because we were to play at a black club in Portland the night before the festival and Luther would lead us there.
All of a sudden there was a loud noise in the motor home and steam began flying all over the place. I heard Surfer Boy yell, "Weíre pulling off, dudes!" as he nearly rolled the van making the exit ramp. We should have stopped right there and waited for Luther to make it back to where we were, but no ó Surfer Boy needed water, and even though he was carrying 60 gallons on board, he started driving around downtown Portland with a busted radiator hose in search of more water.
I forget how we got the truck fixed, but in the process we had become separated from Luther. No one in the band knew where we were playing or where we were staying. Finally someone got the bright idea to pick up a newspaper and see if there was a listing for the club. We were in luck and made it to the gig in plenty of time.
The gig pretty much sucked. What gets by in a white club as blues and what gets played in a black club are usually two completely different things: Black audiences tend to want to hear the hits by Bobby Bland, Little Milton, Latimore, ZZ Hill et al. Luther didnít do any of that, so the patrons just sat there looking at us like we were crazy. We might as well have been playing country and western!
After the gig we headed off to Lutherís friendís house to spend the night. Although the festival had provided very plush accommodations right across the street from the festival, Luther would rather stay with his friends. Only one problem: This guy had two huge dogs, with fleas everywhere. They had set up mattresses on the floor for us, and I nearly got eaten alive! I had huge swollen bumps everywhere on my body from all the fleabites. Obviously, I spent the next night in the hotel room provided by the festival.
The festival gig went great and we ran into a lot of old friends, but no one ever bothered to see about getting the motor home fixed. On the day we were to leave, the van was still broken, so I called over to where Luther was staying, but he had left and no one knew when he was to return. I couldnít find Bill or Surfer Boy and didnít really want to ó Iíd had enough and didnít want to suffer all the way back home. I was smart: I rented a brand new Thunderbird (for the price of a Toyota) and drove up to Seattle to visit my family. I stayed two days and flew back to Oakland, beating Surfer Boy and the rest of Lutherís band back by a day. Needless to say, that was one of the last times I went on the road with them.
--Twist Turner