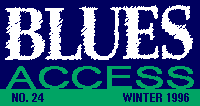 ---
Uneasy Access
John Douglas writes:
I'd hoped to tell BLUES ACCESS readers what recordings were available from the Library of Congress and how to get them. See, I was reading an old article that mentioned a 15-record anthology of American folk music that the Library of Congress sold in the mid-1970s, and I wondered what could be had today.
Seemed straightforward enough. In early August, I called the Library of Congress gift shop and was promised a list that would be mailed to me. When it hadn't come 10 days later, I called the Library of Congress again. This time I was sent on the switchboard round of three or four offices and, eventually, I was again promised a list.
Still waiting for it in September, I called twice more and left voice-mail messages. After two months and a half-dozen long-distance calls, I finally received a 1989 catalogue on October 4. There were a few blues and gospel items, but a confusing insert sheet showed certain ones were only available on vinyl while others were only on cassette. None were on compact disc.
I tried to order an LP and a cassette of some unusual ballads, and a few days later got a call that the LP was now out-of-print, and the cassette was back-ordered.
The lesson for us collectors is that there may be problems with the Library of Congress' music holdings and, at the least, they don't seem to give a damn whether they sell any recordings or not. For what it's worth, the address: Library of Congress, Motion Picture, Broadcasting & Recorded Sound Division, Washington, D.C. 20540-4800.
---
Gate's luck
Jeff Hannusch writes:
Clarence "Gatemouth" Brown's signature guitar, a 1966 Gibson Firebird, which had been stolen from the guitarist's home, was recovered October 13. The guitar, along with several other items, were taken from Brown's Slidell, Louisiana, residence during a burglary in mid-September while he was on tour. The St. Tammany Parish Sheriff's Department caught the thief after acting on an anonymous tip. Brown had been offered several thousand dollars for the guitar, which features a leather pick-guard emblazoned with "Gatemouth," over the years, but he turned down every offer. Other items taken in the break-in included four acoustic guitars, a long-necked mandolin, three other electric guitars and four rare violins. All were recovered. Brown was touring France at the time his property was found.
---
On the literature front
Fans of British blues might want to investigate Blues in Britain: The History 1950s to the Present (Cassell Publishers). Written by Bob Brunning, it's a highly readable, in-depth look at blues history across the pond, including chapters on all the big names -- Animals, Mayall, Korner, Clapton, Page -- but other less known Brit-bluesers like Chicken Shack, Georgie Fame and Dr. Feelgood. It's a British book, but can be found in America through Samra Promotions, Box 2221, Redondo Beach, CA 90278, (310) 212-7234 or FAX (310) 318-8455.
If you missed the "All Shook Up: Mississippi Roots of American Popular Music" display at the Delta Blues Museum in Clarksdale, Mississippi, you can almost have the real thing. The catalogue for the show, a 120-page tome with 233 rare, often amazing photos, is available from the museum for $15 plus shipping. Delta Blues Museum, 114 Delta Avenue, Clarksdale, MS 38614, (601) 624-4461 or FAX (310) 627-7263.
For Cajun, Creole and zydeco music lovers, there's a new book that could be required reading, Musiques Cajun, Creole et Zydeco. As the title indicates, the other requirement is that you can read French. If you still qualify for Robert Sacré's tome, the address is Presses Universitaires de France, 90 boulevard Saint-Germain, Paris 75005.
While we're on the literary trail, if you're in New York through January 14, 1996, and in need of something to do, try the Bronx Museum of the Arts, which is showing "Dear Robert, I'll See You at the Crossroads," seven sculptural works and two large-scale installations that explore the relationship between traditional African culture and Southern black folk culture. Artist Renee Stout's work will also be seen in San Francisco, Atlanta and Kansas City after the New York show. (718) 681-6000, ext. 36.
---
All Winners
In Blues Foundation news, on October 7 at the King Biscuit Festival, Ken McColm of the Melbourne, Australia, Blues Appreciation Society became the lucky winner of the Gibson Nighthawk guitar autographed backstage by the notables at the W.C. Handy awards.
The finals of the foundation's annual talent contest, held in Helena that same weekend, was won by the Movers (Boston Blues Society), with the Sam Taylor Blues Band (Phoenix Blues Society) and Smilin' Vic and the Soul Monkeys (Oklahoma Blues Society) in second and third places, respectively. The Albert King Award for most promising guitarist went to Geoff Atchison, also of the Melbourne Society. Congratulations to all.
At press time we got wind of the foundation's big fund-raiser at the House of Blues in Los Angeles to honor Atlantic producer/mogul Jerry Wexler. The list of names of possible attendees to honor Wexler at the bash December 5 boggles the brain -- Ahmet Ertegun, Phil Spector, Willie Nelson, Quincy Jones and Bob Dylan among them -- and makes it the biggest event ever for the foundation. Executive Director David Less also hopes to raise $50,000 from what should prove to be the party of the season on the West Coast.
---
Who's online?
New blues links on the Internet:

Blues World (http://www.inlink.com/~joelslot) is Joel Slotnikoff's e-mag, with articles and photos on St. Louis and New Orleans topics, a rare 78 blues record auction and other interesting resources, and an interview with harp player Arthur Williams.

Wa Nui Records and Blues (http://planet-hawaii.com/wanui or wanui@aloha.net), a music record label offering blues and jazz produced in Hawaii. Releases include The Blues in Paradise: Live from the Honolulu R&B Festival and Rhythm Oil" by local blues band Mojo Hand. Contact Rick Schneider at 4257 Sierra Drive, Honolulu HI, 96816 or 1-800-782-260, FAX: (808) 732-9576.

Gruhn Guitars (http://ww.gruhn.com/~gruhn/index.html) now has a web site with an archive of articles by founder George Gruhn, a want file for people looking for specific instruments, a catalog and history of the company and more.

We mentioned this one a couple issues back, but Blues Highway is definitely worth a gander. Our America Online browser wasn't displaying much in the way of the graphics we knew to be there, but Curtis Hewston's labor of love is packed with solid infomusication. Check it out at http://www.magicnet.net/~curtis/
Send information for this column to ACCESS, c/o BLUES ACCESS, 340 S. 42nd, Boulder, CO 80303, fax to (303) 494-1127 or e-mail Lrucker@aol.com.
---
This page and all contents are &copy 1995 by Blues Access, Boulder, CO, USA.