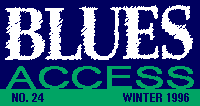 ---

I don't intend to step into the raging debate in this magazine about Eric Clapton's blues credentials. He needs no defenders. I've listened to the man's music for 30 years and, "Blues Authentic" or not, he's given me lots of enjoyment, and he's never been chintzy about giving credit to the bluesmen who inspired and influenced him. That the 18-year-old Eric Clapton had as much love for The Blues as the 50-year-old Clapton is shown by the early Yardbirds recordings reissued as Clapton's Cradle (Evidence 26072).
The title is, of course, a play on the recent From the Cradle album, and both discs feature the famed guitarist performing traditional blues material. But that's where the similarities end. While an assured and accomplished -- if not particularly fiery -- Clapton is the star of From the Cradle, he was in a more tentative, incubative stage as lead guitarist for the Yardbirds.
Frankly, I haven't a clue why the Yardbirds ended up in the Rock'n'Roll Hall of Fame. Keith Relf was never much of a singer, and most of the British band's material tended to be formless and forgettable. Their major claim to fame was that Clapton, Jeff Beck and Jimmy Page passed through on the way to somewhere else. What we have on Clapton's Cradle are the earliest Yardbirds recordings -- three 1964 studio cuts plus 50 minutes of December 1963 shows in which they backed Sonny Boy Williamson at London's Crawdaddy Club.
On the studio songs, Relf's harmonica is given more space than young Eric's guitar and, while "Honey in Your Hips" sorta rocks atop a Bo Diddley beat, their rendition of Chuck Berry's "I'm Talking About You" is pretty lame. Then, before Sonny Boy takes charge, the Yardbirds warm up the live show with covers of five Chicago hits, and Clapton finally stands out a little with frenetic chording on "You Can't Judge a Book By Its Cover" and single-string soloing on "Let It Rock." The band, as a whole, is no threat to anyone, even unable to raise a "human skull" scare on "Who Do You Love."

Things get better when they settle into accompanying Williamson. It's a more subdued Yardbirds, who have clearly learned from the records of the great singer and harmonica player. They aren't able to improvise, however, when Williamson deviates from the play list and launches into "Bring It On Home." Expecting "One Way Out," the young Brits stick to that pattern, resulting in a strange number, here titled "The River Rhine." But on slow basic blues, like "23 Hours Too Long," everyone does fine. Williamson is able to relax as Clapton feeds him with guitar lines that occasionally hint at his future monster reputation.
A second CD -- Sonny Boy Williamson in Europe(Evidence 26071) -- collects more of the Chicago bluesman's 1963-1964 tour adventures. High points are "I Don't Know" and "I've Had My Fun" from the American Folk Blues Festival in Bremen, Germany, with Williamson nicely aided by Otis Spann on piano, Matt "Guitar" Murphy and Willie Dixon on bass. Nine of the 14 tunes come from the Crawdaddy Club appearance with the Yardbirds, so if it's Sonny Boy you want, you can get most of that material here, minus the early Yardbirds on their own.
---
The Storyville Story

Speaking of Eric Clapton, I kept thinking of his Unplugged album as I listened to New Orleans Street Singer (Storyville 8023), a set of thoroughly enjoyable Snooks Eaglin recordings made in New Orleans between 1958 and 1961. Maybe it's that the Eaglin disc features "Alberta" like the Clapton best-seller, or maybe it's that you could plug Eaglin's version of "Mean Old World" into Unplugged without anyone noticing, or maybe it's just that the two records share a laid-back, acoustic virtuosity. All but "When They Ring Them Golden Bells" are solo outings, and that one finds singer-guitarist Eaglin cavorting with pal Percy Randolph on washboard. The 25 songs take in a world of music -- a picking instrumental of "Malaguena," hometown tunes like Fats Domino's "Don't You Lie to Me," songs that were then relatively new like Ray Charles' "I Got a Woman," old-timers like "Trouble in Mind," even religious numbers. Snooks Eaglin must have drawn quite a crowd if he sang this stuff on New Orleans streets.
I should warn you that the some of the info given with Storyville reissues is unreliable and sloppily researched. For instance, Eaglin is credited with writing "Going Down Slow," Big Boy Crudup's "That's All Right, Mama," Ray Charles' "Come Back Baby," even "When Shadows Fall," an old pop tune usually known as "Home." Similar errors crop up on other Storyville releases, many of which were recorded in Sweden in the early 1960s.
I suspect the producers were wide-eyed about working with visiting bluesmen and weren't deeply-drenched in American music. Other times, they used Swedish sidemen with mixed results, as on Storyville's several reissues of Champion Jack Dupree's music. Being in Europe, however, allowed Dupree the freedom and inspiration to put down for posterity some of his scathing anti-segregation commentary, most notably on 1961's "Free And Equal," found on Trouble Trouble (Storyville 8013).
To the label's credit, a number of Storyville releases feature urban pianists, not simply the country blues guitarists who were so popular in Europe and on the folk circuit of the 1950s and '60s. Memphis Slim was caught in a reminiscing mood in Copenhagen on August 25, 1960, and gives spoken introductions to pieces in Memphis and St. Louis styles, all the while playing at the top of his keyboard game on Traveling With the Blues (Storyville 8021). I was also charmed by King of Boogie Woogie (Storyville 5011), a 1975 French date which captures blues-jazz veteran Sammy Price's raconteur vocals, two-fisted playing and "Making Whoopee" on piano boogie, pop standards and blues.
---
This One's For Dewey
Genuine fun and historical importance make an easy match on Red Hot & Blue (Memphis Archives 7016), preserving nearly an hour's worth of Dewey Phillips' radio broadcasts, 1952-1964. Phillips was one of those deejays who introduced white listeners to the joys of black music, creating the audience for rock'n'roll in the '50s. While this CD doesn't include Phillips' first playing of Elvis Presley's "That's Alright Mama" in 1954, these samples of his style make it clear why he was such a popular Memphis radio personality.
Phillips' nightly "Red Hot & Blue" show was billed as "the hottest thing in the country," so successful that one radio spot proudly proclaims the program's ad space had been sold out for the past five years. In a rapid-fire no-punctuation thick Southern voice, Phillips plugs furniture stores and Falstaff beer, and tosses off comments about his new song -- "Get off the turntable, Mabel, you're too old to be going around with musicians." All the while he's spinning records like Piano Red's "Dig That Boogie," Rosco Gordon's "No More Doggin'," and bluesy-jazzy Bill Doggett sides.
He did more than play 'em, in fact, often singing along and interjecting editorial comment, much as Bob Wills did on his old Western swing numbers. And, always, Dewey Phillips promotes the music that he loved, as when he introduces Sister Rosetta Tharpe's "Strange Things Happening" with the news that Jerry Lee Lewis would soon record the song for Sun Records. Red Hot & Blue is one of those rare collector's items that you can actually drag out to liven up the party. The Memphis Archives label continues to reissue good stuff in imaginative ways.
---
A Few Quick Ones Before I Go
Some of the other reissues I've been partial to lately:
---

The Best of Blind Blake (Wolf WBJ-017). Sure, it's dubbed from scratchy old 78s, but this 22-song disc manages to capture the street singer and ragtime guitarist on some of his most memorable 1926-1930 songs. The acoustic, folky boys may sound digitally cleaner and fuller today, but they don't do it any better.

---

Koerner, Ray and Glover, Blues, Rags & Hollers (Red House 76). Speaking of the "acoustic, folky boys," this trio was one of the prototypes, and this 1963 album still seems fresh. The 20 songs include everything from field hollers to rootsy originals, and many are pleasingly short. The vocals have the right tone, not prettified, but with slur and style, and Tony Glover blows serious harmonica.

---

B. B. King, Heart & Soul (Pointblank Classic 7243 8 40072 2 5). The subtitle -- A Collection of Blues Ballads -- just about tells it all, though you might add that these 20 slow dances are from King's '50s and early '60s sessions for Modern, and he's backed at times by both doo-woppers and jazz musicians. The emphasis is on ballad singing, not on Lucille's stinging tones.

---

Little Sonny, Blues With a Feeling (Schoolkids 2102-2). Wherein the harpman sings and plays a strong, funky 1972 concert, well illustrating why he was one of the few mainstream blues artists to record for Stax during its soul heyday. This "live" set comes from activist-producer John Sinclair's tapes of the Ann Arbor Blues & Jazz Festival.

---

Eddy Clearwater, Boogie My Blues Away (Delmark 678). Despite the title, this great-sounding 1977 recording has a mix of tempos showing Clearwater to be a passionate singer with rock and gospel influences, a blues guitarist who can hold his own with the best and a songwriter with something to say. Unlike many discs, this one grows on you with repeated listening.

---

Al Green, Tokyo Live (The Right Stuff 7243-8-31975-2-1). I mentioned a few issues back how much I admire Green's singing, so I was happy to find this 1978 concert in which the Soul Man-turned-Preacher performs 14 of his hits in terrific form. I know it's not exactly "blues," but, as you regular readers have probably figured out, I'm no purist, and the feeling's there.

---
From Blind Blake to Al Green and beyond, the feeling's either there or it ain't, and if it ain't, it's like Duke Ellington's song about music that doesn't swing ... "Don't mean a thing if it ain't got that swing ... Don't mean a thing if it ain't got that ... Don't mean a thing."
---
This page and all contents are &copy 1996 by Blues Access, Boulder, CO, USA.