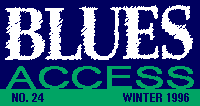 ---
Blues on Video
---
Doc Isaiah Ross, the Harmonica Boss
The Last Concert, VHS video
(Back Alley Blues, 1995)
---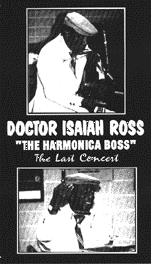 Talk about unplugged. This is the original one-man band: Ross plays lefty guitar (an upside down, old Yamaha classic strung with steel, for you detail lovers), stomps out the beat on a bass drum with his right foot, occasionally plying a high hat with his left foot, all the while playing harp and rendering "the real thing" in terms of down-home vocals and pre-Little Walter style talking harp.
Except for a brief biography, the producers elected to focus on a 1993 performance segment, set somewhat incongruously amidst the bookshelves of the public library in Flint, Michigan. Ross, 68 or 69 years old at the time, warms up with a few harp and vocal numbers (it takes a few to get him going), moves on to guitar and vocal, and really gets cookin' when he puts it all together for an authentic Delta set, including a haunting "Hoochie Coochie Man."
While the inspired and inspiring segments are few, I feel grateful for this last look at a magnificent talent, especially considering Ross died just a few months later. (Back Alley Blues, P.O. Box 372, Fenton, Michigan 48430)
---
Lead Belly
The Legacy of Lead Belly, VHS video
The Lead Belly Letter, newsletter
(Lead Belly Society)
---
The first popular player of the 12-string guitar in American music history, Lead Belly is responsible for such standards as "Alberta," "Bourgeois Blues," "Good Mornin' Blues," "Goodnight Irene," "House of the Rising Sun," "How Long," "In the Pines," "John Henry," "Midnight Special," "Red River," "Rock Island Line," and "Where Did You Sleep Last Night," for starters. He was quite literally a walking songbook of musical Americana and a colorful character who actually sang his way out of prison, where he was doing time for murder.
Two different projects on Huddie Ledbetter illustrate the limitations and strengths of the media involved. The Legacy of Lead Belly is a dry, PBS-style documentary that briefly traces Ledbetter from his birth in 1889 (somewhat contested by official records that vary from 1885-'89) to his death in 1949. Consisting mostly of interviews with some distant relatives and unlikely guys like guitar expert George Gruhn, the video biography provides some details of Ledbetter's life and times, including comments on his prison years and family problems.
Still, I had the distinct feeling that the interviewer somehow wasn't getting the whole story, that there were many things left unsaid. Either that or his subjects had little to offer other than a claim of being related or meeting him once. Given the lack of depth in the interviews and precious little film footage, it would have been better if the focus were more on the music and photo stills.
The newsletter is certainly a better source of information, and it reflects dedication to unearthing details about this prolific songwriter and historical figure. If you're a Lead Belly fan or interested in finding out more about him, I recommend the Lead Belly Letter to enhance your appreciation of the music this giant of a songwriter generated. (Both available from the Lead Belly Society, P.O. Box 6679, Ithaca, NY 14851. (607) 273-6615.)
---
Lightnin' Hopkins
Rare Performances/1960-1979
(Vestapol Productions 13022, 1995)
---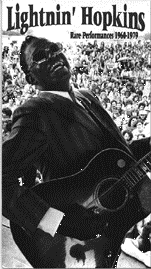 Po' Lightnin' Sam Hopkins is profiled in this one-hour collection of performances that range from uninspired to interesting to outstanding. Nineteen cuts are offered, including a couple filmed in Houston in 1960, five from 1967, eight filmed for the KCET-TV Los Angeles show, Boboquivari, in 1970 (these are the best), and ending with four cuts from a 1979 Austin City Limits.
Here we get enough genuine Lightnin' to clearly showcase the unique dialogue between voice and guitar that was the hallmark of his playing. A man whose quirky sense of meter made him a solo artist almost by default, Hopkins' style was never directly emulated. Yet listening carefully, you'll hear some spidery guitar licks that have resurfaced in much of contemporary Texas blues and a vocal/guitar interaction that has spurred legions of blues players to get creative and original with their own interpretations of the Delta blues standards.
As with most Vestapol tapes, this one comes with excellent liner notes (actually a 25-page mini-biography) by Mark Humphries that trace Hopkins' career. Jammed with anecdotes from friends and fans, this booklet, combined with the images and music, made me feel a deeper understanding for the "Black and Evil" man that became a legend. (Vestapol Productions, One Camp Street, Cambridge, MA 02140)
---
This page and all contents are &copy 1995 by Blues Access, Boulder, CO, USA.