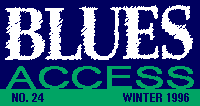 ---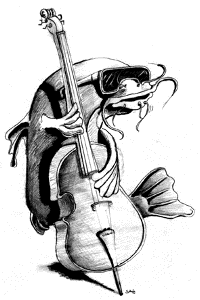 This magic moment
I measure my musical year in moments. And 1996, my first full year here at BLUES ACCESS, has made for more than the usual number of epiphanies, those times when music, life and consciousness converge and head off into some other place entirely.
For instance, I'm thinking of a morning during the Jazz and Heritage Festival. It's after two a.m., and we've just come out from a couple of sets by Earl King when we stumble onto a little intersection with a club called Muddy Waters on the corner and another called the Maple Leaf across the street.
Beneath the street lamps, it's like high noon in New Orleans; the crowds spill out over the sidewalks. I'm jet-lagged and kinda punch drunk, but the Rooster is keeping me up late. As we amble over to the Maple Leaf, its stage backed against the front window of an old storefront. Not wanting to pay the cover at this hour, we crowd around an open window behind the drum set to catch a little of Rockin' Dopsie Jr.
Suddenly a saxophone player, on break from the club across the street moves through us and jumps into the window onto the stage. The band and patrons greet him with a cheer, and he suddenly turns around to the window to us non-paying customers and commences to wail. I'm so close I can breathe deeply from his horn, feel the air whirling through his sax by those dancing fingers, and suddenly I'm not tired anymore. For those couple of minutes time stood completely still; 18th Street in Kansas City 1931, 42nd Street in Manhattan 1947, New Orleans 1995 -- I'm there.
Here's a few other choice moments I'll use to remember 1995.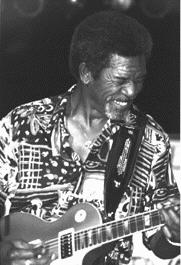 1) Luther Allison, King Biscuit Blues Festival, Helena, Arkansas, October. Allison's focused energy took hold of me from the first note of "All the King's Horses" and wouldn't shake me loose for 60 minutes. I'm only sorry I didn't hear one of the 3 1/2-hour plus workouts he's been doing at club dates. If you didn't catch him this year, don't let it happen again; a good antidote is his blistering, in-your-face Blue Streak, his latest Alligator release. And I dare anybody to show me somebody who's more on top of his game than Allison right now.
2) Dr. John and the New Island Pleasure & Social Club, Somewhere in the Caribbean, January. The good doctor was in fine fettle, and the New Island Pleasure & Social Club seemed to be taking cues from the full moon as the Ultimate Rhythm and Blues Cruise steamed along. During one song, which I learned later is called "Renegade" and has a line about "running through the jungle," I imagined the dolphins and whales boogieing alongside the boat -- or maybe that was because of our previous stop in Jamaica. (Also highly recommended: Rebennack's sometimes scary, oft-times hilarious autobiography, Under a Hoodoo Moon, now in paperback from St. Martin's Press.)
3) Johnny Copeland, Brendan's, Denver, Colorado, July. Copeland played two brilliant sets on this night before winding up in the hospital that week with a heart attack. (Though the Rooster swears this wasn't anywhere near a Copeland peak performance.) At press time he's still awaiting a transplant, and we wish him the best and look forward to seeing him perform his transcendent blues again.
4) Rock'n'Roll: An Unruly History (Harmony Books). Robert Palmer is arguably the best writer on American popular music; his Deep Blues is necessary reading for anyone with even a passing interest in the subject. This history, loosely based around the recent PBS series on the history of rock (for which Palmer was a consultant), could easily become as required as Deep Blues. It's divided, like the series, into chapters, and the ones that concentrate on rock's pre-history, which Palmer persuasively argues derives as much from jazz and gospel as the much-hyped blues+country conjugation, are filled with Palmer's unique insights and tales of some of the music's unsung heroes that will make you want to scramble to find some of the music of which he writes. Guitarists especially won't want to miss the chapter titled "The Church of the Sonic Guitar," an in-depth study of the rise of the amplified guitar -- from Pat Hare onward. You'll never think about music exactly the same.
5) Crownseekers, Gospel Tent, Jazz and Heritage Festival, April. This group's lead singer, with his tight suit and slicked-back hair, quite literally made me feel not so bad about missing some of the great soul singers of my youth, so testosterone-intense was his rhythm & religion. And later on the same stage, the Blind Boys of Alabama turned "If I Had a Hammer" into one of the hardest-rocking R&B songs I've ever heard.
6) Robert Johnson gravesite(s), near Greenwood, Mississippi, October. I first read about Johnson in Mystery Train in 1975 and rushed out immediately to buy The King of the Delta Blues Singers (the best $2.99 I ever spent). Visiting these two rural Delta church cemeteries within a couple of miles of each other, both with Johnson memorial markers but neither with actual proof he was buried there, brought a kind of closure on my Johnson obsession. To get to them, you also pass the building (then perhaps a honky-tonk 2 1/2 miles up the road, now a private residence) which is designated by some (certainly not all) Johnson enthusiasts as the structure where he was poisoned. I can't say I went away with any more answers than anyone else, but I'm glad I went anyway.
7) Stride piano night, Tipitina's, New Orleans, April. We got there late, and at first I couldn't make out the name of the performer at the piano dressed in the wonderful Little Richardesque suit. He played a few songs, but it wasn't until "Cherry Pie," the old ballad I first heard by Skip and Flip, that I fell under the charms of the personality known as Ironin' Board Sam, profiled elsewhere in this issue.
8) The Best of the Consolers (Nashboro). Perhaps the finest of an astounding array of gospel reissues is this husband-and-wife team whose vocal harmonies run chills down my back. Nashboro's immense catalog will boggle the mind. Among the other highlights for me is The Best of Howard "Slim" Hunt & the Supreme Angels, The Best of the Hightower Brothers and The Best of the Brooklyn All-Stars.
9) G. Love and Special Sauce, Fox Theatre, Boulder, October. I was sorry that more middle-aged blues fans weren't there; this twenty-something seems to be capturing only the grunge crowd, which, like it or not, is the next generation of blues fans. Playing on vintage instruments through ancient amplifiers, Love's trio swung through a low-key set that was heavy on atmospherics and light on guitar pyrotechnics. His patois is a little corny, but his heart and disarming, subtle style are in the right place.
-- Leland Rucker
---
This page and all contents are &copy 1995 by Blues Access, Boulder, CO, USA.