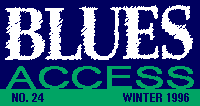 Selected from the Magazine
---
Sunnyland Slim
Live at the D.C. Blues Society
Mapleshade 56302

Sunnyland Slim Blues Band
Chicago Jump
Evidence 26067-2
---

Sunnyland Slim, a k a Albert Luandrew, was a treasure trove of Chicago blues, and here are two different looks at his music. Live at the D.C. Blues Society was recorded Oct. 13, 1987, capturing Slim solo before a small but highly appreciative crowd. Slim was 80 at the time, and he sounds a little tired and a bit uncomfortable without his band. But without a band to rein him in and guide his time, Slim's rollicking, barrelhouse style takes on the quality of a broken-field run in football; you just don't know where he's going next, and you can't wait to find out.
This is most pronounced on "Got to Get to My Baby." Other cuts showcase his versatility; "When I Was Young" is a classic boogie woogie, and "I Won't Do That No More" finds him taking his time on a slow blues.
The recording quality is good, not great, as one of the mikes is picking up some feedback from Slim's bass runs. But it's a small suffering for such as personal look at one of Chicago's finest.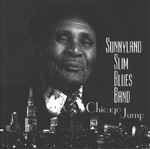 Chicago Jump was recorded in 1985 and originally released on the Red Beans label. The CD reissue adds one track, a sax-based instrumental, to the original release. The album provides a better picture of Slim's band than of the man himself; Slim sings three of the numbers; drummer Robert Covington and guitarist Steve Freund sing two and one, respectively, and the disc includes five instrumentals.
Best of the instrumentals, for my money, are "Halsted Street Jump," with a unison sax-and-guitar figure anchoring the tune, and "From Afar," which features a syncopated, clave rhythm and delicate fan strumming from Freund. The vocal tunes are good ones, including "Cryin' For My Baby" and Chuck Willis' "I Feel So Bad."
If I had to choose, I'd take the Mapleshade set first, because it offers a clearer look at Slim, versus his band. The two CDs, heard together, make a great package by which to remember one of the true icons of the blues.
-- Bryan Powell
---
Johnny Hoy and the Bluefish
Trolling the Hootchy
Tone-Cool 1151
---
In the liner notes to his all-cover CD, Kojak Variety, Elvis Costello mentions his favorite record store, Village Music of Mill Valley, California, and refers to the store's collection of oddities called "Sometimes the Cover Is Enough." Were it on vinyl, Trolling the Hootchy could easily end up there. The cover sports a colorized photo of Johnny and the band on the beach at Martha's Vineyard, playing the blues and catching fish.
Great cover, cool name, good title, decent music. The Bluefish are a blues party band from the island beach resort off Massachusetts. They sound like a good band to dance to on warm summer evenings. But Trolling the Hootchy is definitely hit-and-miss.
One of the misses concerns the recording of Hoy's voice. For some reason, he has chosen to have about half of his vocals recorded through either his harp mike or a bullhorn. Whatever the source, the sound is more annoying than anything else. When Hoy puts the bullhorn down, the results are fine, as on Roscoe Gordon's "No More Doggin'" and the original roots rocker "Young and Restless." Other clever original tunes include "Little Upsetter" and "Got a Little Problem."
But some songs should have been thrown back in. Hoy's version of Willie Dixon's "Hidden Charms" (also covered, coincidentally, on Kojak Variety) is oversung and overplayed, stomped into submission. And the disc ends incongruously with the country weeper, "Tennessee Waltz." When you troll the hootchy, you never know what you'll catch.
-- David Feld
---
Robert Cray Band
Some Rainy Morning
Mercury/PolyGram 31452 68672
---

Robert Cray's last three albums have been so soulful, in the best organ-groove Stax kind of way, that I've almost stopped missing the old friend who sang "Strong Persuader." On that hit, told from the tortured homewrecker's perspective, Cray established himself as a lonesome storyteller worthy of Johnny Cash or Leadbelly.
Since 1986, when Strong Persuader went platinum, Cray gradually has insulated himself from the pop world, settling instead for yearly blues Grammy awards. With every album, his goals seem to get more explicit: In an illustration on the cover of Some Rainy Morning, his skin is painted blue and he's sitting on a suitcase playing a guitar by a highway.
Many have lauded him for this return to pure blues, but for me it's a mixed blessing. I've always thought his voice -- not Jackie Wilson exactly, but that same pristine quality -- was suited for little bluesy pop songs.
Still, there are moments on Some Rainy Morning, his ninth album, that make me forget all this categorizing and quibbling. The first track, "Moan," begins with an explosion of organ. Then Cray's spooky, repetitive guitar. Then Cray's voice, confessing that he doesn't feel so good because his baby's gone. Nice mood, unspectacular song -- so far.
Then comes the chorus: "Ah, ha, hai, hai, hi," Cray cries, wrenching the song from craft to soul. "All I do is cry." I believe him! Suddenly, "Moan" becomes tense, sad, even a little creepy. After this, Cray's typically crisp guitar solo is a bit of a letdown.
From then on the best moments on Some Rainy Morning come from the band and the grooves. Cray's rhythm guitar and Jim Pugh's organ (and sometimes piano) are so comfortable with each other, it's occasionally like hearing Booker T and the MGs. The upbeat piano that kicks off "Enough for Me" gives the song an "I Thank You" feel until Cray downshifts into a safer, contemporary mode.
The second best thing is Cray's voice. On "Will You Think of Me," Cray fluctuates smoothly from his neutral storyteller's voice to an aching falsetto. The slow "Little Boy Big," with its accompanying whistling, echoey guitar and sha-la-las, brings to mind Otis Redding's "(Sittin' on the) Dock of the Bay."
The formulaic quality occasionally threatens to poison some of the tracks. "Why didn't you come home last night?" Cray sings on "I'll Go On," "Why didn't you call me?" He has led us down this lonely road before with better results. And the obligatory guitar solos, always well played, sometimes seem unnecessary in the context of the song.
I admire Cray for sticking reverentially to tradition. But I wish he could -- like Bob Dylan or, heck, himself in 1986 -- fuse talent and tradition into something new and wonderful.
-- Steve Knopper
---
The Hoax
Sound Like This
Atlantic 82739-2
---
One listen to Sound Like This, and there's no question that Stevie Ray Vaughan's influence has made its way across the Atlantic. But to call the Hoax a blues band, or even a blues-rock band, would be limiting. At various points along these 11 tracks, this British quintet toys with jazz, swing and even funk.
The album explodes out of the gate with the pounding bass and drum riff of "Lizard Like Me." While the vocals lack some of the balls associated with more hard-core blues wailers, the guitars more than make up the difference by taking a simple but powerful rock riff and working it into a 12-bar pattern. Guitarists Jess Davey and Jon Amor lean heavily on the Vaughan style not only in tone but in phrasing. Unfortunately, things get a little muddy in the last few seconds and drums and guitars escalate into a confused crescendo.
"Much Too Much" is reminiscent of the syncopated R&B groove of vintage Booker T. and the MGs, with plenty of room between verses for rambling guitar solos, while "Wake Me Up" shifts into a fusion of hard rock and swing that can't decide whether it's a blues, rock or country tune. The clichéd lament, "Everybody tells me, 'Get a job and cut your hair,' " reeks of rock'n'roll, but Hugh Coltman's harp solo that leads the song out feels more like the blues.
Coltman gets downright mournful on "Swallow My Pride," a much slower, heartbreaking tune about a bluesman who has nothing left to offer his departed woman but his music. Davey and Amor offer plenty of trebly accents between vocal phrases and a healthy, full-bodied solo midway through this 10-minute marathon.
"Twenty Ton Weight" changes pace dramatically with a funky opening rhythm guitar riff. This is the Hoax at its best -- uptempo, crunchy and percussive. The liner notes are never clear as to who is handling lead guitar and when, but suffice it to say that both Davey and Amor exhibit solid chops in this number.
"Headless Chicken" is one of those catchy, almost silly blues rockers that makes no apologies for inane lyrics like, "What kind of rooster are you when you can't wake the neighbors up? You got no voice at all when your head's been cut." If there's some deeper meaning here, it takes a back seat to the infectious, snappy rhythm and tight guitar-percussion interplay.
Things get even more interesting and diverse toward the end. "Driving Blind" is a few incidental lyrics tacked onto some guitar work that flirts with jazz rhythmically and melodically. The result sounds something like Steely Dan with a hard guitar edge. "Don't Bust a Valve" follows immediately with a combination of trebly rhythm guitar and a forceful downbeat reminiscent of some of the rhythm-heavy funk of the '70s.
Ironically, these five Englishmen have captured the essence of a broad spectrum of the American pop tradition.
-- John C. Bruening
---
Paul "Wine" Jones
Mule
Fat Possum/Capricorn 42090
---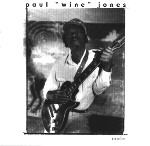 Mule was recorded in one day at a place called Jimmy's Auto Care. If Jimmy's is really a garage, then this is the best authentic "garage band" I've heard in a long time: a no frills, in-your-face Mississippi Delta blues experience.
This is the 48-year-old Jones' first album, and his raunchy rhythm guitar is accompanied by either Big Jack Johnson or Kenny Brown's complementary guitar work and Sam Carr's (the son of blues legend Robert Nighthawk) drumming.
No bass? Naw, it would only get in the way of the deceptively loose-sounding yet hard-driving textures of the guitar tandems. But it points up Carr's adaptability in negotiating and swinging with Jones' oddball phrasing. These songs are not your typical eight-to-the-bar constructions, and the chord changes keep you off guard and on your toes. (Carr gets turned around on the downbeat so often that he could have fallen off his drum stool with the spins during this session.)
Then there's Jones' voice: deep, gravelly and drenched in Old South mystery and misery. One gets the feeling Jones has lived these blues.
Mule is loaded with atmosphere. Close your eyes and you are in that smoke-filled Southern dive, getting smashed and maybe a little afraid for your life as Jones and Co. make you cry in your beer. It's hard to pick out one or two standout cuts. "Mad Dog on My Trail" has great understated slide work while evoking the ghost of Robert Johnson. "Kitty Kat" features non-traditional wah-wah rhythm guitar that works. "Big Bell Ringing" has some great slurred-speech, hoarse blues ranting.
Producer/blues archivist Robert Palmer turns in a straightforward snapshot recording that flatters this raunchy outing. The use of digital effects, overdubbing or any other modern technology would have been a disservice to Mule. Like a breath of juke-joint fresh air, this is recommended to those who like their blues straight up and raw.
-- Jon Martinez
---
Bobby Parker
Shine Me Up
Black Top 1119
---
Although he was a sideman for Bo Diddley and Hucklebuck Williams in the 1950s, Bobby Parker didn't start flexing his muscles nationally as a solo performer until the early '90s -- nearly 30 years after planting himself in the Washington, D.C., club circuit. Shine Me Up, may be only the second solo album for this 58-year-old guitarist, but it contains a wealth of style and range that only a blues and R&B veteran can deliver.
There's an easy, laid-back quality about this album, with production that steers clear of the hollow, edgy blues sound, instead favoring a warmer, more listener-friendly packaging. Even in the driving, uptempo numbers, Parker isn't out to rip your face off.
Instead, opening tracks "Man's Gotta Do What a Man's Gotta Do" and "Kick It Around With You" reach beyond the hard-core blues fans in search of a broader, R&B-oriented audience.
Although not trashy by any means, "Stamps on Your Letter" is Parker's play on words with a provocative undercurrent -- nothing new in the rich tradition of suggestive metaphor in blues lyrics, but noteworthy for its cleverness. An analysis of a vocal line like "You gotta lick 'em and stick 'em and send them on their way" is a Freudian avenue that is perhaps better off unexplored.
The title track is a throwback to the R&B heyday of the '60s, incorporating a bass riff lifted directly from familiar pop standards of the period like Wilson Pickett's "In the Midnight Hour" or the Temptations' "Ain't Too Proud to Beg." The result is a tune that sounds familiar, even on the first listen.
The five-piece brass section that shows up frequently doesn't hurt the cause either, especially in "Somebody's Comin' in My Back Door." Lee Allen Zeno's slap-and-pluck bass technique is used generously here and further contributes to the chitlin' flavor.
Although Parker doesn't necessarily break any new ground with Shine Me Up, this survivor of numerous generations and genres takes the listener to a place where fans of the blues, R&B and soul can come together comfortably on common ground.
-- John C. Bruening
---
Albert Collins and the Icebreakers
Live '92-'93
Pointblank 7243 8 40658 2
---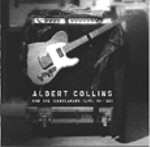 Texas blues badman Albert Collins liked to drive his own tour bus. Fasten your seat belt, because he's at the wheel again on this well-recorded 10-song set culled from festival appearances in Illinois and Switzerland. It's full-strength Collins all the way, with tons of the ice-toned guitar work that earned him the title of Master of the Telecaster.
A taut "Iceman" is the hard-hitting opener, with Collins backed by thick-toned organ and the dreaded Legendary Trash horns. His take on Little Johnny Taylor's "If You Love Me Like You Say" is a churner that likely had the festival audience dancing madly. Both Collins' guitar break and Pete Thoennes' organ solo bring whoops of glee from the fans.
Collins' solo on "Put the Shoe on the Other Foot" is plain fierce; actually it's not a solo but a fusillade, with dirty drummin' and screaming horns providing ace back-up. "Travelin' South" is a hearty shuffle; Albert barks out the vocals with authority. He was heralded more as a guitarist than as a singer, but he could holler hell out of a song.
He was also witty! His version of Jimmy Liggins' "I Ain't Drunk" is hilarious. He says, "Here's two drunks in a tavern" and does dead-on guitar sound effects that could make a dead guy laugh and a sober one drink again. His guitar drops from the top of the mix for a chorus or two on "T-Bone Shuffle" but is restored soon enough to make the tune a killer climax to the disc.
Collins died in late 1993 -- just a couple months after the last of these performances was recorded. Collins always told his audiences: "Thanks for appreciating me," and the many who did will regard this as one of his finest works.
-- Tim Schuller
---
Otis Rush
So Many Roads
Delmark DE-643
---
It doesn't get any better than this. From the first throbbing notes to the driving closer, Otis rips, rocks, moans and croons his way through one satisfying album.
Caught before an adoring Japanese audience in July, 1975, Rush repeatedly shows why he's regarded as a master artist not content to rest on his past accomplishments. His fluid, melodic guitar lines, stinging tone (Otis is a stickler for tone; he can stop you with one note), and impassioned and anguished vocals create a mesmerizing experience. Unlike his most recent album this is nothin' but undiluted, deep, Chicago blues. (And, thanks to three additional tracks, even more of it than on the original LP release.)
If some of the material sounds familiar, remember that people have had 20 years to incorporate his then-uniqueness into what is now the common language of the blues. While you may have heard others play his licks or do his songs, no one has it all together as he does. This is as compelling, as exciting and as passionate an album as you could ask for.
-- Sigmund Finman
---

Dave Specter and the Bluebirds featuring Tad Robinson
Live in Europe
Delmark 677
---
I thought Specter's last Delmark release, Blueplicity, was a terrific showcase for his jazz-influenced blues guitar style. Live in Europe may even be better. Recorded over two nights in Bremen, Germany, in May 1994, it's 67 minutes of smooth, jazzy guitar work matched by Robinson's soulful vocals and harp playing. I love listening to Specter's fluid playing, which recalls T-Bone Walker and Magic Sam. His solos explore every nook and cranny of a song and keep projecting forward to the next idea.
Robinson plays the Junior Wells to Specter's Buddy Guy. Influenced by Big and Little Walter, along with Wells, he displays a melodic inventiveness of his own. The two combine beautifully on selections like Wells' "Little By Little" and Eddie Cleanhead Vinson's "Kidney Stew." Robinson's vocals are particularly good on his moving rendition of Otis Clay's "I Die a Little Each Day."
This is a stellar recording from start to finish. Don't miss it.
-- David Feld
---
Jimmy Thackery And The Drivers
Wild Night Out!
Blind Pig 5021
---

The litmus test for your opinion of Wild Night Out!: Do you buy the notion of a guitar-centric blues rock trio? Did you buy it when Jimi Hendrix did it, or Stevie Ray Vaughan, or even Cream?
It's absolutely that simple. If you don't accept the concept, then move on, because the weaknesses of the guitar trio configuration -- the thin rhythm during solos, the lone lead instrument -- will become maddeningly apparent almost immediately and spoil your listening attitude.
Thackery himself will be one of the first to tell you that a primary reason he's playing in this format now is due to the collapse a few years ago of the financial backing for his six-piece band, the Assassins. He responded by doing the only thing he could do: strip the line-up to its bare bones and hit the road again.
It should have come as no surprise to the longtime Nighthawks guitarist, but Thackery soon discovered (or rediscovered) that fans were wild about that guitar. If you're one of them, if the man-and-Stratocaster thang gives you the right kind of chills, then you'll be delighted with Wild Night Out! Thackery plays King-like blues (B.B.'s "You Upset Me Baby," Freddie's "The Stumble"), Jimi's blues ("Red House," "I Don't Live Today") and some of his own, including the lovely "If You Go," from his days with the Nighthawks, and the clever instrumental, "Edward's Blues."
Through it all, Thackery's guitar playing is dramatic in vision and spectacular in execution. There's no doubt, as he's said many times, that despite his passion for blues, his initial inspiration came from Hendrix. And Wild Night Out! isn't about blues as much as it is about worshipping at the altar of the electric guitar: Don't expect to hear profound insight, clever wordplay or even vocals to match Thackery's six-string fury.
The vocals are not much more than passable, in fact, and -- with the singular exception of "If You Go" -- seem often to merely mark time between solos. Of course, those are some damned wicked solos. Listen to the tremolo bar interlude in "Red House," for example, which sounds positively Hawaiian. But listen also to the attention to detail in "Edward's Blues." Like the best of Freddie King, it's an instrumental song, clearly, not just an opportunity to wail.
So, yes, maybe it's a guilty pleasure for your blues palette, but go ahead and enjoy it. It's a very clean live recording (from a show at Sully's in Dearborn, Michigan, last November) for a receptive, happy crowd, and bassist Wayne Burdette and drummer Mark Stutso are rock-solid throughout. So dig in! Praise Jimi! Praise B.B! Services will begin around midnight. God bless Leo Fender! Really!
-- Bryan Powell
---
Smokey Wilson
The Real Deal
Bullseye Blues 9559
---
Hailing out of Glen Allen, Mississippi (35 miles south of Greenville), Robert Lee "Smokey" Wilson was brought up on the hard Delta blues sounds of Elmore James and Howlin' Wolf. He palled around with the likes of Big Jack Johnson, Little Milton and Booba Barnes while they were all learning their chops in the juke joints.
In 1970, at the age of 35, Wilson moved to the Watts area of Los Angeles. He soon took a job as the manager and house bandleader at the Pioneer Club, a famous local blues joint. He continued to hone his skills and as bandleader was able to come into contact with many of the biggest names in the blues.
Wilson's sound is a mix of all of these influences and a good 40-plus years of hard grit under his fingernails. Coming on the heels of his highly acclaimed Smoke N' Fire, with less production, fewer instruments and no guest appearances, The Real Deal seems closer to the raw efforts of the fiery bandleader.
Two of the more interesting tracks are the acoustic solo numbers, "Son of a ... Blues Player" and Muddy Waters' "Feel Like Going Home." Wilson's slide work is exciting and certainly hearkens back to his youthful days. The other nine cuts are pure hard-driving electric blues with one cover, the Eddie Taylor shuffle "Bad Boy."
Thanks to Ron Levy for allowing Wilson to stretch out on so many of the numbers. (Five cuts clock in at more than five minutes.) Wilson is not a seasoned studio artist; he's used to live gigs where he has all the time in the world to get his point across. "House in Hollywood," "Rat Takin' Your Cheese" and "Can't Make It Without You" all combine the best of what he has to offer.
If you miss the sounds of blues greats like Albert Collins, Albert King and Howlin' Wolf, Smokey Wilson will give your poor heart ease. Blues players this good don't come around too often.
-- Brett J. Bonner
---
Roland Stone
Remember Me
Orleans 1111
---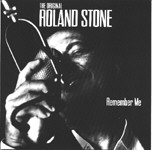 Who is this guy? Where did he come from? Well, in 1959 Mac Rebennack took Roland from his job with a New Orleans group called the Jokers to hook up with the pre-med Mac in the Skyliners, with hopes of hitting it big in recording.
He actually did have a minor hit on Ace, "Just a Moment of Your Time," which came from an album that eventually was recorded before things fell apart -- not from any lack of talent or promise on Roland LeBlanc's part.
It took all this time for producer Carlo Ditta to find LeBlanc (a k a Stone), who was running a dry-cleaning business, hook him back up with Rebennack, Earl Stanley and Charlie Miller as the core of the band for this session. Thanks are due for Ditta's effort.
A singer from the old school, Roland has a style that never will be out of style. Don't misunderstand me, but you rarely hear a singer do so much and make it seem so easy and effortless. And the players find a spark that ignites and creates the mood, one that captures the seductive essence of New Orleans R&B. Yeah, that's what it is. Seductive.
Know anyone that you'd like to seduce? Put this on, and the ice in your Night Train will melt. There are so many slinky tunes here, I have to slip into something more comfortable just to write about them. Try not to shake your hassock to "Go on Fool," "Lovey Dovey" or the classic "You Can Make It If You Try." Check out "Try the Impossible" or the torrid title track. Even Strom Thurmond might get a buzz in his boxers -- nah, maybe that's pushing it.
Get the feeling I liked it? Have some fun with this one, and bring a close friend.
-- Kevin Hagerty
---
This page and all contents are &copy 1995 by Blues Access, Boulder, CO, USA.