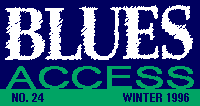 ---
Land of 1,000 Flavors
Welcome again, brewmeisters, to a world of musical hopes and dreams, the land of self-produced CDs and cassettes. This issue's patch of blue brew is probably the most diverse we've ever featured.

Top honors in this edition go to the Chicago-based Mississippi Heat, whose Thunder in My Heart is their third self-produced CD in the past four years. The band is rock-solid rhythmically, but what drives their success is their collective vocal talent. Deitra Farr is the band's lead vocalist, but guitarists Billy Flynn and James O. Wheeler and bassist Roger Stroger also contribute convincing lead vocals. Of the four, Flynn is my favorite, but you can't go wrong with any of them. And harmonica man Pierre Lacocque has found the thick harp tone needed to anchor works done in the Chicago blues tradition; he plays with discretion, usually as a rhythm instrument or one-man horn section. Sounds great.
These folks deserve a record deal; if they get one, I hope they don't let anybody screw up the good thing they've got going on. In any case, this should be their last appearance in Homebrew: they've graduated. (Van der Linden Recording, c/o Michel Lacocque, 5331 S. Greenwood, Chicago, IL (312) 288-2926)

This issue's pick for guitar lovers is Cadillac Tone by Kenny "Blue" Ray. The title tells the truth. The Californian is a Fender-on-Fender (that's guitar and amp) guy, from what I can tell, and the disc features seven splendid swingin', shufflin', rockin' instrumentals. Most highlight Ray's tasteful touch, but Chip Roland's Hammond B3 drives "For Stevie Ray & Jimi," and singer/harpist Charlie Chavez is showcased on "Mojo Bone." Tarheel Slim's "Wildcat Tamer" also gives Chavez a chance to shine on harmonica. Chavez's vocals are good enough, but I get the feeling that changes in the mix or production (which is a tad thin in places) might have presented his talents better. But that's a slight distraction from an otherwise enjoyable effort. (Blue Ray Records, P.O. Box 844, Menlo Park, CA 94026-0844)
I received several dozen submissions for this issue's Homebrew, and at a first glance I didn't expect Mr. Politician, by Texan Bert Wills, to make our final six-pack. The cover art depicts Wills, who looks more like a biker or wrestler than a bluesman, taking the oath of office (left-handed, by the way) as Jimmy Carter, Walter Mondale, George and Barbara Bush and a buxom blonde look on. Clever graphics, but I don't generally mix my blues and my politics, so I was skeptical of the package's musical contents.
I was wrong. I don't like the title cut, but what follows is apolitical, stellar blues; a big, engaging horn arrangement drives "You'll Miss Your Water," and if you listen closely to "Three Hours Past Midnight" (also with horns), you'll hear a perfect T-Bone Walker resolution in Wills' vocal phrasing. Wills is also a fine guitarist and shows his diversity on the acoustic Delta stomp, "Dangerous Man." A pleasant surprise, indeed. (GoldRhyme Records, 5959 W. Loop South, Suite #424, Bellaire, TX 77401,(713) 660-6015)

Get ready to mambo like hell with The Mambo Brothers Blues Band on Night Owl. This Florida ensemble isn't a blues band per se; what they do offer is that Crescent City syncopation thang, which they've got down cold. Harpist/vocalist Dennis "Doc" Booth isn't a memorable singer, but his vocals are pleasant enough. Best cuts include the title tune, which features some nice harp from Booth, and a ballad, "The Man in Love With You." Guitarist Charlie Brent plays apt, jazzy guitar throughout, particularly on cuts like the gentle "Do You Know What It Means to Miss New Orleans." Fine stuff, and certainly a different flavor than some of our other brew. (En Réve Productions, 1700 Medical Lane, Suite 126, Fort Myers, FL 33907, (813) 275-4423.)
New Yorker Dave Keyes is duly named. The keyboardist/vocalist has worked with Bo Diddley, Buster Poindexter, Sleepy LaBeef and others. His Rockin' Rhythm and Blues shows his range, from raucous rocking ("Lovin' All the Time") to clever wordplay ("You Ain't Seen Nothing Yet") to effective ballads ("Signed With Heartache"). The album also features a tribute to Professor Longhair and Dr. John that finds the right groove. Vocals are OK, but skip the Robert Johnson covers. (Keyesland Music, 115 Johnsontown Road, Sloatsburg, NY 10974, (914) 753-6914)

It's probably nobody's version of blues, but the self-titled disc from L'il Georgie and the Shufflin' Hungarians deserves a mention. At its worst, the CD is silly, but its best moments are exceptional. L'il Georgie, a k a George Rossi, weaves a macabre vision of life's darker side into music that often recalls Little Feat or the Rolling Stones circa Exile on Main Street. Even when the band hits a straight-ahead groove, as on "Brassy Bessie," there's a twist, such as a horn line with a distinctly Middle Eastern flavor. Look out, Dr. John; you're not the only "Night Tripper" in town these days. (Queen Bee Brand Records, Box 308, Syracuse, NY 13208)
Several discs are also deserving of honorable mention, not because they feature good blues, necessarily, but they do stand out from the crowd. The Linwood Taylor Band's "Ply's Bounce," from their Take This And Stay Out of Trouble, is one of the wilder guitar workouts your likely to ever hear (P.O. Box 191, Lanham, MD 22203, (301) 881-3153). Tom "B", on Hoofin' That Low Down Beat, is the only artist I've ever heard to use tap-dancing as a means of percussion (Bowers' Dance, P.O. Box 224144, Dallas, TX 75222-4144, (214) 291-2294). The Gone Tribe's The Hobo Project, is a radio play, with interesting dramatic monologues interspersed between songs (Sky Diver Records, P.O. Box 725, East Setauket, NY 11733-0725, booking #: (516) 757-7052).
---
Well, fellow Brewaholics, that's it. And whether you think it's good news or bad news, I've decided to make this my last Homebrew column. One of the reasons I decided, back in 1993, to write Homebrew is that I've got a band here in Atlanta, and I wanted to see what other musicians were producing on their own. I wanted to get a feel for what's out there, and as an objective third party, to try to understand what's impressive and what's not.
I'd like to share what I've learned with those of you who not only love the blues as listeners, but as performers and players as well. To wit:
1. There's a big difference between a band that can win over a bar crowd and one that can make a good recording. For the latter, you have to have something unique to offer. And you have to write original material.

I've gotten lots of self-produced CDs -- some live -- from bands who obviously have a strong local following. That's great, but often the music they've recorded is instantly forgettable and indistinguishable from a hundred other bands in a hundred other towns, offering nothing beyond "the greatest hits of the blues, not done by the original artists." Face it, no one's going to do a Muddy Waters song better than Muddy did it, Eric Clapton notwithstanding. If you look back at the greats of the blues -- Muddy, Little Walter, Howlin' Wolf, B.B. King and yes, Stevie Ray Vaughan -- every one of them offers/offered a unique personality, character and style which emerged after they stopped playing other people's songs.

2. A great voice is a precious gift, and having one or more in your band is vital to stand out from the crowd.

Lots of guitarists out there worship B.B. or Jimi Hendrix or Stevie Ray, but listen to those men's voices; listen to Hendrix sing "Electric Ladyland" or "Angel" and stop thinking about him as just a guitar god. Listen to B.B. sing anything and stand in awe of his power and charisma.

In other words, there are lots of great guitarists, harmonica players and keyboardists out there producing their own CDs and cassettes. But consider this: Almost every album I hear on a major blues label features a strong vocalist or vocalists, memorable voices with character. Those same discs may or may not feature virtuoso players. The bottom line for the music business: Vocal character is worth a lot more than skill on an instrument.

3. It's mighty white out there.

My personal position -- and the position of BLUES ACCESS -- is that both black and white people are capable of making great blues music. You're entitled to disagree, of course. But I heard somebody clarify that issue once, saying that "the voice of the blues is a black voice." That's absolutely irrefutable from where I sit. So an all-black band, or a band with a black frontperson, is likely to have more initial credibility with audiences and music-business people. Most of the CDs I've received for Homebrew -- at least 80 percent -- are from all-white bands. So while all blues bands, black and white, have to compete in a market where supply exceeds demand, white blues musicians deal with a market where supply far exceeds demand, and where you have to work harder to prove you're the genuine article. To succeed in that environment, you've really got to have something that you can call your own, whether it's great original songs, unique instrumentation or loads of personality that comes across on stage and on recordings.

4. You need a CD.

I know it's not fair to those who can't afford it, but the standard, even for self-produced music, is the compact disc format. As a reviewer, I've tried to give a fair shake to cassette submissions, but CDs provide a superior presentation, generally have better sound quality and allow a reviewer (or club owner or potential agent) to scan the various tracks quickly. Also, the investment in a CD demonstrates a professional commitment by the band or artist. In fact, most of the CDs I've received for this column are indistinguishable in packaging from those coming from a major label. Some show even more care and ingenuity than a label is willing to invest.
To the bands out there that are trying to make it, I say this: Good luck, believe in yourselves and don't ever give up. To everyone else, thanks for reading this column, which I'm sure will continue in capable hands. And to those who've ordered CDs from these artists based on my recommendations, I hope you haven't been disappointed. Keep diggin' these blues and I'll see you in the regular review pages.
---
This page and all contents are &copy 1995 by Blues Access, Boulder, CO, USA.