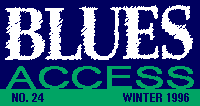 Cookin' with Louisiana Spice
Sonny Landreth Sizzles
by Mary-Ann Courtenaye





---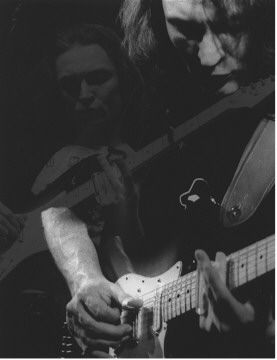 It's the nimble, almost spidery finger work that first grabs you. The left hand frets three-finger chords above a bottleneck-sheathed little finger; the right hand combines fingerpicking, four-finger pats, feather-light brushes over the strings and two-finger flutters. Add liberal dashes of guitar harmonics (that eerily hypnotic ringing) and sustains (notes fading out like a faraway radio signal) and the result is a shimmering slide sound indelibly stamped with the Sonny Landreth imprint.
Slide guitar mastery notwithstanding, the 44-year-old, Louisiana-based guitarist/singer/songwriter is a rather introspective sort. Landreth's weirdly mesmerizing guitar work can sometimes obscure his insightful lyrics, filled with wry observations and gracefully articulated longings, all imbued with a keenly wrought sense of place.
His latest recording, South of I-10, his second on the Zoo/Praxis label, reveals an appreciation of Cajun and Creole culture and the perspective that comes from a subtle yet ever-present sense of separateness -- of being a Mississippi native growing up in southwestern Louisiana. Steeped in the mystery and allure of the Louisiana bayous, South of I-10 was recorded on the banks of the Vermilion River at Dockside Studios in Maurice, Louisiana, just down the road from Landreth's home near Lafayette. Musical talent onboard includes legendary New Orleans songwriter/producer/performer Allen Toussaint, guitarist Mark Knopfler of Dire Straits fame, Jimmie Dale Gilmore, Butch Hancock and the subdudes' Tommy Malone.
Learning from Clifton Chenier
Landreth's Louisiana roots run deep, musically speaking -- zydeco progenitor Clifton Chenier was an early mentor. Sonny was just 17 when he met Chenier, who pioneered the now-thriving zydeco genre by infusing traditional black Creole music with big-city soul, blues and R&B sounds. After Landreth sat in with Chenier's Red Hot Louisiana Band, Cllifton invited him to join, so the young slide guitarist became the first white member of the band.
In the 1980s, Landreth became a sought-after session player for artists such as John Hiatt, John Mayall, Zachary Richard, Kenny Loggins, Beausoleil, and, more recently, Junior Wells, Knopfler and Steve Riley.
I met with Landreth in Solana Beach, California, just north of San Diego, as he prepared to rock the cavernous Belly Up Tavern that evening. Since our initial phone interview late last spring, five tour buses later, Landreth has toured in the U.S. and Europe virtually nonstop. Zoo/Praxis recently released the first Sonny Landreth music video, Native Stepson, which is well seasoned with local color, courtesy of the Crawfish Festival in Breaux Bridge, Louisiana.
---
It's interesting that you chose a strictly instrumental tune for the video, rather than one with vocals. Any particular reason for selecting "Native Stepson"?

It was a rather bold stroke, and I think it's indicative of some of the spunk from the label. It was a mutual thing, actually. There really wasn't anything else out there like that. And we felt that we really helped set up the next single, "Creole Angel."

At the risk of generalizing, I noticed that many male music reviewers seem to prefer your 1992 album, Outward Bound, to your new release, because they felt it had a harder edge to it, with showier guitar technique. To me, South of I-10 shows a new mastery, letting a more intuitive side come through. What's your feeling comparing those two albums?

First of all, I think it's really interesting that you note the male perspective, because I too have noticed that. It's really funny, actually, and you get a whole different perspective in other parts of the world, too.

It's that whole "guitar hero" mentality.

That's it. I mean, I'm as much a "guitar geek" as the next guy. But it's really the songwriting: You've got to have that first. To me, Outward Bound was more perhaps a transcendental piece.

In what way?

More introspective. Probably the best way to explain it would be to give my slant on what the new album is: It rocks harder, which I wanted to do. And it has more of a sense of place. I wanted to establish that and present my perspective as someone who was born in one place but raised in southwestern Louisiana, where I don't really speak Cajun French, but there's a musical vocabulary that I learned. Early on, there was some concern about using the title South of I-10 because it would be perceived as too much of a local album. But I was saying, "Man, we should go for it!"

I would think that the people who buy recorded music are primarily city-dwellers and would be drawn to visions of a down-home, non-urbanized region with its own distinct cultural identity, especially now that such places are in danger of becoming developed and homogenized out of existence.

I think it's a factor. Outward Bound was kind of a search. If you can envision a sort of homecoming, that's what South of I-10 was for me. That's why it made sense to record it there, too -- it's really an inspiration when you're working on these songs and you can literally walk outside and you're in that environment. They're going to have a hard time gettin' me out of there now, to record anywhere else.
This is an abridged version of the Sonny Landreth interview. For the complete article,
get the hard-copy version of BLUES ACCESS.
---
This page and all contents are &copy 1995 by Blues Access, Boulder, CO, USA.