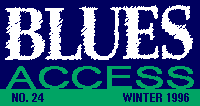 ---

Heap See, Few Know
Old African proverb says, "A heap see, but a few know." C.J. Levin (Letters, BLUES ACCESS #22) certainly doesn't know. In reading her comments, it's difficult not to be sarcastic or derisive, but it is almost unavoidable. The only remedy is to be objective and play by the rules.
Rule #1. The blues was produced by a particular people, in a particular place, under peculiar circumstances, to express a certain sentiment.
Am I saying that only people of African descent can be bluesmen? Yes! It does not say that others cannot be blues players. Since Eric Clapton is the person in question, let it be known that he is a fine guitarist and impressive blues player, not a bluesman.
Rule #2. African-derived music is evolutionary. It has a birth, a life span, a death. But before dying, it has offspring, and Muddy Waters expressed it best when he said, "The blues had a baby, and they named it rock'n'roll." Incidentally, concerning Levin's snide remark about blues on black-oriented radio stations, it's there: It's called rap.
Rule #3. Black music in America (North, Central, South) is and always has been the subject of exploitation and cultural banditry. There was for instance, Duke Ellington, Count Basie, Jimmie Lunceford, Louis Armstrong out front making music. Yet, Benny Goodman was crowned "King of Swing" and Paul Whiteman the "King of Jazz." Further still, Chuck Berry, Bo Diddley, Little Richard, Louis Jordan and others too numerous to name were brushed aside for a rank imitator and rip-off artist named Elvis Presley to be named "King of Rock'n'Roll."
Rule #4. Whenever there is doubt or controversy, refer to rules 1, 2 and 3.
In conclusion, African-Americans are not against others enjoying or playing our music, but do learn about the history of the music before you start making polemics that are indefensible.
Steven DeGross
Baltimore, Maryland
---
Commercial considerations
Subscription renewal time prompts me to write and congratulate BLUES ACCESS. I've subscribed from the first, and it's just gotten better with every subsequent issue. I also receive Living Blues, Blues & Rhythm, Juke Blues and Blueprint, but BLUES ACCESS is always the one that I'm most pleased to get. It's a great mix of articles, and it's always well-presented and well-produced.
You're not afraid of controversy, either. First Eric Clapton, now House of Blues. It is great that the blues now has a higher profile and wider interest and respect, but when anything becomes more "commercial," it is inevitable that suspicions may arise about those who only show commitment to it when it is seemingly profitable to do to.
I enjoy From the Cradle and expect I'd enjoy a visit to the House of Blues, too, but my greatest respect is reserved for all those artists, promoters, record label owners and, indeed, blues magazines' staff, who have stuck with the blues and made it available to me despite its limited commercial success. I know that they will still be hangin' in there long after any who may be aboard for as long as the ride is profitable. I thank them for it.
Long may BLUES ACCESS continue the good work.
Brian Cope
Berks, England
---
Saved by the Net
Recently I had a guitar stolen at a gig. The fact that I had borrowed the guitar made the theft much more tragic. Realizing the speed in which guitars can be bought and sold and knowing that there is a vast number of vintage guitar buyers and sellers in southern California alone, I was discouraged by: 1) the two-month wait to get a notice in the national magazines; 2) the three-four day wait for the local papers; and 3) the slow (but thorough) processes of police work. While speaking with Vintage Guitar magazine, I inquired about placing a description of this instrument on the Internet.
To make a long and exhilarating story short and to the point, the guitar was located and returned to its rightful owner six days later in a Hollywood-like rendezvous in some parking lot. The police are to be commended for bringing the guitar to the parking lot, but all clues and leads were the direct result of placing my information with Rick Powell of Virtuoso Vintage Guitars on his web site Stolen Guitar Registry (http://www.vvg.com; phone (713) 578-5050). Remember this name!
Within three hours of giving him the information, two independent guitar buyers reported seeing the guitar. They had a name for the thief. The guitar, in its rarity, was easy to I.D., and thus rendered very difficult to sell. I believe Rick's service made this recovery possible.
I would like to publicly and personally salute and thank him and encourage everyone who has recently lost a guitar to use this service. It is free, world-wide, and Rick was super-sympathetic and cool in the face of my fear, tension and concern. With the help of an anonymous buyer, the police and some good friends, this guitar miraculously was recovered.
Unfortunately the thief is still out there. So guitarists beware. He is a musician, likes to rap about guitars, blues, gigs, music, whatever; then when you are out back, at the bar or otherwise on break, your gear mysteriously walks away.
I would also encourage vintage guitar buyers and sellers, law enforcement people and recent victims to contact Stolen Guitar Registry when investigating the pedigree of a suspicious guitar. Be careful.
Jon Lawton
Santa Barbara, California
---
Bathing in butter
I took my first bath in "Butter." It was years later that I was baptized with Muddy Waters. If it weren't for Paul Butterfield, I may never have found the blues.
James P. Ronan
Decorah, Iowa
---
Butter Bloopers
The new look of BLUES ACCESS is a great improvement, and the content is even better. Having said that, I would like to add my total agreement to Mark McCabe's letter regarding Eric Clapton, the person, and his album From the Cradle, which has also received some unfair criticism. I am not a blues artist but do enjoy listening to the many players, new and old. But I think Eric is a sincere and talented blues artist. He has brought the blues to the attention of many who might not otherwise think it is "cool," and is not guilty of "theft," as Mark stated.
A great article on Paul Butterfield by Tom Ellis III, but the accompanying full page photo on page 10 has a caption that reads, "... Note chromatic harmonica, which he rarely played." Wrong: It's not a chromatic at all, but a diatonic. I am not sure it is even anything more than a 10-hole, being held in a manner to make it look longer and more exposed.
It is a common request by photographers for the artist to hold a larger harp, such as a 16-hole chromatic that they may not even play, just to make it look larger in the photo. The photographer doesn't care whether it is even the artist's preferred brand or type, just as long as it is not hidden by the hands, and will argue with the artist when a preference is expressed.
Danny Wilson
Pasadena, California
---
Just had to tell you. Great article on Paul Butterfield, but (tch, tch, tch), the caption for the band on p. 15 switches Jerome Arnold and Billy Davenport. Otherwise -- great mag. Nice new layout. I always enjoy.
Wailing Sam
San Anselmo, California
[Ed. note. Our sharp-eyed readers proved their copy-editing strengths once again. In the photo on p. 13, the players are (from left) Drummer Billy Davenport, Jerome Arnold, Mark Naftalin, Gene Dinwiddie, Paul Butterfield, Elvin Bishop. Don't miss the second part of Tom Ellis's in-depth Butterfield retrospective in the next BLUES ACCESS.
Backstage at the Boulder Blues Festival, sharp-eyed musician Kim Wilson caught us off-base on a photo (pp. 30-31) accompanying the Antone's article (BA #23) when he remarked to fellow Fabulous Thunderbird Gene Taylor: "Hey Gene, the caption to this here picture say that you're George Raines." The handsome fellow standing between Kim and Doug Sahm is, indeed, Gene Taylor.]
---
This page and all contents are &copy 1995 by Blues Access, Boulder, CO, USA.