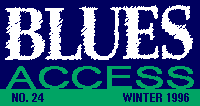 ---
Fernest Arceneaux - Zydeco Stomp
(1981) Certifiably bluesy, ballsy, stomping zydeco with singer-accordionist Arceneaux aided & abetted by Victor Walker's vocals, bass and piano. [JD]
(JSP)
---
Paul Butterfield Blues Band - The Original Lost Elektra Sessions
A must for any Butterfield fan, these tapes' sonic quality is almost scary -- you can smell the cigarette smoke.
(Rhino)
---
Blind James Campbell - Blind James Campbell & His Nashville Street Band
(1962–'63) In the liner notes, Chris Strachwitz, who recorded these sessions in Mr. Campbell's Nashville living room, notes that the band members are often out of tune and the proceedings lean to the chaotic, but that's this street band's absolute charm. Though you've heard a lot of these songs before ("Buffalo Gals," "John Henry," even "This Little Light of Mine" -- trust me, you've never heard them this way.
(Arhoolie)
---
Eddy Clearwater - Boogie My Blues Away
(1977) Ralph Bass produced this one-day affair for the man who occasionally dresses up in Native American garb when he performs. There are a couple of examples of the Chuck Berry influence, but this is mostly just slinky, low-budget blues, from the witty "Muddy Waters Goin' to Run Clear" to the scarifying "Came Up the Hard Way."
(Delmark)
---
Davell Crawford - Let Them Talk
Expectations are high for this piano-pounding prodigy, and the grandson of Sugar Boy Crawford doesn't disappoint. His own playing (catch the "A Closer Walk With Thee/Amazing Grace" instrumentals) and singing are as self-assured as the New Orleans heavyweights who accompany him.
(Rounder)
---
Champion Jack Dupree - Champion Jack Dupree of New Orleans
(1960–'62) Dupree is in fine voice for these sessions, and the mix makes it sound as if "Mr. Walking Blues" is right there in the room with you.
(Storyville†)
---
Guitar Gabriel - Volume 1, Music Maker Recordings
Guitar Gabriel (R.L. Jones) has a way with words. Whether the X-rated "You Gotta Watch Yourself" or songs that poke fun at growing old ("Hospital Blues," "Here Comes Grandma"), his slightly askew takes on life sound more real than most.
(Music Maker)
---
Etta James - Time After Time
The second of Etta's "jazz" albums follows in the steps of her Billie Holiday tribute. But like anything she does, it's "blues" through and through. Forget the categories and turn this up late at night.
(Private Music)
---
Johnnie Johnson - Johnny Be Back
A wonderfully diverse album that offers Johnson's low-key take on rock/blues classics and some new tunes, with a couple of nice guest shots -- especially from Phoebe Snow.
(Music Masters)
---
Bonnie Lee - Sweetheart of the Blues
Pulsating album matches Lee's husky tones with a sympathetic band of admirers, including Willie Kent and Billy Branch.
(Delmark)
---
The Legendary Wish - Be's That Way
This original good-timey blues album from what sounds like a bunch of North Carolina ex-hippies is haunting, intelligent, witty and better played than it has any right to be.
---
J. B. Lenoir - Vietnam Blues
Lenoir's spare '60s recordings are contemporary and often downright scary.
(Evidence)
---
Little Sonny - New King of the Blues Harmonica
(1969, 1972) You can carve mountains out of the rough edges on these electric country blues cuts recorded in five-and-a-half hours.
(Stax)
---
Robert Lowery - A Good Man Is Hard to Find
Producers Carlo Ditta and Ice Cube Slim have captured that timeless, gritty, rollin' and tumblin' feel of classic blues on this small-combo 1992 session.
(Orleans)
---
Magic Sam's Blues Band - The Late Great Magic Sam
A dozen assorted '60s tunes from "Magic Sam" Maghett, a great guitarist who was on the front line of West Side Chicago blues when he died of a heart attack at age 32 in 1969. (See "Blue Again New Again" this issue.)
(Evidence)
---
The Memphis Horns - Wayne Jackson & Andrew Love With Special Guests
Etta James, Robert Cray, Mavis Staples and William Bell are among the vocalists who lend their talents to an energetic program of R&B originals and classic remakes.
(Telarc Blues)
---
Memphis Slim - Travelling With the Blues
(1960) Solo piano with vocals and reminiscences by blues Hall of Famer, recorded in Copenhagen.
(Storyville†)
---
Willie Murphy - Piano Hits Willie Murphy Hits Piano
Murphy produced Bonnie Raitt's first album and did a memorable LP of his own with "Spider" John Koerner. (His "I Ain't Blue" appeared on both records.) Willie sings and pounds the keys on a set that's mostly covers, mostly live and all delightful.
(Atomic Theory)
---
The Pilgrim Jubilee Singers - Homecoming
This live gospel performance must have melted a significant portion of the 26 inches of snow that fell on Chicago that day in 1979. High-voltage, syncopated shouting. A must!
(Nashboro/AVI)
---
Kid Ramos - Two Hands One Heart
Currently head axeman for the Fab T-Birds (and ex-James Harman Band and Roomful), Ramos has crafted a knockout disc that spans the gamut from jump to grind. Lynwood Taylor and Janiva Magness are up to the vocals. (See review in BA #23.)
(Black Top)
---
Rock Bottom - Too Many Bad Habits
If you've been reading our reviews, you already know that Rock is the real thing. His thick harp tone refreshing presence are captured well on this Belgian disc.
(Double Trouble†)
---
Roomful of Blues - Turn It On, Turn It Up
This rockin' big band continues to grow as they mutate. Turn it up, indeed. (See article this issue.)
(Bullseye Blues)
---
Otis Rush - So Many Roads Live in Concert
(1975) This is what an Otis Rush show is supposed to sound like! Remastered from the original tapes of a Japanese concert, the CD contains three tracks not on the original LP.
(Delmark)
---
The Salem Travelers - The Best of …
Just another great gospel group from Chicago. This one got started in the early '60s and had gone through some changes by the time of these '80s recordings.
(Nashboro/AVI)
---
The Shadows - The Dark Side of the Shadows
Multi-instrumentalist Joel Murphy wrote most of the songs and applies a strong Southern voice to all of them. Albey Scholl's harp/sax plus occasional piano from legendary Henry Gray provide icing.
(Wild Dog)
---
Percy Sledge - Blue Night
That unmistakable voice may be even better in the '90s on a genre-blending set of first-rate songs linked by Sledge's unified sense of Soul. Percy, where you been so long?
(Pointblank)
---
Sasha Smith - Straight Up
This 14-year-old keyboard player not only has outstanding chops but musical ideas and sophistication way beyond his age. (See "Rooster Pickin's.")
(Back N'Bronx)
---
Clarence Spady - Nature of the Beast
Guitarist/vocalist who's ridden the cocaine train to hell and come back to sing about it. This is just a superb effort on all counts, really blue and enticing.
(Blues Street)
---
Dave Specter & the Bluebirds - Live in Europe
Sixty-seven minutes of fluid guitar work matched by Tad Robinson's soulful vocals and harp playing. (See review this issue.)
(Delmark)
---
Eddie Taylor - Bad Boy
1983–'84 recordings of laconic singer/guitarist joined Chicago stalwarts Johnny B. Moore and Willie Kent. Mrs. Taylor adds four vocals.
(Wolf†)
---
Various - Came So Far: Music Maker Recordings
Timothy Duffy traveled the Carolinas and other parts of the South to make these high-quality location recordings of a dozen elderly artists. Most have never appeared on record before. A chunk of the proceeds go to provide financial assistance to traditional musicians in need.
(Music Maker)
---
Various - Rediscovered Blues
Two-CD reissue of three World Pacific albums featuring Lightnin' Hopkins, Sonny Terry & Brownie McGhee and Big Joe Williams together and separately.
(Capitol)
---
Various - Superblues: All-Time Classic Blues Hits, Vol.3
Thoughtful selection of 19 tracks drawn from various catalogues (Specialty, Vee Jay, Duke, Excello, Checker, Atlantic) and featuring Elmore, Billy Boy, Little Walter, Frankie Lee Sims, Camille Howard, Jimmy Reed, Little Milton, among others.
(Stax)
---
T-Bone Walker - The Complete Capital/Black & White Recordings
These three CDs of one of the most influential blues guitarists of all time are a virtual Bone-fest. Dates from 1942 and 1949, with lots of alternate takes.
(Capitol)
---
Clara Ward - The Very Greatest
A TV appearance by the Ward Singers in the late '50s or early '60s opened mine eyes and ears to gospel. You can't see them whirling around in those wild wigs on this CD's 23 songs, but the musical energy makes it easy to picture.
(Nashboro/AVI)
---
Toni Lynn Washington - Blues at Midnight
Boston-based singer's gospel-tinged smoky alto is perfect for this set of swinging R&B. (See review this issue.)
(Tone-cool)
---
Blind Connie Williams - Philadelphia Street Singer
(1961) Blues, folk songs and, mostly, spirituals -- 23 in all -- by an affecting singer and surprisingly sophisticated guitarist. Born blind in Florida, the Philly streets had been his stage for 30 years when Pete Welding recorded him. Includes seven songs not on the original 1974 release.
(Testament)
---
Jimmy Witherspoon - Blues Around the Clock
(1963) Spoon quoted some of his forebears on this, a reissue of his fourth Prestige album. Paul Griffin's organ is particularly soulful.
(Prestige)
---
Tony Z - Get Down With the Blues
Remember those old R&B records by Jimmy Smith, Jimmy McGriff and Shirley Scott? Tony Zamagni does, and his Hammond B-3 is front and center (with a guitar boost from Duke Robillard) on this mostly instrumental set.
(Tone-Cool)
---
† denotes an import
---
This page and all contents are &copy 1995 by Blues Access, Boulder, CO, USA.