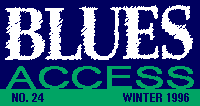 Niche busters
by Tim Schuller





---
What cha gonna call 'em?

Niche busters
Six who are kicking down new doors


At the Blue Cat Blues Club in Dallas, Gary Primich became aroused. "I play blues because it's what I have passion for," he announced. "Not because it's the only thing I can play."

On one hand, the singer/harmonicist will say that much of his music is traditional. On the other, he'll disavow any connection with "four-eyed blues nerds." He's an expansionist, like Debbie Davies, Michael Hill, Mot Dutko, Larry Garner and Billy Branch. All are front-line contributors to the modern blues experience who didn't get where they are by being preservationists. Call them ...

Niche busters!
---
Mannish Boy
Primich came of age doing sheet metal work in Indiana. He lived for the weekends, when he'd go to Chicago's blues clubs. He played in Johnny Littlejohn's band and knew Walter Horton. The latter he counts as an influence, though he doesn't sound like Walter; Primich's harmonica is lighter, more clarinet-like.
It wasn't a sound that would make him King of the Rust Belt.
"There just wasn't much room for white harp players in Chicago," charges Primich. "Face it, Willie Dixon sure wasn't gonna hire one. There was maybe the Muddy gig, and that was about it. I wanted to play, to make a statement. I visited Austin and felt there was more opportunity for me there."
Austin's blues community is clannish, and Primich noted that few sideman gigs were coming at him. "I finally realized if I was gonna be able to quit my day job and thrive as a musician. I was gonna have to form my own band."
Primich led the Mannish Boys in the late '80s and did two solo albums for Amazing Records. After Amazing went belly up, Primich kept playing, teaming with Shorty Rogers, who'd come to Austin from Vancouver with Sue Foley.
Primich's second Flying Fish CD, Mr. Freeze, was released in September. A Primich set might cover Washboard Sam, Clarence Garlow and Sonny Boy #1, then careen into rockabilly and mutant swing.
"I didn't set out to be a 'blues man,' " asserts Primich. "I set out to be a musician. I've done country sessions and radio and TV ads. I've played with people with different styles, like Tish Hinojosa. I came out of the Walters' and the Sonny Boys' and all the other guys' bags, but I like to think I've done my own thing with it."
---
Woodstock Bloodlines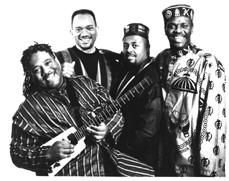 Being chastened by a schoolteacher is never easy.
At the excellent deli at East 50th and Second Avenue in Manhattan, the interviewer utters that Michael Hill seems pretty gentle for a South Bronx guy.
From the neighboring table a woman interjects, in no uncertain terms, that she taught school in the South Bronx for years, with no mishaps, and made many friends there.
Hill beams. He wishes all misconceptions were so easily dismissed.
In 1994, Michael Hill and the Blues Mob produced the stunning Bloodlines. Hill's guitar style is fervid, sonically and spiritually connected to Jimi Hendrix, and Bloodlines' material was topical. Hill's own "Evil in the Air" chillingly evoked the Howard Beach murder, "Soldier's Blues" (a pre-Living Color Vernon Reid composition) the Vietnam era.
"I was at Woodstock and was into the Jefferson Airplane, Country Joe and the Fish and Vietnam protests." says Hill. "I liked Curtis Mayfield and Marvin Gaye's 'What's Goin' On.' Plus, my parents had raised me to be very cognizant of the civil rights movement. So I was always inclined to write about issues and things other than romance. Romance is crucial, but there are other stories that need to be told."
Hill saw Buddy Guy open for the Mothers of Invention at a Schaefer Beer musicfest in Central Park. At the Fillmore East, he saw B.B. and Albert King, Hendrix and T-Bone Walker. He joined a 10-piece show band, Brown Sugar, that repeatedly killed 'em at the Club Toreador in the North Bronx. The original Blues Mob was Hill, his brother Kevin on bass, drummer Ted Lewis and keyboardist Fred MacFarlane.
Though the blues critical fraternity lauded the adventuresome Bloodlines, some writers missed its positivity.
Hill counters:
"To me, music is a healing force. Any lyric I write, I try to have a sense of hopefulness in there. Often music is about catharsis, about facing up to things. Songs like 'Soldier's Blues' and 'Evil in the Air' point out situations that obviously shouldn't exist. If bringing that fact out in the open speaks of despair to a given person, well, maybe that's what they're bringing to the table themselves."
Hill says he contemplated doing something "more commercial" in terms of the blues, but dismissed the idea. He figures it's best to continue along the path he's begun.
"Having our own identity will serve us well, in the long run."
As he said this, he gazed out the deli window, where the surge of blurred humanity on Second Avenue bold-faced how true this is -- for us all.
---
From diskette to disc
At Manny's Car Wash in upper Manhattan, the interviewer plans on drinking heavily. He's wanted to see Larry Garner for years. His first awareness of the Baton Rouge songwriter was via Best of the Blues, a show on Dallas' KNON hosted by DJ Don O, who had received a demo Garner was fielding. Simply put, he's one of the best living songwriters working in a blues format.
At Manny's, Garner doesn't sequester himself backstage, but circulates among the crowd, shaking hands and thanking folks for "supportin' the blues." The interviewer asks how Garner came to connect with JSP, the English label that released his first two CDs, Double Dues and Too Blues. British blues buff Steve Coleridge came to America looking for ... well, let's let Garner tell it: "He was lookin' for a coal black sharecropper livin' in a shotgun shack with a melon tree washtub and a broke-down Cadillac on the side. It was hard for him to find that."
But he found Garner, singing of kleptomania, miscegenation, lesbians and the dangers of conformity. Coleridge put Garner in touch with JSP honcho John Stedman, who put up bucks for Garner to self-produce two CDs. His most recent, You Need to Live a Little, is on Verve.
"I started writin' poems in high school, and later, at work at night, I'd be writin' songs," says Garner. "I had a diskette in my desk drawer with my songs on it." (A bluesman stashing songs on a computer diskette? Remember -- it's the '90s.)
"I used to like some of the stuff Bob Dylan wrote," Garner says. "I didn't look at it from a writin' standpoint. It was just a good song. I didn't realize how much work it takes to actually write something that makes sense. That's why it's so depressin' when cats come out singin' 'Shake your booty mama, shake your booty mama,' and sell 10 million copies of somethin' stupid. If you take your time and really write, y'got to die before it becomes a 'good song.' "
No one at Manny's seemed to want Garner to die. He took the stage, backed by bass, drums and electric keyboard, and plowed into a triumphant set. Guitar-wise he's like a moderate Albert Collins with a dab of Carlos Santana. From the opening moments of "Juke Joint Woman," a hardball shuffle, the crowd was his. They danced to his music and listened to his words.
The high point was "Keep Playing the Blues," which isn't structured like a traditional blues, though each verse ends with Garner's affirming that he'll keep playing blues. It provided the magic time we all want from music, when the band and the club and the audience simply leave the world. Garner would sing, "Got to keep playing the blues," and would answer himself with a stinging guitar lick. Soon we were singing along with him, and the guitar answered us all, as the song stretched and its rhythm grew more insistent.
True blues purists must find their sole sustenance with reissues of old stuff. In all walks of life, there are those who crave stasis. But on the front lines -- the bars and the festivals and the juke joints, new and old -- the blues grows, evolves, and changes.
That'll help sustain us all.
---
Look for the remaining three Nichebusters profiles here in February, or perhaps just
subscribe to BLUES ACCESS.
---
This page and all contents are &copy 1995 by Blues Access, Boulder, CO, USA.