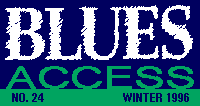 Turn It Up!!!
Roomful of Blues Looks to the Future
by Mark Edmonds





---
Like starting over again for Roomful of Blues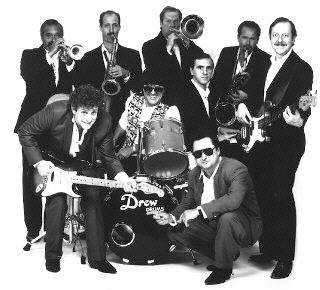 Sometimes life just isn't fair. There's a glaring inequity between the treatment the world offered Baltimore Orioles shortstop Cal Ripken last September when he broke Lou Gehrig's record for career persistence (playing 2,131 straight games) and the one Rhode Island's Roomful of Blues received when they crossed much the same threshold a few years ago.
While Ripken heard cheers and worldwide acclaim when his big moment came in Camden Yards, Roomful's working gig number twenty-one-thirty-two passed by unheralded and unnoticed, just another in the long string of one-niters the band plays each year. So it goes in the world of "blues-collar" musicians.
Although they're fixtures on the national blues and roots music circuit, acknowledgment, like big financial rewards, has often been in short supply for these keepers of the flame for postwar, horn-band blues and R&B. That's been true even since the band's earliest days together in 1967, when the original lineup (sans horns) featured founding guitarist Duke Robillard, bassist Larry Peduzzi, pianist Al Copley and future T-Bird drummer Fran Christina.
Ostensibly a blues-rock band then, the quartet first came together to play the small coffee houses and bars that dotted the greater Providence area, covering a wide range of guitar-driven blues styles from the '30s through the '50s. But a chance encounter with recordings by bandleader Buddy Johnson seduced Robillard, who became spellbound by the sound he heard on the swingster's postwar-era sides. He decided that he had to have horns in the band, and to that end he began a search for additional players that eventually would yield young sax phenoms Greg Piccolo and Rich Lataille.
"There was just something about that sound on those records by those guys that got to me and inspired me," Robillard recalls of those early days with the band. "And that's why I wanted to include the horns within what we were doing at the time. There was something in that music that kind of spoke to me, and it's been a major influence on everything I've done since to today. Those people -- everyone from T-Bone Walker to Buddy to guys like Lowell Fulson -- really got me going. It was all really cool."
With the addition of Piccolo and Lataille, the Roomful sound we know today -- with its infectious swing beat augmented by full-blown horn pops -- was born. In time, the band began to play outside of the Providence sphere, slowly building a following as the decade progressed.
But there were pitfalls to their retro style, especially when it came to marketing. Because Roomful was out there ahead of other blues-powered, horn-driven rock outfits like Tower of Power and Blood Sweat and Tears, many critics didn't get it and pegged the young combo as a novelty act. It's an unfair characterization that occasionally crops up to dog the group even today.
The '70s, however, were kinder and saw the band cobble together the beginnings of a solid reputation for itself. With kudos and blessings now rolling in from all over (even the legendary Count Basie lent them a tip o' the hat and his endorsement), Roomful swung its way through the decade, vindicated and energized both by the applause and, finally, a record deal with Chris Blackwell's Island Records in 1977.
Their first record (co-produced by Joel Dorn and the legendary Doc Pomus) offered a heady amalgam of blues-based Texas territory-band standards from the T-Bone Walker and Chuck Willis camps.
Trombonist Porky Cohen joined in 1979 and was a high-profile member through 1988. Although Robillard departed the lineup after the second album for personal reasons, the guitar chair would soon be filled by New Yorker Ronnie Earl Horvath (a k a Ronnie Earl), who helped steer the band into a prolonged period of creativity that yielded half a dozen records for indie labels Varrick and Black Top between 1982 and 1987.
Among them were three successive collaborative efforts with Houston sax man Eddie "Cleanhead" Vinson, shouter Big Joe Turner and New Orleans-based songwriter/guitarist Earl King, respectively, as well as three band-only outings, Dressed Up to Get Messed Up, Hot Little Mama and Live at Lupo's.
Clearly the '80s were a good time for the group. By the end of the decade, Roomful was enjoying a well-deserved national presence and savoring the Grammy nods it held in its gig bag for the projects with Vinson, Turner and King.
But despite all of the acclaim and a quickie brush with the big time courtesy of blues dabbler Pat Benatar, the group still had little mainstream acknowledgment to call its own.
Frustrated, Roomful's players quietly watched as other roots soulmates with better luck -- the Fabulous Thunderbirds and Stevie Ray Vaughan, among them -- made their rapid ascents into the rarefied air of crossover success while their own band seemed doomed to stumbling its way through a perpetual cycle of disintegrating record deals.
By 1992, the band's forward progress seemed ready to stall just at the point that trombonist Carl Querfurth decided to act. "I guess you could say that I was the least patient," Querfurth laughed over the phone from his Rhode Island home as he recounted the chain of events that finally brought Roomful into a Boston studio in 1993.
"I thought it was borderline ridiculous that the band hadn't put out a record in so long. So I had a couple thousand dollars, I bought some studio time, and we went in to cut a record. We ended up cutting and finishing it in three days, and everyone was really happy with it. It had a nice live sound, and it helped to remind folks of how we sound today live. There have been a lot of changes in the band since the last time we recorded (in 1988), and so it's important for people to know how we sound now."
The album was last year's Dance All Night that came out on Bullseye Blues, a Rounder imprint. The money the band made from sales of the comeback disc helped finance their latest, Turn It On, Turn It Up, released by Bullseye in late September, 1995. Like its predecessor, the new disc captures the spirit of the group's earlier '80s offerings while concentrating more on their own songs. "There are a couple of great tunes on there written by Sugar Ray, and one by our guitarist, Chris Vachon," Querfurth explained. "I think the band has really come into a new period lately, and the sound on this new disc kinda shows that. We're all playing with much more enthusiasm, almost like it's a new band."
And in a way it is. Vachon, who bravely stepped into the role vacated by the increasingly enigmatic Ronnie Earl several years ago, proves that he can indeed write great songs. On the title cut, he brings the anthemic message beneath every Roomful recording into the open where everyone can hear it. Singer Sugar Ray Norcia (making his second studio outing with the group) graces each track with the same suave sophistication and intuitive vocalization that made his addition to the band four years ago such a welcome occurrence.
The result is a 10-song, horn-driven orgy that mixes obscure roots gems taken from a '50s blues and R&B bag -- including such current live staples as B.B. King's "Blind Love" (from King's chitlin' circuit days), New Orleans Heebie Jeebie man Larry Williams' "Marie, Marie," and Percy Mayfield's prophetic "Danger Zone" -- with a half-dozen high-quality originals that stand up proudly against the revered cover material.
Norcia can alternately holler like hell or sing like Joe Williams on a Saturday night. A skilled journeyman, he adds a Jimmy Rushing-style swagger to the lyrics of his own "If You Know It" or the perfect crooning touch to Mayfield lines like, "The world is in an uproar/The danger zone is everywhere." There are few artists working in today's roots field with such depth and versatility.
Roomful's latest horn section (Lataille, Querfurth, trumpeter Bob Enos and alto man Doug "Mr. Low" James) is, as always, in top form as it works along with the rhythm section (drummer John Rossi, bassist Doc Grace, and pianist Matt McCabe). After numerous ups and downs, it seems clear that Roomful of Blues is alive and well in 1995. Will Turn It On bring the band the brand name recognition it's worked toward all these years? Querfurth hopes that it will, but tempers his optimism with a "time will tell" approach.
"I don't know," he says as he ponders the future. "Maybe it'll get us out to places we haven't been to yet," he muses, adding, " and certainly, I hope, to radio. Who knows where it'll go at this point. I'm optimistic. As far as I'm concerned, this has really been a new beginning. And the sky's the limit."
---
This page and all contents are &copy 1995 by Blues Access, Boulder, CO, USA.