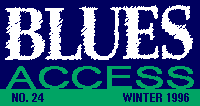 ---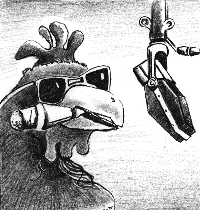 For most of the people I know in broadcasting, radio is more of a passion than it is a job. Of course, I broke in with community public radio, where the concept of getting paid for doing what you love is practically laughable. But even on the commercial side, nearly all the people getting rich are truly moronic or foul-mouthed or, better yet, both. If you're a regular radio grunt, there had better be something besides money driving you.
My own particular passion has been for turning listeners on to great music they might never get to hear otherwise. So I sometimes find myself groaning when I field requests for Hendrix, Clapton, Gary Moore, even Stevie Ray. Not that I don't like or listen to these guys when I'm at home (well, OK, I find Gary Moore pretty hard to take). It's just that they seem so obvious when there's a universe of blues artists -- both old and new -- who are never heard on the airwaves, never found in Joe or Jane Average's CD collection.
With that in mind, here are four excellent CDs by artists that, unless you pay close attention to our New Releases listings, you've probably never heard of.
---
Sasha Smith
Straight Up
Back n'Bronx, Box 1303, Sebastopol, CA 95473. (707) 887-9333.
---
You heard it here first: Sasha Smith is a monster!
This 14-year-old (13 when he recorded most of these tracks) keyboard player from the wilds of Sonoma County, California, not only has outstanding chops but musical ideas and sophistication way beyond his age. He lists among his influences Johnnie Johnson, Bill Evans, Oscar Peterson, McCoy Tyner, Art Lande, James Booker, Mose Allison, Jimmy Smith, Charles Brown, Miles Davis, Dr. John, Thelonious Monk and John Coltrane. And just what were you listening to when you were 13? You may be able to find flashes of any or all of these artists in Sasha's playing, but the young man melds them with his own genius on 11 original instrumentals ... blues, boogie-woogie (with a strong Camille Howard feel) and more than a little jazz.
He's got fine support, too, that includes guitarist Steve Kimock of the excellent Bay Area band Zero.
Check out Straight Up and for certain in 10 years you'll be saying you "heard him when."
---
Kenny "Blue" Ray
Fired Up!
Blue Ray Records, Box 844, Menlo Park, CA 94026-0844.
---
Maybe those screeching supermarket scandal sheets have it right and scientists really have found a way to clone their fellow humans. If so, Stevie Ray Vaughan must be the king of the musical clonees. Judging by the results, however, science still has a lot of work to do.
Kenny "Blue" Ray clearly came under the SRV spell (this disc is dedicated, in part, to the Vaughan brothers), but he also understands the predecessors who influenced Stevie and emerges with an instrumental voice that's clearly his own. On Fired Up! Ray tips his fretboard toward Magic Sam, Little Milton, Freddy and Albert King, Bobby Bland, Howlin' Wolf and A.C. Reed, while also presenting seven original compositions.
Thankfully, the Vaughan sway lies more in the way of spiritual inspiration than in flurries of notes or jaw-dropping technique. Ray plays his guitar like it is a sacred vessel to let the blues out, rather than a bludgeon to pound them into the listener. Vocalist Little Danny obviously has listened to Stevie, too, but his singing is sincere and doesn't try to overpower the instrumental work that is the backbone of this fine disc.
---
Yvonne Jackson
I'm Trouble
Ichiban
---
This one has actually been around since 1990, but it caught my attention again when it was released on the German Blues Beacon label. It was recorded at King Snake Studios in Florida and produced by drummer Jim Payne and bassman Bob Greenlee, with such well-known lights as Lucky Peterson, Ernie Lancaster, Fred Wesley and Maceo Parker contributing their talents.
The most amazing talent, though, is the voice of Yvonne Jackson. She tears through a repertoire of tunes penned by Payne, Greenlee and Vasti Jackson. The horn arrangements by Wesley and Payne recall classic '60s soul, and Ms. Jackson responds with a performance reminiscent of nothing less than a young Aretha Franklin.
Ichiban didn't do much to promote this disc when it first came out and was unable to give us much background on Yvonne, except that she's a Florida native. Maybe they didn't know what they had or couldn't find a radio market for it, but don't let that deter you from doing a little digging to find this disc. You'll be well rewarded.
---
Clarence Spady
Nature of the Beast
Blues Street, R133 N. Washington Ave., Scranton, PA 18503.
---
Blues Street is a club in Scranton, Pennsylvania, and Clarence Spady Jr. is its main headliner. The young (mid-30s) guitarist/vocalist began his professional career at the age of five in the band of his musician father. Touring the country as a working musician in the '80s he sharpened his chops but picked up the chemical dependency that he so poignantly describes in the title song. It's a story of spiritual and physical recovery reinforced by the churchy Hammond organ of Mark Hamza.
Spady's soulful vocals reflect the influence of his mother, who sang in the Baptist Church choir for 45 years. His guitar playing drips with emotion, though he's not afraid to funk it up a little either. The arrangements -- by Clarence and hornman Tom Hamilton -- are top drawer, with Hamilton turning in some tough saxophone sounds. No way does this sound like a homemade production ... but indeed it is.
When we recently tried to call Blues Street, the number had been disconnected, which may make this one doubly hard to locate. Producer Scott Goldman had told us that he was shopping for a distributor for Nature of the Beast. It will be a lucky label that does grab it.
---
Gee Whiz, It's Christmas
My tolerance for holiday music is generally on a par with my desire to be surrounded by small, screaming children on a cross-country plane ride. Well, I figure if I've got to hear it, at least let it be blues.
Here are the 1995 entries in the Xmas blues derby:
Black Top's Blues, Mistletoe, & Santa's Little Helper. (Who could resist a take on "Blue Christmas" when it's done by "Kaz" Kazanoff and the Well-Hung Ornaments?)
Bullseye Blues Christmas features 11 top artists from that label's roster.
Even Santa Gets the Blues (Pointblank) is mostly warmed-over older material.
Santa Is a Bluesman, Vol. 3 (Rollin' & Tumblin') weighs in with tracks from 16 Southern bands.
Nashboro Nativity is two volumes of gospel renditions from AVI/Nashboro's stunning catalogue.
And a Happy Blue Year to one and all!
Blues from the Red Rooster Lounge originates on Boulder's KBCO 97.3 FM (where it can be heard Sundays at 9 p.m.) and airs weekly on 15 radio stations around the U.S.. Check with your local station for availability. (Station program directors can receive a sample copy of the program by calling the Longhorn Radio Network at 1-800-457-6576.) The Rooster also consults for the MusicChoice digital cable radio service, a 24-hour commercial-free, all-blues channel available from hundreds of cable providers nationwide.
---
This page and all contents are &copy 1995 by Blues Access, Boulder, CO, USA.