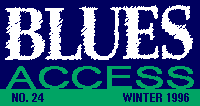 ---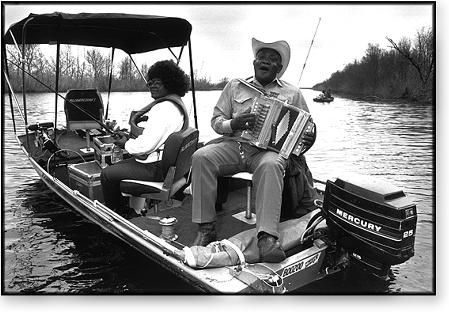 ---
Boozoo and Leona Chavis, 1991
---
The photo was taken while on an album cover shoot for Elektra records. This is one of Boozoo's favorite fishing spots; Petite' Chenier near Lake Charles.

---

Spirit Dance, 1977

---

This photo was taken at the Infant Jesus of Prague Spiritual Church, which I wrote about in my book "Spirit World," dealing with various vernacular cultural groups relating to the music world of New Orleans.
---

Al Green

---

The Reverend is using his hand to make a reference to the "spyboy" tradition of the Mardi Gras Indians. It's a street sign that says "I'm looking at you."
---
Mike Smith, a native of New Orleans, is more than a highly accomplished photographer, although -- as these photos attest -- he certainly is that. He's currently the assistant director of the Professor Longhair Foundation, whose mandate is to keep alive the memory of Henry Roeland Byrd and his contribution to the music of New Orleans, as well as to see that the keyboard tradition of New Orleans is understood and promoted properly. He was also one of the founders of Tipitina's, the famous night club that bears the name of Fess's popular tune.

Since 1966, when he became a staff photographer for the William Ransom Hogan Jazz Archives at Tulane University, he has used photography as an art expression and a tool for examining American society. His explorations into the lively New Orleans street culture - its second-line parades and jazz funerals, its clubs and vernacular spirit churches - are documented in four books: "Spirit World," "A Joyful Noise," "New Orleans Jazz Fest: A Pictorial History" and "Mardi Gras Indians," all available from Pelican Publishing of Gretna, Louisiana. His work has been displayed at and resides in the permanent collections of museums and important archives around the world.

Mike's books (as well as copies of many of his photos) can be obtained at

---
This page and all contents are &copy 1995 by Blues Access, Boulder, CO, USA.