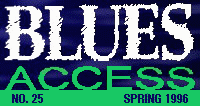 Blues Fallin' Down Like E-mail
The Blues on the Internet
by Steve Knopper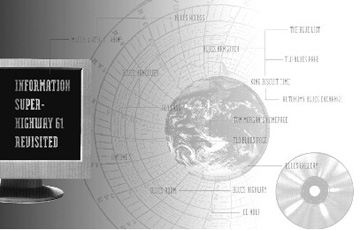 "Blues" and "Internet" just don't slip easily off the tongue together. The blues are an old guitar, a voice stranded in a Mississippi juke joint and a lot of close-knit humanity. The Internet is a personal computer, an e-mail address, a modem and a Web browser, with millions of users typing things to each other around the world.
Yet the Internet, especially the World Wide Web and the Usenet Newsgroups, gradually is becoming a practical tool even in the blues world. Blues fans have always latched onto cult heroes and obscure facts. Blues novices have always needed an easy jumping-off point to dive deeper into the music, history and culture.
The Internet can help in both cases.
The Internet is an international group of computers talking to each other. Some people communicate through the Usenet Newsgroups, which are electronic "bulletin boards" of users posting public messages to each other. Many use the World Wide Web, a massive collection of "home pages," in which users create informational sites for public access. So anyone with a computer, a modem and a little patience can dial a local phone number to gain access to this huge electronic receptacle of information, whether baseball scores from New York or census data from Washington, D.C.
More to the point here, users can also connect to Alligator Records in Chicago or Antone's in Austin, Texas. Or type in their own thoughts or chat with others in a worldwide digital public debate over whether B.B. or Albert King was the better guitarist.
A couple more strokes, and they can take a free step-by-step class on music theory or learn how to play a 12-bar blues, unearth cohesive biographical data about Peetie Wheatstraw and Robert Johnson, buy CDs with a credit card or communicate with devotees all over the world who have discovered music you've never heard.
And if you're not already connected, consider this fair warning: You can easily get bogged down in a bottomless pit of pointless information. Boring self-promotional material, strewn together by bands and record labels alike, lurks at every click of the mouse.
But like finding Sonny Boy Williamson's grave in the weeds outside a hot Delta town, the gems are worth the search. We've already done some of the heavy lifting for you. Once you've figured out how to get online -- through America Online, Compuserve, another commercial service or a direct connection to the Internet -- just type the following addresses to access the corresponding sites. The best sites usually contain "links," or quick connections to other interesting sites. (Also beware that although we've tried to be as current as possible, 'Net addresses change without warning.)
When you get bored of these, try using Yahoo or Webcrawler, card-catalog-like programs that help you search for sites. Just type in "blues" and head out on that lonesome digital highway.
Here are a few of the more interesting and prominent blues stops out there on the Web:
---
BLUES ACCESS
http://rock.he.net/~blues
Let's start right off with the home team. We had another site last year but the guys we farmed it out to lost interest and dropped the ball. The new site features a hefty chunk of what you saw in issue #24, including a chance to fill out our reader survey online. The graphics really shine, thanks to design wizard Jeremy McCaleb of Imagication. As we get deeper into this there will be soundbites, links to our advertisers, reader chat and an opportunity for you to write your own CD reviews. Incidentally, it looks much better if you're using Netscape rather than America Online's wimpy browser.
---
Autonomy Blues Exchange
http://www.autonomy.com/abx.htm
Good idea: classified ads for bands and musicians, from Vancouver to San Francisco to Houston. Bad execution: only a handful of listings.
---
The Blue Highway and Muddy's Cabin
http://www.vivanet.com/~blues/
The closest thing you'll find to a Web blues encyclopedia. With "Hall of Fame"-style capsule biographies, little pictures and thorough lists of influences. The Robert Johnson section, for example, shows the man with his famous cigarette (undeleted, which makes the Internet hipper than the U.S. Postal Service) and excerpts from critic Peter Guralnick's excellent book, Searching for Robert Johnson.

The essays are written humorously but aren't particularly funny. One wag writes a tongue-in-cheek "definition": "Robert Johnson, Lonnie Johnson and any other guitar-playing Johnson is blues." Aside from the bios, the site is a little dull, with remembrances and "cybertours" of people's random and uneventful trips through the Mississippi Delta and New Orleans. Also light news and a Billboard-derived top blues album list.

Many good links here, including plenty to African-American cultural pages. Not directly about the blues but educational nonetheless.

Muddy's Cabin is part of the Blues Highway's home page, but you can access it separately at http://www.vivanet.com/~catbauer/. It includes transcripts of recent live online chats with Luther Allison, Anson Funderburgh and a few others, but they're not very revealing and seem rushed. You'd probably have better luck calling them next time they show up on a radio call-in show.
---
Blues Hangover
http://www.cnotes.com/cnotes.artists/blueshangover.html
Catalogs of the Excello and Nashboro record labels, which grew out of Ernie's Record Mart in the '50s. Some interesting releases here by Lightnin' Slim, Jerry McCain and Slim Harpo, but nothing revelatory.
---
Antone's Home of the Blues
http://www.quadralay.com/Antones/home.html
Concert pictures of Albert Collins, the Fabulous Thunderbirds' Kim Wilson and a few others, mostly hanging out with Antone's owner Clifford Antone. Ho hum. Go to the Austin, Texas, club instead.
---
The TLO Blues Page
http://www.teleport.com/~tlo/
A decent blues fan's page, with capsule reviews, like this on young alternabluesman G. Love: "I don't know what to call it, but it's interesting." Also lots of links to individual artists. Caution: Don't get bogged down searching through the artists' pages unless it's a sure thing like Muddy Waters or Etta James. Many of them are self-congratulatory and will make you cringe.

For example, Robbie Laws and the Urban All-Stars (http://www.teleport.com/~boydroid/robbie.htm) write this about themselves: "America's guitar hero (who) has earned a stellar reputation in the Northwest as one of the most inspirational and talented blues guitarists ..." Bleccch.
---
Michael Furstner's JAZCLASS
http://www.ozemail.com.au/~jazclass/
How to play the blues in five easy lessons, beginning with simple 12-bar and ending with complicated seventh chords. Furstner, a Holland-born music textbook writer, fills his page with enthusiasm and simple, easy-to-read explanations. Plus lots of pictures of measures and notes and chords and stuff. He peppers the lessons with book reviews, profiles of interesting composers (Erik Satie but, unfortunately, no Little Walter) and random comments. You can learn from this, believe it or not.
---
Tom Morgan's Homepage of Jazz and Blues
http://redlt.com/tom/
Morgan, a writer of award-winning music books and program director of a University of Virginia alternative public-radio station, shares his knowledge generously here. Some of his essays, culled from his 1992 book, From Cakewalks to Concert Halls: An Illustrated History of African-American Popular Music 1895-1930, are solid but unriveting. Ditto his profile of W.C. Handy and reviews.

But check out his regular column, "The Bartender's Review."

"It is still not easy to find sources on the Internet for information about vintage music and musicians," he writes, astutely. "But as the 'Net matures, and more people get hooked, the mean age should rise, and there will be more available to older folks."
---
Jazz Online's The Blues Room
http://www.jazzonln.com/JAZZ/BLUES
Not a bad page for new blues fans. Avoid the "Blues News," which when I checked was updates on Roomful of Blues and not much else. Try the "Blues Starter Kit," an essential album list for the uninitiated. It's not a bad list, although experts will quibble and complain: It includes contemporary slide guitarist Roy Rogers and Alligator and Blind Pig samplers, but no Muddy Waters or Live at the Regal.
---
King Biscuit Time
http://www.island.net/~blues/
A potpourri of stuff, not thorough but worth visiting. Snippets of songs by Rod Piazza, both Sonny Boy Williamson's -- clearly heroes of this page, which is enough to make it good -- and James Cotton. A list of blues publications and how to subscribe. A list of blues societies and how to contact them. Practical and doesn't bite off too much.
---
The Blue List
http://www.hell-blues.nt.no/TheBlueList.html
Odd selection of artists for profiles, from Ann Rabson of Saffire -- the Uppity Blues Women to the Blues Brothers. Decent links, including one that's irritatingly complete about Aykroyd and Belushi.
---
Blues Gallery
http://www.shadow.net/~depriest/
Pictures by Miami photographer Louis DePriest. WARNING: This is for people who want to spend $25-$35 on pictures. Not much for window shopping, although the site teases you with nice stuff of Albert Collins, Buddy Guy and Koko Taylor.
---
The jury's still out on whether buying CDs online is practical or just for novelty-loving 'Net nerds. But CDNow!, the best-known music retail service on the Web, almost settles the argument. Whether you're buying or not, this site is fun and informative. You can scan for new releases, get artist profiles and discography information and jump to all kinds of categories.

The blues section is exhaustive. "Music Navigator" lists about two dozen sub-genres, from electric Texas blues to Hawaiian. Piano blues has a few albums by Pinetop Perkins, 13 by Roosevelt Sykes and one by Peetie Wheatstraw.

You can also search by title, album and even type of instrument. The reviews, by music writers who compile the All-Music Guide, are pretty-on-the mark and, more importantly, short. Luther Allison, for example, receives a two out of three rating for importance, popularity and artistry. Muddy gets three in each category. You can pull out your VISA card and buy Allison's new Blue Streak for $13.97. Or just link to his influences (Freddie King, Magic Sam), similar artists (Buddy Guy, Son Seals) or instrument (guitar).
---
Wa Nui Records
http://planet-hawaii.com/wanui/
Who knows? Netscape declared an "Error in Security Subsystem."
---
The Turnrow Press Homepage
http://www.watervalley.net/users/anewt/turnrowpress/index.html
One stingy photo online, of Son House, Skip James and John Hurt at the 1965 Newport Folk Festival. The rest, from Dick Waterman's collection, you have to buy. At $35 a print and $80 an artist proof.
---
House of Blues Online
http://hob.com/hob.html
This is a credible blues site, including schedules of upcoming House events (although what's the point of past schedules in the "archives" section, to make you feel bad 'cause you missed it?) and an excellent news center. When I checked, it included blurbs on B.B. King winning an award, EMI issuing a New Orleans boxed set and the Beat Farmers' Country Dick Montana dying onstage of a heart attack.
---
Cultural Icons: the Definitive Louisiana Image Bank
http://www.culturalicons.com
The best thing about this impressive photo site is it doesn't pound you over the head with pleas for money. You can order the prints, of course -- $50 for an 8x10, plus $12.50 shipping and handling. But more important, you can just look at them here. Picture sites take a long time to load, especially if your computer model is outdated or your modem is slow. So read a magazine while you're waiting.

Best here, in this site by Tipitina's co-founder and free-lance photographer Michael P. Smith, is a gallery of black-and-white prints (some of which appeared in BLUES ACCESS #24). Al Green's expression performing at the Jazz and Heritage Festival is priceless. Also Aretha Franklin, B.B. King, Big Joe Turner and many others.
---
Burnside Records
http://www.eek.com/burnside/
Not much here, unless you're obsessed with Kelly Joe Phelps or the other lesser-known artists on this Portland, Oregon, label. Excellent blues links, though.
---
Lollipop Tapes
http://www.echonyc.com/~louisx
Pretty good personal pictures of R.L. Burnside and Big Jack Johnson, plus a cheap way to order Burnside's Skinny Woman tape. But in the end it's just another record label's unspectacular site.
---
Jet City Blues Review
http://nwlink.com/~jetcity/
A 10,000-circulation entertainment newspaper in Seattle. Don't expect The New York Times, but its blues focus (a profile of Isaac Scott, an Arkansas-born bluesman with diabetes, plus features on Rory Block and others) is admirable. Worth visiting but don't linger.
---
Little Georgie and the Shuffling Hungarians
http://sadieo.ucsf.edu/georgie/hungarians.html
Georgie, we're sure you're a great singer and the Hungarians are the MGs reincarnated. And your promotional pictures are really nice. But couldn't you have put in some links?
---
Vent Records
http://www.dbtech.net/ventblues
Just records and sound samples. Enter only if you're interested in Dick's Hot Band.
---
The best Usenet newsgroup about the blues. You can access newsgroups pretty easily through America Online and the other commercial online services, or you can get a copy of NewsWatcher and use it with your Internet connection.

This group, like most of the lively ones, is funny and provocative. Several blues fans savagely critiqued a recent New York Times article about the blues. One guy recommended a Lefty Dizz disc -- "wild, raucous and full of fun" -- which is probably the best free publicity the disc can get. Plus much Otis Rush cheerleading and a debate whether Cab Calloway used drugs or just sang about them.

Most hilarious post: "Top Ten Pet Peeves of Blond Female Slide Guitarists," by regular participant Ruth Parrish of a band called Heart of Blues. Pet Peeve number two: "Guys who try to make you drop your slide so they can watch you bend over to pick it up." Number one: "Putting your flatpick between your teeth 'just for a minute' then dropping it in your brassiere."

And sometimes, buried in the depths of the Web, you can unearth a little bit of soul. Somebody asked how Freddie King died. Somebody else, quoting from a Rolling Stone encyclopedia, said it was a heart attack brought on after a life of ulcers. Concluded the user: "I submit that the ulcers brought on were by the relationship of man and woman, i.e., The Blues."

Lest we forget the point of all this.
---
This page and all contents are &copy 1996 by Blues Access, Boulder, CO, USA.