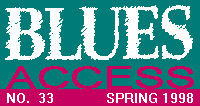 ---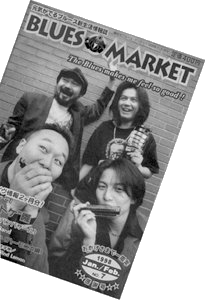 Land of the Rising Blues
After seeing our coverage of blues scenes in Israel (BA#31) and South America (BA#32), Ed Stauffer, freelance writer and for the last dozen years, owner of a popular Tokyo blues nightspot, and co-writer Bill Morgan filed the following dispatch on the Japanese music scene:
Japan has always had a love for American music, especially music that has its roots in black heritage — soul, R&B, jazz, blues, etc. But most crazes in Japan are short-lived. They tend to peak for a while and then fizzle out: In the '70s there was a soul/disco phase; jazz enjoyed a popular revival in the '80s; and there was even a reggae boom in the early '90s. But over the last five years the blues has become more and more popular, and it shows no signs of fizzling.
There are two major Tokyo blues festivals, both extremely well-organized and attended. The outdoor Hibiya Park Festival, in May, now in its 15th year, is a two-day event with a ticket price of 6,500 yen per day (approximately $60 U.S.), and last year featured Gerry McGee (of Ventures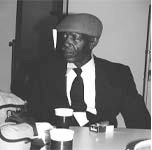 Frank Frost at the Park Tower Blues Festival, 1997

fame), Corey Harris, B.B. King and Buddy Guy. When I arrived on Saturday to see King, it was raining cats and dogs; however, the place was packed and everyone braved the weather and had a rockin' blue time.

The other, in Shinjuku Park Tower in December, is a four-day blues-lover's delight, with four or five bands, all headliners in their own right, per day. Last year R.L. Burnside, the Jelly Roll Kings and Syl Johnson were among the notables. (Jimmy Rogers was scheduled but could not attend, and all Japanese blues fans were saddened to hear of his death.)

One of the interesting things is that there seems to be no generation gap; fans range from 18 to 80. This probably has a lot to do with the emergence of many promising, young blues artists and the flexibility, experience and creativity of the older artists who have worked so hard to get the blues the recognition it deserves.

Both Burnside and the Jelly Roll Kings, on their second trip to Japan, spoke of how the blues is finally getting the kind of exposure it rightfully deserves and how pleased they were with the Japanese audiences' reception to their music. (The promoter of the Park Tower Blues Festival, John Kelly of R.P.M. and Mr. Watarai of Chocolate Cream Productions deserve a heartfelt thanks for their hard work and efforts.)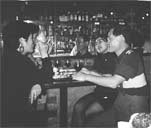 On a more local level, just a decade ago it was difficult to find any blues bars or live venues catering to blues. Today there are numerous places where enthusiasts can hear old idols, new heroes, or in some cases, both.
An abundance of talented local musicians, the Lazy Dazy Blues Band, Blue Heat Onikoroshi, and the Howling Loochie Brothers featuring Robin Loochie among them, anchor a solid local club scene. About a

year ago, a blues publication, Blues Market, surfaced, packed with features and information on concerts, bars, night clubs, compact discs and much more.
So if you're ever in Japan and feeling homesick for the blues, your options are open; it's not just sushi, ski-jumping and geisha girls anymore.
---
And now the news from Singapore
While we're thinking internationally, point your browser toward the web pages of Ken Chang, a recent college graduate who teaches part-time at a polytechnic in Singapore and works for a non-profit agency, Princeton-in-Asia, that sends teachers overseas to work in Asia.
The site includes Chang's insights into Singapore's blues history to its present-day incarnation, which he describes as "like a pulpy trash novel in twisted overdrive — itching with passions, jealousy, grudges and personal vendettas, purists and sell-outs, washouts, burnouts, paupers and rich men, businessmen and beggars, the occasional diplomat, the diplomats who get no credit for saving a dying breed in this country, the backstabbers and syndicators, fire and ignorance, feeling and fakers, and of course music (some of it lousy, and some of it remarkable if you look in the right places)."
In an email, Chang, a guitarist whose tastes run "more into the '50s–'60s Chicago sound, and not all this SRV mania," explains how he got interested. Desperate for material for a PiA newsletter, he wrote a belated review/narrative essay on the 1996 Singapore Blues Festival and posted it on the web, which helped put him in touch with several local musicians, and "my own fascination took over from there."
Chang says the current scene is "severely in need of a fat adrenaline shot — but what do you expect in a country where on-stage jamming is actually illegal? (So is busking in the streets, unless you agree to donate your earnings to charity)."
Otherwise, he says, the uphill battle to promote blues in Singapore is the usual cliché. "For the businessmen involved, the credo is that blues won't sell unless it's rock'n'roll. But there are a handful of talented local musicians — wunderkind harpist Kelvin 'Sonny Boy' Ng, guitarist Stephen Low (who just celebrated the one-year anniversary of his Roomful of Blues joint) and bassist & blues-preacher R. Segar — committed to keeping the blues jivin' in Singapore. Local blues legends Siva Choy and Jimmy Appudurai (neither lives in Singapore anymore) return once every year in September to take part in the annual Singapore Blues Festival at Clarke Quay."
There aren't any technological bells and whistles, but if you like impassioned, frank commentary that rises above the usual everything-is-great standards, you'll find plenty to chew on at Chang's site.
---
Send information for this column to ACCESS, c/o BLUES ACCESS, 340 S. 42nd, Boulder, CO 80303, fax to (303) 494-1127 or e-mail Lrucker@aol.com.
---
This page and all contents are &copy 1998 by Blues Access, Boulder, CO, USA.