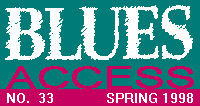 ---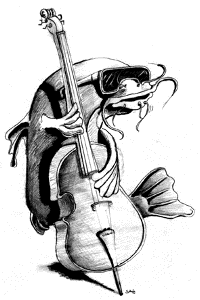 Tombstone Territory
Iím a spook when it comes to graveyards. When we travel, Miss Billie and I always try to squeeze in some cemetery quality time, and the Rooster and I are on constant alert for rural burial places of the giants that once roamed the cotton fields and juke joints of Mississippi.
There are those who find graveyards somewhat morbid, unfriendly places, but Iím not one; they always seem pleasant and inviting. You get to meet a lot of people; just observing the objects loved ones place around headstones speaks volumes about what the person buried beneath was like, and you can glean a lot of history about a community by spending a little time in its graveyard.
The old cemetery perched on a steep hill high above Hermann, Missouri, is a virtual memoir of the river valley town below. In one section is the memorial to several dozen citizens killed by an explosion on a barge along the Missouri River that had far-reaching effects on the local populace. In another are rows and rows of childrenís headstones, all taken by cholera during an epidemic that once threatened to make Hermann a ghost town. Cemeteries have stories to tell, and if you let them, you can hear the tales.
Besides the tranquillity and history lessons, Iím always interested in finding the final resting places of musicians. Even after studying Jim OíNealís Delta Blues Map Guide that led us to the tiny church yard south of Tutwiler, Mississippi, the Rooster and I still spent a good half hour or more scrambling amongst the weeds and bushes to find the gravestone of Aleck Rice Miller over by the river. Even in death, it seems, long dead Sonny Boy is still lurking in the shadows, hard to pin down.
Like pretty much everything else we know about his short life, itís not too surprising to find that mass confusion surrounds Robert Johnsonís grave. We have made the trek to the cemetery adjoining Payneís Chapel where a rock band laid a tombstone to his memory and paid our respects again down the road at the Mt. Zion church cemetery where Columbia Records helped erect a monument to the singer. At neither is there proof of an actual burial site for Johnson.
Thatís where Scott Stanton comes in. A confirmed raider of the lost tomb, Stanton has just released The Tombstone Tourist (PT Publishing, Portland, Oregon, paperback, $19.95). A necropolis obsessive, Stanton and a couple of friends have taken the hobby to the extreme, trodding the entire United States and a couple other continents to compile this 500-page graveyard extravaganza of "burned-out rock stars, blues guitarists, lounge lizards, disco has-beens and country legends," as Stanton explains at the Tombstone Tourist web site (www.teleport.com/~stanton), which includes much of the same information for the volume-disadvantaged.
The world, it seems, is Stantonís memorial park, and heís chosen to share many years of painstaking work just locating and seeking out the burial grounds of literally hundreds of musicians, not all of them in blues. He admits that finding Sonny Boyís stone is tough, but he manages to include a picture of the huge map painted on the wall of the former Tutwiler train station that we totally missed. And he sought out a Robert Johnson scholar who says there is evidence that Johnson was actually buried in yet another nearby plot in the Zion (not Mt. Zion) cemetery.
Stanton finds all kinds of fascinating, if not absolutely necessary, data surrounding the interment of many musicians and supplements it with a horde of pictures. After coming across seven published locations for the grave of Big Bill Broonzy, for instance, he manages to track down the actual one in Chicago.
But Stanton doesnít stop at detailed directions and information about the actual sites; he adds a wealth of biographical information and discographical facts, the circumstances of death and other details dug up, so to speak, by the authors. And to his credit, though he doesnít mince on grim details or hide his sense of humor ó where else, he asks, can you get within six feet of your heroes? ó Stanton manages to keep from moralizing or sensationalizing; this is neither Hollywood Babylon nor Tales From the Crypt.
There are photos of the impressive, side-by-side tombstones of Duane Allman and Berry Oakley outside Macon, Georgia, and Stanton helpfully points out one of the bandís rehearsal houses across from the cemetery and includes directions to the nearby H&H Cafe, where you can eat authentic Allman road food prepared by the groupís old chef.
He finds the two great trumpeters, Louis Armstrong and Dizzy Gillespie, both in New Yorkís Flushing Cemetery and notes that Armstrongís engraved headstone includes a carved trumpet, while the latterís is completely unmarked.
Thereís a helpful index of cemeteries in the back. Graveyard-philes wonít want to miss Restvale Cemetery in the suburban Chicago town of Worth, Illinois, perhaps the most likely spot to hear the faint sound of blues from the other side ó itís home to a band I can barely contemplate: Muddy Waters, Little Walter, Hound Dog Taylor, Magic Sam, Pine Top Smith, Earl Hooker, Kansas Joe McCoy and Valerie Wellington.
But heavy in the running is Woodlawn Cemetery, in New Yorkís Bronx, where Duke Ellington, W.C. Handy, Coleman Hawkins, Irving Berlin, George M. Cohan, Joe "King" Oliver and Miles Davis reside. Otis Spann, Willie Dixon and Dinah Washington are entombed in the famous black Burr Oak cemetery in Chicago. Chet Baker, Ella Fitzgerald, Pee Wee Crayton, T-Bone Walker, Big Mama Thornton and Richard Berry are all interred in the Inglewood (California) Cemetery. Michael Bloomfield shares Hillside Memorial Park in Culver City, California, with Al Jolson, Percy Faith, Alan Sherman, Percy Faith, Alan Freed and Sam Lerner ó now thereís a weird band. Nearby Forest Lawn is a rock dream: Eddie Cochran, the Burnette Brothers, Bobby Fuller, Rick Nelson, Jeff Porcaro and Karen Carpenter, and thatís not counting Sam Cooke, Esther Phillips, Nat King Cole and Liberace.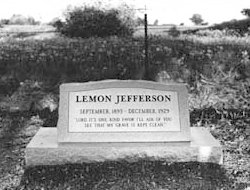 Though people can well remember the emotional burial service, there are no records left that indicate just where Robert Nighthawk was placed in Magnolia Cemetery in Helena, Arkansas. And even more sadly, there are many graves of notable but poor musicians that are still unmarked, although organizations, record companies and fansí efforts have improved that situation in recent years.
Stanton points out that, despite getting his royalties, the family of Arthur "Big Boy" Crudup has yet to erect a marker to the famed singer in the rural Virginia crypt where he is buried. Blind Lemon Jefferson's grave went unnoticed from his death in 1929 until 1967, when the state of Texas erected a marble marker. Just last year, another monument, paid for by musicians, was added. Memphis Minnie's proud stone in a rural Mississippi cemetery wasn't dedicated until October 1996.
And while he considers himself an expert in locating famous headstones ó this is the fellow who has scaled the upscale walls of Forest Lawn in L.A. for pictures of the Sam Cooke site and was chased out of New Yorkís Greenlawn Cemetery when he happened on a mobsterís tomb while in search of Leonard Bernstein ó Stanton includes a web page seeking help in finding those he hasnít been able to get the final word on, Paul Butterfield, Johnny Ace, Roy Buchanan, Bob "the Bear" Hite, Dave Prater and Frankie Lymon among them.
A couple more interesting facts gleaned from Stantonís research: Singer Steve Goodmanís ashes were buried beneath home plate in Chicagoís Wrigley Field; Joe Walsh sang "Amazing Grace" at Albert Kingís funeral in Memphis; though his body was stolen and cremated in Joshua Tree National Monument, Gram Parsons is buried in New Orleans.
The web site also includes a Links page to Jimi Hendrix sites (the most-requested grave), a nice series of photographic images from those above-ground New Orleans cemeteries, and City of the Silent, the most thorough look at cemetery culture available on the Web. (See also Brett Bonnerís guide to several dozen Mississippi blues grave sites in Living Blues #132.)
-- Leland Rucker
---
This page and all contents are &copy 1998 by Blues Access, Boulder, CO, USA.