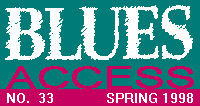 ---
Discs that have been given full reviews in this or previous issues of BLUES ACCESS
are quoted with the reviewers initials in brackets.

Red Rooster Pick

Catfish Pick †=Import
---
Kokomo Arnold • Old Original Kokomo Blues

(1934) These seminal recordings lay claim to slide guitarist Arnold's proper place in blues history. His "Milkcow Blues" predates Robert Johnson's recording, just as his "Old Original Kokomo Blues" beats "Sweet Home Chicago." "Sagefield Woman Blues" includes the line, "I believe I'll dust my broom," immortalized later by Johnson and Elmore James. Why aren't these recordings better known?
(Catfish UK†)
---
Marcia Ball, Irma Thomas, Tracy Nelson • Sing It

"While Thomas is at the spiritual center of the album, it's a true collaboration. The mix of vocal combinations and rhythms, drawn mostly from '60s R&B and soul, is extremely easy to listen to and stands up well to repeated plays." [Powell]
(Rounder)
---
Chico Banks • Candy Lickin' Man

This Candy Lickin' Man plays a pretty funky wah-wah-fied guitar, in addition to being, er, a cunning linguist. The self-penned tunes are more toward the funk end of the spectrum, but there are plenty of classics given straight blues treatment.
(Evidence)
---
Johnnie Bassett and the Blues Insurgents • Cadillac Blues

"Guitarist and soulful vocalist Bassett and his talented combo tear it up with a tasteful set of jazzy blues and rocking R&B not heard since the likes of Tiny Grimes or Billy Butler." [Oudiz]
(Cannonball)
---
Johnnie Bassett With the Bill Heid Trio • Bassett Hound

(1996) Bassett must have had a dog-gone good time recording this laid-back session that, like one of its songs, is on "The Mellow Side." Who could resist Bassett's playful howl on couch-potato classics like "Sweet Potato Pie" or "Still Can Boogie?"
(Fedora)
---
Carey Bell • Good Luck Man

"Bell is perhaps the blues' best living practitioner of the chromatic harp, and here he gets lots of chance to show off." [Oudiz]
(Alligator)
---
Kenny Brown • Goin Back to Mississippi

Old-fashioned Southern rock'n'roll from guitarist with a great natural rockabilly voice. Forty-five years ago Brown would have been camped out on Sam Phillips' doorstep, guitar in hand. Produced by Dale Hawkins, and it sounds like it.
(Plum Tone Music)
---
Michael Burks Band • From the Inside Out

Burks won the Blues Foundation's Albert King award, and the big man's influence is obvious throughout what is the most impressive indie debut in recent memory. The Arkansan's vocals are eerily reminiscent of Albert, but he's his own man, too, particularly on the brilliant "Can You Feel It."
(Michael Burks)
---
Ray Charles • Genius & Soul: The 50th Anniversary Collection

Despite a few questionable inclusions, it's hard to find fault with most of the song choices or arrangements, and certainly not with what Ray pours into even the corniest material. That "soul" quality is still there and it makes this five-CD set an overall highly enjoyable experience.
(Rhino)
---
Detroit Jr. • Take Out the Time

A powerful offering from a lesser-known Motor City bluesman. One of the funniest lyricists this side of Louis Jordan, Detroit Junior grew up with Jackie Wilson and Amos Milburn, and he acknowledges the connection by reprising Wilson's "Baby Workout" and Milburn's "Chicken Shack Boogie." Party on, Junior.
(Blue Suit)
---
Bo Dollis & the Wild Magnolias • 1313 Hoodoo St.

A treat for fans of Dr. John and New Orleans music in general. Big Chief Bo Dollis leads his Mardi Gras Indians (augmented by Smiley Ricks of the Dr.'s band and the Comanche Hunters tribe and Monk Boudreaux of the Golden Eagles tribe) through tunes by the Doc, Alan Toussaint, the Nevilles and their own traditional music. Get yo' fonky butt in gear!
(AIM†)
---
Champion Jack Dupree • Get Back Jack, Do It Again

(1990) Reissue of JSP LP Live at the Burnley Blues Festival with a relaxed Jack playing before friends and family backed by premiere British R&B band the Big Town Playboys.
(Catfish UK†)
---
Paul Filipowicz & the Madison Blues All Stars • Never Had It So Good

"Sounds as though the recording session started with everybody downing a pint of Comfort, torching a pack of Strikes, bowing toward a Hound Dog Taylor poster and twisting the volume knob to 11." [Kisliuk]
(Gila)
---
The Original Five Blind Boys Of Mississippi • In Concert

These are the "other" Blind Boys, and if they haven't gained the popular acclaim of their Alabama namesakes it's not for lack of talent or excitement. Sandy Foster leads this incarnation (which includes two members from the group's first line-up in 1944) through a rousing program recorded on a 1996 tour of Europe.
(Munich)
---
Denny Freeman • A Tone for My Sins

"It's tempting to say that since Freeman now lives in L.A. he might be writing with an eye toward movies, but it's probably more accurate to say that in Tarantino Nation, movies have started sounding like Freeman." [Schuller]
(Dallas Blues Society)
---
Lowell Fulson • The Complete Chess Masters

Two discs of classic R&B inflected urban blues, spanning 1954–63. Unlike nearly all the other Chess artists, Fulson made most of these recordings in L.A. rather than Chicago.
(MCA/Chess)
---
Anson Funderburgh & Sam Myers • That's What They Want

" Here's another good album from Anson/Sam, who've done a good one every two or so years since they first teamed in 1984." [Schuller]
(Black Top)
---
Aubrey Ghent & Friends • Can't Nobody Do Me Like Jesus

More Sacred Steel. Andy Ferguson's stately organ and Rev. Ghent's steel guitar play off each other in praise and salutation to the Lord. Can't get enough of this familiar yet new, still evolving, church music.
(Arhoolie)
---
Billy Gibson • In a Memphis Tone

Late-night acid jazz of the kind you might have heard on a Jimmy Smith album from the '60s. (An oh-so-cool version of Jimmy's "Chicken Shack" sets the tone.) Gibson plays chromatic and diatonic harp, but Charlie Wood (keyboards) and Joe Restevo get plenty of stretching-out space in a true ensemble effort.
(North Magnolia Music)
---
Guitar Slim and Jelly Belly • Carolina Blues and Other Down Home Blues Hits

"These two guitar players and singers met in the Big Apple during World War II, and this disc captures these witty, empathetic, true-blue troubadours in fine fettle." [Robins]
(Arhoolie)
---
James Harman Band • Extra Napkins

"The album rocks hard, right from the chordal harp chiming that opens the first cut. This is a terrific, much appreciated re-release from one great blues band." [Ellis]
(Cannonball)
---
Gene Harris, Jack McDuff • (Down Home) Blues

Two jazzy keyboard masters pour on the soul on several extended blues workouts. Harris' daughter Niki (a longtime backup singer for Madonna!) even injects some life into the tired title tune and the warhorse "Stormy Monday."
(Concord)
---
Ted Hawkins • The Final Tour

One whole concert from Ted's triumphant tour in late 1994, with four more live tracks. See "Rooster Pickin's" for details.
(Evidence)
---
Catfish Hodge • Bare Necessities

Hodge just seems to get better. Here his raspy voice and guitar style seem perfect for this laid-back, spare set of songs that falls musically somewhere between Dave Van Ronk and Eric Anderson.
(Chicken Legs Music)
---
Cissy Houston • He Leadeth Me

Cissy's beautiful gospel voice backed by choir, strings and horns conducted by Jimmy Vivino.
(House Of Blues)
---
Bee Houston & His High Steppers • The Hustler

(1968, 1970) Bee's Arhoolie LP has always been a personal favorite. The CD reissue adds a whole unreleased album plus a track with Big Mama Thornton. Soulful blues with a taste of '60s urban funk.
(Arhoolie)
---
Freddie Hughes • The Soul of Freddie Hughes

Listening to these nine songs from Bay Area stalwart Freddie Hughes, it's a wonder that the growling soul singer hasn't made more of an impact.
(IFGAM Media)
---
Blind Lemon Jefferson • Squeeze My Lemon

Jefferson fans will probably own these 23 famous, seminal tracks, including "Black Snake Moan," "Matchbox Blues" and "See That My Grave Is Kept Clean." If you don't, this is as good a one-disc intro to one of blues' best early artists as you're likely to find.
(Catfish UK†)
---
Catfish Keith • Twist It Babe

"Who else can pull off material by Jesse Mae Hemphill, then cover Baron Lee and the Blue Rhythm Band, then answer with "Brownskin Gal," a traditional Caribbean folk song? Who else would even try? All in all, it makes for an impressive record that's easy to listen to over and over." [Powell]
(Fish Tail)
---
B.B. King • Deuces Wild

A cynic might say that this CD of a baker's dozen duets is a callous attempt to get B.B. airplay on non-blues radio. There's certainly some validity in that viewpoint, since not many DJs that regularly spin Tracy Chapman, Van Morrison, D'Angelo, Bonnie Raitt, Heavy D, Marty Stuart or Willie Nelson would be likely to give ol' B equal time otherwise. But even if you (like me) think such "special guests" are superfluous, thanks to King's consistent "B.B.-ness" this disc is still engaging, if not essential.
(MCA)
---
Earl King • Earl's Pearls

(1955–'60) Twenty-five of King's Ace singles, including four tracks never before released, show the germination of one of New Orleans' finest songwriters in the wake of his first hit, "Those Lonely, Lonely Nights."
(West Side†)
---
Robert Lighthouse • Drive Thru Love

Lighthouse sounds like he just came in out of a Mississippi time warp on this live set, recreating the old flat sound of Delta guitar/harmonica blues right down to the slightly dragging pace that confounded those who didn't know better.
(Right On Rhythm)
---
JJ Malone • Highway 99

Kick back with Malone's generally easy-going singing and guitar playing on this West Coast session that features his own songs among solid covers.
(Fedora)
---
Floyd McDaniel w/Dave Specter & the Bluebirds • West Side Baby

This is Floyd's set from the 1994 German Breminale Festival, recorded when he was 79, just a year before his passing. He works his charm on tried-and-true material, with a dazzling boost from the T-Bone inflected Specter and his band.
(Delmark)
---
Mojo Blues Band • 20 Years in the Blues Jungle

Those 20 years in the blues jungle have paid off. This Austrian sextet plays big band blues — swing, shuffles, T-Bone — in a rollicking style that will make you think you're right at home.
(EMI Austria)
---
Jeff Muller • Jes Grew

Guitarist Muller wrote most of his debut album, and what's most impressive is how it fits together in spite of the many different ensembles used for each individual track. And why haven't we heard more from singer Mary Ann Redmon?
(WTFH Music)
---
Lucky Peterson • Move

Soulful, funky, multi-instrumentally talented — Move accents Lucky's major attributes … in spades. From "It's Your Thing" or "Purple Rain" to "Tin Pan Alley," Move is gonna move ya. With Butch Bonner and Johnny B. Gayden.
(Verve)
---
Lou Pride • Twisting the Knife

More classic soul songs like the title track from this sweet-voiced crooner, with traces of everyone from the Temptations to Little Milton.
(Ichiban)
---
Freddie Roulette • Back in Chicago

"Roulette is a virtuoso on a most unusual blues instrument — the lap steel guitar. He is devastating, spraying notes all over the ether, scampering up and down the fingerboard like a pack of musical mice." [Feld]
(Hi Horse)
---
Bobby Rush • Lovin' a Big Fat Woman

This one starts off with plenty of the kind of humorous sexual relationship material that Rush has turned into fodder for his powerful stage show. But don't miss the serious blues stuff, like "Buttermilk Bottom" and "Cold Outdoors," that feature Rush's fine voice and harmonica playing, or his update of "Bottle Up and Go," deeper into the disc.
(Waldoxy)
---
B.J. Sharp • Never Felt No Blues

She's known as a blues comedienne onstage, but judging from the 12 tracks here, B.J. Sharp is a serious singer with the pipes that should take her beyond her L.A. home territory.
(Critique/BMG/Moxie)
---
Bessie Smith • Essential Bessie Smith

Two discs worth of tracks from the years 1923–'33, including duo, trio and big band arrangements. If you didn't want to spring for the 10 CDs in The Complete Recordings, this is a good place to start.
(Columbia/Legacy)
---
Byther Smith • All Night Long

For years, Smith played in the shadows of other legends, but he seems to be making up for lost time. His second Delmark solo album, produced by Bob Koester, is a relentless gem.
(Delmark)
---
Huey "Piano" Smith & His Clowns • Having a Good Time

(1956–61) Quintessential New Orleans juke box hits, originally on the Ace and Sue labels. Smith combined street jive, rollicking piano and a sense of fun into big winners like "Rockin' Pneumonia and the Boogie Woogie Flu," "High Blood Pressure" and "Don't You Just Know It." And 21 more where these came from.
(West Side†)
---
Studebaker John & the Hawks • Time Will Tell

"Grinding, stinging slide guitar. Whipping, biting harp licks. You can see the steam rising from the grates in Grimaldi's shadowy blues noir world." [Huchtemann]
(Blind Pig)
---
Otis Taylor • When Negroes Walked the Earth

Taylor's spare, trance-blues songs are hypnotic — they stick in your mind (and your craw) even after you turn them off. The subject matter, often emphasizing black history vignettes, is as gritty as the minimalist, edgy music, and there's an almost out-of-control feel, an angry voice screaming for respect, simmering beneath the surface.
(Shoeface Music)
---
Too Slim and the Taildraggers • Blues for EB

"They'll mix their blues with just about any other good-rocking genre — rockabilly, surf, swing, Cajun, polka — you name it." [Ranney]
(Burnside)
---
Various • Best of the Blues Tradition Volume 1

Combines Lightnin' Hopkins Country Blues, Big Bill Broonzy's Treat Me Right and Fred McDowell's Steakbone Slide Guitar in one package.
(Tradition)
---
Various • Red Hot Mamas

Seven blues chanteuses perform mostly well-worn material. Karen Carroll, Lynne Jordan, Bonnie Lee, Peaches Staten, Shirley Johnson, Patricia Scott, Liz Mandeville-Greeson. Backing musicians include the late John Duich, Willie Kent, Maurice John Vaughn, Ken Saydak, Johnny B. Moore.
(Blue Chicago)
---
Various • The Fabulous Low Price HMG Blues Sampler

Can't pass this one up, with it's $5.98 list price. You get 19 tracks of first-rate artists like Otis Spann, R.L. Burnside, Clara McDaniel, Jr. Kimbrough, "Honeyboy" Edwards, Jessie Mae Hemphill, Johnny Young … you get the idea.
(HMG/Hightone)
---
Various • In the Tradition: A Collection of Classic Blues Recordings

Sampler of 33 tracks on two discs from the Blues Alliance reissue series includes Louisiana Red, Brownie McGhee, John Lee Hooker, Johnny Shines, Sonny Terry, Roosevelt Sykes and more.
(Sequel†)
---
Various • Across the Tracks Volume 2

Nashville is hardly all country music (see BA #28, "Third Coast Blues"). Ace Records has now gone four discs deep into the history of Nashville R&B, and there are still plenty of gems among these 30 (count 'em) to keep your toes tapping, including tracks by Earl Gaines, the Kinglets, Roscoe Shelton and more.
(Ace UK†)
---
Various • Blues Across America: The Dallas Scene

"An invigorating introduction to some lesser-known artists working the backbone of the Dallas blues scene." [Huchtemann]
(Cannonball)
---
Various • Blues Across America: The Chicago Scene

Kudos to Ron Levy and producer Twist Turner for bringing three of Chicago's lesser-known lights — Robert Plunkett, Emery Williams Jr., Little Arthur Duncan — to the forefront on this swinging, low-key disc.
(Cannonball)
---
Various • Not the Same Old Blues Crap

It takes some cojones to put this title on a label collection, and Matthew Johnson's Fat Possum is just the one to do it. Tracks by T-Model Ford, the late Jr. Kimbrough, R.L. Burnside and the Jelly Roll Kings slapped haphazardly against less traditional fare from 20 Miles and the Neckbones ("Crack Whore Blues") give him plenty of bragging points.
(Epitaph/Fat Possum)
---
Various • Paint It Blue Songs of the Rolling Stones

Hearing these songs again through the eyes of some of the artists the younger Stones were listening to loosens the words and riffs from the mausoleums of repetition." [Rucker, BA #32]
(House of Blues)
---
Various • A Treasury of Library of Congress Field Recordings

It's hard to go wrong with any of the documentary material gathered by Alan Lomax and others for the Library of Congress all those years ago. This collection of lullabies, field hollars, hoe-downs, street storytellers and Cajun ballads help explain how blues spread to other players generally not considered to be blues artists. With a lengthy booklet of excellent research by Stephen Wade.
(Rounder)
---
Various • Mo Betta' St Louis R&B 1956–1966

(1956–'66) Sequel's second foray into the St. Louis blues scene gathers a bunch of tracks that revolve around bands with Ike Turner in them, and even includes some very early cuts of Little Milton.
(Sequel†)
---
Golden "Big" Wheeler • Jump In

Wheeler's first album in years, recorded in 1997, is filled with his catchy, poignant songs with a small band tuned to his friendly, unique vibe.
(Delmark)
---
Smokey Wilson & the William Clarke Band •

(1986) Straight ahead blues with backing by the cream of the L.A. blues musicians. Not as souped up as Smokey's Bullseye CDs, just the Mississippi blues through a West Coast filter.
(Black Magic)
---
Johnny Winter • White Hot Blues

This collection, part of a new Legacy series, is drawn from Winter's 11-year tenure with Columbia Records, whom the albino guitarist signed with in 1969.
(Epic/Legacy)
---
Bill Wyman & the Rhythm Kings • Struttin' Our Stuff

Former Rolling Stones bassist Bill Wyman unwinds with a bunch of English friends on this fun album. Listening to him warble "Mona" or "Green River," his only rival for vocals might be Keith Richards. But bringing on Georgie Fame for "Motorvatin' Mama," "Melody" and especially "Hole in My Soul" was inspired, and you'll find the other guests provide plenty of surprises.
(Velvel)
---
To be eligible for review in BLUES ACCESS, send two (2) copies of all new releases.
---
This page and all contents are &copy 1998 by Blues Access, Boulder, CO, USA.