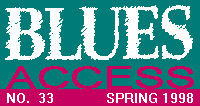 ---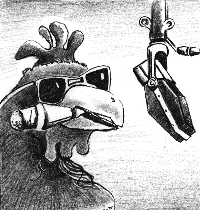 Ted Reckoning
Back in 1982 I was the music director for our local community radio station. One of my pet projects was a ten-fold expansion of the record labels we were getting service from. This led to some interesting discoveries, but at least as much barely listenable dross, a lot of it in the post-punk, alternative vein.
So it should be no surprise that an album cover featuring a grey-bearded black man standing with an acoustic guitar in a courtyard full of barred windows would grab my attention as soon as I saw it. The credits for Watch Your Step (Rounder) included special thanks to members of the Los Angeles County Probation Department and the Public Defender's Office. Peter Guralnick's liner notes explained that singer Ted Hawkins was currently incarcerated at the California State Medical Facility at Vacaville, where he still had about a year left to serve. That was certainly enough to whet my interest.
The music in the grooves of that LP was even more interesting; compelling, in fact. Originally recorded in 1971 by Bruce Bromberg — the producer who later helped make Robert Cray a household name — the songs on Watch Your Step exhibited an emotionally intense, yet still often humorous, singer whose hoarse voice could easily wrap itself around blues, gospel, soul or country material. Which led to the question, "Who is Ted Hawkins and how has he managed to hide this talent for so long?"
Mama is dyin' and daddy is gone
I'd call the doctor but there's no telephone
Sister is cryin' and the medicine is gone
We are the lost ones, livin' all alone

— "The Lost Ones"
Hawkins was born in 1936 in Lakeshore, Mississippi, a very small town not far from Biloxi. The voice of the child whose point of view frames "The Lost Ones" could easily be Ted's own: A father he never knew; mother an alcoholic prostitute who died of cirrhosis when Ted was an incarcerated teenager; physical abuse and neglect from both men and women; education terminated when he was sent home from grade school for poor hygiene; reform school at age 12; hard time at Parchman Farm when he was 15; a youthful marriage abruptly annulled by the bride's mother; another that ended after two months when his wife died of cancer; a wandering lifestyle; more time in jails and institutions.
And yet … this crushed soul persevered. His musical gift had been encouraged in reform school and bolstered when he got to see Professor Longhair perform there. In 1966 he took some of the money from his late wife's estate and caught a train to Los Angeles, where he began playing on street corners. That year he recorded a single for John Dolphin's Money label — an ironic appellation, since Ted never saw any from it. He married his third wife, Elizabeth, who was an anchor to him for nearly 30 years. He recorded for Bromberg, moved his act to the boardwalk at Venice Beach, went back inside again at Vacaville, secured his release in August 1982.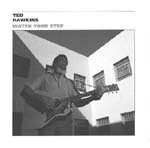 Despite a glowing review in Rolling Stone for Watch Your Step, it was back to busking again for Ted, seated on his milk crate, left hand encased in a leather glove to keep his fretting fingers from being shredded by the intensity of his playing. Setting up shop again at Venice Beach, he was able to find the kind of audience he could never have had on the streets of South Central L.A. — an audience that not only filled his tip jar, but one that included music-industry people who might actually further his career.
One of those passers-by took him to Nashville in 1985, where he recorded a gaggle of cover tunes — from Bob Dylan and Simon and Garfunkel to Sam Cooke (a lifelong inspiration) and Otis Redding. They were eventually released in Holland as a two-LP set called On the Boardwalk and created a stir in the U.K. He went to live in England from 1986 to 1990, where he recorded the self-produced I Love You Too (which is still waiting to surface on this side of the Atlantic) and was booked for public appearances in Europe and even Japan. In 1987, Rounder put out Happy Hour, another set of stripped-down tunes with Bromberg at the helm, but the album went largely unnoticed.
By the early '90s Hawkins was back home, back at the beach. This time, though, things finally broke his way. Another musician, Michael Penn, impressed by "the greatest singer in the world, and he was right outside my window," told Tony Berg at Geffen Records. Berg provided Ted with polished production for a new disc called The Next Hundred Years; Geffen provided the marketing clout. Ted Hawkins had a hit record.
He toured extensively in 1994, with whistle-stop radio interviews ialong the way. America was gradually turning on to Ted, and he no longer had to play for nickels and dimes.
In point of form, Ted Hawkins was not a blues singer, no more than Billie Holiday was. His open-tuned, major key guitar playing lent itself better to popular tunes, soul and country tunes. But like Lady Day, he was of the blues. Indeed, he lived a blues life that would make most of our accepted blues musicians say, "Thanks, but no thanks." And he transformed the pain of that life into such stunning music that the joggers and rollerskaters and out-for-a-lark tourists at Venice Beach or the Third Street Promenade in Santa Monica were compelled to stop, listen, fill his jar.
He had started his life at a place that Charles Mingus called "beneath the underdog" and clanged his head on the bottom many times after that before finally emerging into the glow of what he sang about on John Fogerty's "Long As I Can See the Light." But there was finality and tragedy even in this triumph: After the most uplifting year of his life, Ted Hawkins died of a diabetes-related stroke on New Year's Day 1995.
Ted's legacy, beyond the inspirational, is what he left behind on tape; works made possible, in every case, by devoted fans. We can now add two more to the stack.

The Ted Hawkins Story: Suffer No More (Rhino) touches all the bases in Hawkins' career. Among its 20 tracks are samplings from every one of his albums and, even more welcome, both sides of his 1966 single, two never-released sides laid down at Mattel Studios in 1990 and a home recording of a Sam Cooke gospel number, "Be With Me Jesus."
Since the bulk of Hawkins' recordings (with the notable exception of The Next Hundred Years) are of just him and his guitar, his debut sides present a different picture. "Whole Lot of Women" is a soul cooker, with guitar and harmonica accompaniment; "Baby" has a bit of a Latin lilt and a story line that has the singer's lover leaving a note wishing him "many happy hangovers."
From the first Rounder album Suffer includes two of his most gripping songs: "Sorry You're Sick" (in which the frightened storyteller — Hawkins tending his dying second wife? — assures his ailing loved one that he'd do anything to make her well, then touchingly asks, "What do you want from the liquor store?/Something sour or something sweet?/I'll buy you all that your belly can hold/You can be sure you won't suffer no more") and "The Lost Ones," one of the most desolate tales ever set to music. These, and the two more upbeat selections from Watch Your Step, should impel listeners to check out that entire CD.
The representatives from 1989's I Love You Too — an album I've yet to hear in its entirety — are a delightfully bouncy original, "Who Do You Love" and the countrified "I Ain't Got Nothing Yet." Of the three takes from the Boardwalk tapes, "North to Alaska" (yes, the Johnny Horton hit) is the closest thing to a throwaway. Brook Benton's "I Got What I Wanted" is the only one of these that is duplicated on Evidence Music's 1995 release of 14 of the Nashville recordings, Songs From Venice Beach. One of the Mattel tracks, "You're Beautiful to Me," while delivered in total earnest, drips with irony as this man who spent so much of his life looking up at down sings about how wonderful and beautiful America is to him. Somehow — as manifested throughout his work, and part of his natural appeal — Hawkins has managed to retain an essential sweetness at his center.
A perfect counterpoint to this retrospective is The Final Tour (Evidence Music), which contains the entirety of Ted's late show on November 5, 1994, at McCabe's Guitar Shop

in his familiar haunt of Santa Monica. Evidence, never a label to leave out relevant bonus tracks, has given us a lagniappe of four more pieces recorded at two other stops on tour.
This is Ted, guitar, gloved hand, milk crate and all, just as he might have sounded playing for chump change. I was fortunate to see one of the shows on this tour, just a month before, and I can still see Ted as he opens his show, finger pointing, eyes open insanely wide until he nearly shrieks "The-e-e-ere … stands the glass" and launches into the Webb Pierce country hit. It's a fine program, including versions of a half-dozen numbers that are on Suffer No More. He also explains his position on the blues: "Some people have Ted Hawkins accused of not likin' blues. Y'know, I don't play the blues because I can't pick the git-tar. I can't walk those strings like Buddy Guy can. I wisht I could. But, y'know, I'd rather be liked than tolerated." Upon which he offers up a hilarious vocal imitation of a Delta slide guitar riff before launching into a version of "Part Time Love."
When I first heard Ted Hawkins in 1982 it was one of those rare moments of personal musical revelation: Just when you're sure that the vein has been mined to death, here is an unexpected treasure, a moment of pure discovery. At one time or another he obviously impacted a lot of people that way. With these new releases, there's a chance to spread the wealth a bit more.
In 1971's "Peace and Happiness," Ted sang:
I'd marry anybody tomorrow
Just to run from trouble and sorrow
Got to find peace and happiness before I die
I'd like to think that he did.
---
Blues from the Red Rooster Lounge originates on Boulder's KBCO 97.3 FM (where it can be heard Sundays at 9 p.m.) and airs weekly on 15 radio stations around the U.S.. Check with your local station for availability. (Station program directors can receive a sample copy of the program by calling the Longhorn Radio Network at 1-800-457-6576.) The Rooster also consults for the MusicChoice digital cable radio service, a 24-hour commercial-free, all-blues channel available from hundreds of cable providers nationwide.
---
This page and all contents are &copy 1998 by Blues Access, Boulder, CO, USA.