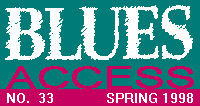 ---
Ghosts
of the
Delta
Fish
Market
I have been living in Chicago off and on for the last 23 years. One of my favorite places to go hear blues in the early '80s was the Delta Fish Market, located on the West Side at the corner of Jackson and Kedzie streets. The fish market featured live blues Friday and Saturday afternoons, and if the mood was right the band played late into the night. I think I spent every weekend for several years at the fish market soaking up the atmosphere, drinking a few beers, bumming free fish dinners from owner Oliver Davis and sitting in with whoever I could, whenever I could.
You never knew who would show up to play: Seasoned pros like Sunnyland Slim, Hubert Sumlin, James Cotton, Walter Horton, Good Rockin' Charles, Earring George, Birmingham Jones, Lefty Dizz, Left Hand Frank, Kansas City Red, Johnny Littlejohn, Detroit Junior, Jesse Fortune, Big Moose Walker, Billy Boy Arnold, Eddie Taylor, Floyd Jones and Jimmy Dawkins would mix with the not-so-well known but still very colorful characters who showed up, guys like Don Juan, Barkin' Bill, Roosevelt and Prentice Bland, Maxwell Street Jimmy, Foots, Lucky Lopez, Taildragger, Little Wolf, Little Addison, Poncho, Big Bad Ben, Lester Davenport, Harmonica George, Hip Linkchain, Smilin' Bobby, Cornell Campbell, "Wine Head" Willie Williams, Willie James Lyons, "DogMan," James Kinds, L.C. Roby, the Black Hillbilly, Milton Houston, Boston Blackie, the Highway Man and every other Howlin' Wolf imitator known to man. I once heard Sunnyland Slim say, "There are too many Wolfs around here; somebody needs to kill some of these Wolfs." At times I think he was right, but I loved it anyway.
The Delta Fish Market was located in an old converted gas station with a huge parking lot. Proprietor Oliver Davis, who is a great blues slide guitarist himself, built a bandstand on the parking lot for all his friends to perform. Oliver would pay a group of musicians $15 or $20 each to play all day, and whoever showed up to sit in was welcomed with open arms. Since there was no cover, anyone walking or driving by was welcome to stop, buy some fish, have a drink and hang out. Unfortunately, later into the night they would draw a rougher crowd of trouble makers. There were occasional fights, occasional robberies, and on many an occasion, shots fired. Oliver attempted to stop the problems by hiring security guards to work on the lot and help keep the peace. The Fish Market Police Force included former Jimmy Reed drummer Ray Scott and former Paul Butterfield, Muddy Waters and Howlin' Wolf drummer Sam Lay.
My favorite security guard was Ray Scott. It wasn't unusual for Ray to handcuff a wino to a street sign to calm down a funky situation. Winos handcuffed to poles were always good for a laugh. Sam Lay, on the other hand, was really into guns. He was always decked out with the biggest, baddest guns money could buy, and he had a custom-made state troopers' hat, just like on CHiPS, a popular TV show at the time about the California Highway Patrol. I never saw anyone mess with Sam. It must have been the guns.
I spent so many days at the fish market that most are just a blur. One particular day stands out in my mind more than any other. I had been working during the summer months installing swimming pools for R&B Construction, and yes, the R&B did stand for rhythm and blues. A lot of white musicians would move to Chicago every year with high hopes of becoming overnight blues sensations; most of them worked at one time or another for R&B Construction. Our crew that day was just as varied and colorful as the cast at the fish market. Owner Max Brumbach had worked with Jimmy Reed, Johnny Young, Otis Clay and the Artistics, to name a few. His brother, John, had just returned from several years in L.A. He had been married to Chaka Khan's sister, Taka Boom, and had worked with Rufus, Jermaine Jackson, Ike Turner, Parliament and others. Also with us was the newest member of our crew, having just left Ted Nugent, John Sauter, who had also worked with Otis Spann and Earl Hooker in the late '60s and early '70s.
For those of you who don't know me, I have played with almost every blues man and woman in Chicago since I moved here in 1975. It was not unusual for the crew to get off work early on a Friday afternoon and stop by the Fish Market for a dose of blues, some incredible fried fish and a beer or two. On this particular day as we pulled into the parking lot in the poolmobile, a rusted-out, 15-year-old Chevy Malibu wagon complete with 2x4s, shovels and a wheelbarrow tied to the roof, I noticed that Matt Murphy was on the stage with James Cotton and Sunnyland Slim. I said to John Brumbach, "Hey, that's Matt Murphy from The Blues Brothers movie," to which he snidely replied, "Yeah, sure, in your dreams."
Well it was Matt Murphy. He was on tour with the Blues Brothers at the time and in Chicago for a show. We were in for a treat with three incredible blues musicians onstage. Good blues always goes good with good barbecue or fish. I grabbed some fish and headed next door to Brown's Tavern to get a carry out quart of beer; in the meantime the band took a break. On the way back I ran into my old friend Sunnyland Slim in the parking lot. As I went up to him to say hello, he surprised me by picking me up in his arms like a baby and carrying me around the parking lot for a good five minutes. Man, he was a strong cat for being in his seventies.
Max and I introduced Sunnyland to the two Johns, and we were quickly asked if we would like to sit in. When Sunnyland went back up, he called us up to sit in with Murphy. Max was on piano, John Sauter on bass, John Brumbach on sax and myself on drums. After the second song I could see "DogMan" approaching the stage. I thought he wanted to play drums, but he snuck up behind the piano player, bottle of Richard's Wild Irish Rose in hand, and began yelling, "Hey Chinaman, quit playing that antique shit," to which everyone got a good laugh, especially since Max wasn't a "Chinaman." When we had finished, Sunnyland joined us on stage, took the mike and announced, "Ladies and gentleman, let's give them a round of applause — 'cause they're white." We were pretty embarrassed, but the audience applauded wildly. We hung out for a little while longer. I think all of us had about one drink too many, it was getting late and we needed to split.
Somehow we ended up giving Matt Murphy a ride back to his hotel. Max was driving the poolmobile, and I was in the back seat. I had bought a Moon Pie (a marshmallow-filled thing sold only in the South at that time) in Mississippi the week before, and I was just drunk enough to pester Matt with it, taunting him, trying to get him to eat it. Meanwhile, Max is driving nearly 60 miles per hour under the El tracks, just like in a chase scene from The Blues Brothers, except no one is chasing us. Matt was being very polite about the whole situation, but I could tell he was getting a little nervous. He finally announced, "Man, if we get stopped, I DON'T know you guys." We dropped Matt at his hotel safe and sound, and that's the last I ever saw of him.
The Fish Market is another story, I ate plenty more catfish, sat in with plenty more musicians and had hundreds more memorable nights on the West Side.
Today the Fish Market stands looking nearly deserted. The steel shutters are locked up tight; there's no fish scent in the air and there's no good blues music filling the air. Oliver went through a bitter divorce and only opens the doors once a week or so — if he gets in the mood. There's so much crack on the West Side that what once was a marginally safe neighborhood is now much more dangerous. It probably just wouldn't be the same if he were to open again. Most of the musicians who played there are dead and gone; the rest have gotten famous or moved on. It sure would be fun to turn back the hands of time to about 1980 and do it again, just one more time. Like the old saying goes, "you never miss your water till the well runs dry." The well's not completely dry yet, but it's sure getting there fast.
---
This page and all contents are &copy 1998 by Blues Access, Boulder, CO, USA.