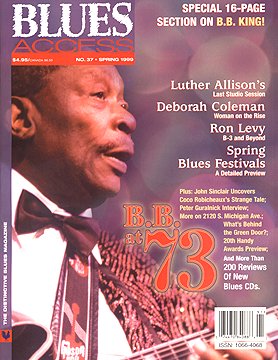 B.B. KING AT 73
From the 16-page Magazine Section
LUTHER ALLISON
His Last Studio Session
DEBORAH COLEMAN
Woman on the Rise
---
Also in this Issue
---

---
Departments
---
---
Comments or Questions
---
Thanks for visiting us at Blues Access. Drop by any time.
Send comments, questions, or anything you think we oughta know about to cary@bluesaccess.com or phone us at +1 303-443-7245.
To subscribe to Blues Access, call our Subscription Hotline at
1-800-211-2961.
---
This page and all contents are &copy 1999 by Blues Access, Boulder, CO, USA.