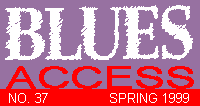 ---
Handys on the move

The Handy awards have been moved.
Not out of Memphis, mind you. But the blues' biggest awards ceremony, is changing its traditional weekend to celebrate its 20th anniversary from the first weekend in May to the last. This year's event happens May 27–30.
The change was prompted by a simple fact: The Orpheum Theatre, long-time home to the event, wasn't available on the first weekend in May. "We were forced into it, but it's working out well," says Blues Foundation Director Howard Stovall. "We went through some soul searching to find an alternative venue, but we finally decided to change the date. After spending all that time last year getting the Orpheum together, a change in venue would put us back at ground zero."
The organization worked hard to upgrade the 1998 ceremony, and it won high praise: Production values were at an all-time high, light and sound worked crisply and video clips came on at the proper times. "We stepped up the show to a new level last year," Stovall says, "and we hope the production glitches are behind us."
This year's show will be hosted by perennial Ruth Brown along with newcomer Joe Louis Walker, who will perform with D.J. Fontana and Scotty Moore. The Handy All-Star Band will once again be fronted by Bob Margolin, and Johnny Basset, Shemekia Copeland and Robert Jr. Lockwood already are scheduled to perform, with more names to be added as time goes on.
So far Stovall is elated with early ticket sales, even with the weekend switch. "As of this morning (mid-February), tickets are up 20 percent from last year," he said. "I think the word got out that the Handys had come into their own last year. We had thought that we would lose people without the festival (the Memphis in May fest usually coincides with the Handys) but we're finding that they want to see the best in blues."
Under the aegis of the Beale Street Music Association, a two-day festival follows the Thursday awards ceremony. Stovall says the foundation won't have a hand in booking clubs but will offer information and help in bringing some of the unique acts and pairings that only a Handy ceremony can produce. "It's gonna be an opportunity to see acts that you can't see anywhere else, and that's what the Handys should be about," says Stovall. "I anticipate that golden-circle tickets, which gets you into the jam sessions after the awards ceremony, will go before the end of March."
All this planning is leading to another big change in future Handy ceremonies. Stovall's original goal was to get the show televised this year. That didn't happen, but the foundation is hard at work on getting the 2000 Handys on the tube. "I have the feeling that until you dump something in their living rooms, it doesn't really exist," he explains.
That could mean another move, this time perhaps even to another season, a move that would involve several changes but could still work. "One thing we've learned about networks is that they like to put these on during sweeps, spring and fall. We can't move the show up, but to move it to fall, for instance, sure we could do that."
Stovall said a cable network is ready to broadcast the show if the foundation can raise sponsorship funds. "If we can get that nailed this summer and get sponsorship, it could happen. Bringing blues into more people's homes isn't part of our mission statement, but it wouldn't be bad if it happens."
One thing won't ever change, though, Stovall says: The awards always will be telecast from Memphis.
For more information on the 20th Handy Awards, contact the Blues Foundation, 49 Union Ave., Memphis TN 38103, (901) 527-2583.
---
Blues sells safe sex?
In a rare affirmation of the redeeming moral value of the blues, Durex Consumer Products, an Atlanta company that sells condoms, has come up with a bluesy theme in its efforts to promote safe sex in U.S. dormitories and universities.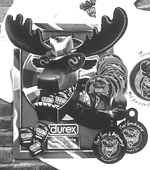 The Durex Blues Moose is "a national effort by the world's leading condom brand to promote safe sex to students in a fun and approachable way." (We're not kidding — this is what the press release says.)

The Blues Moose Dispenser is a blue, wall-mounted moose that holds Durex Extra Sensitive sample condom wallets, Blues Moose T-shirts and American Sexual Health Association brochures to enlighten fraternities, sororities and dormitories about the wonders of safe sex. Kind of like Pez for the new millenium.

There's a contest, too, with the winner getting a free trip for two to the New Orleans Jazz & Heritage Festival in early May. To win, contestants (college students only) are asked to write a 60-second blues tune which includes the words "Durex," "Blues Moose" and "Freedom."

Other prizes include five Sony CD boomboxes and Blues Moose T-shirts. Deadline is March 30, 1999, so crank up those lyrics. (I'm trying to imagine Robert Jr. Lockwood on a streetcorner in Helena, Arkansas: "Woke up this mornin', Blues Moose was all on my mind/It promised me my freedom/But all I got was the Durex kind." Catchy, huh?) If you've got your tune ready, call (404) 875-1444 for more information.
---
Clifford's last plea
Clifford Antone, owner of the popular Austin nightclub, Antone's, pleaded guilty to one count of conspiring to distribute marijuana and one count of money laundering in a Texas court in January. The first charge carries a sentence of up to life imprisonment and a $4 million fine; the second carries up to 20 years and $500,000 in fines.
The action is not expected to seriously affect operations at the club, which has created a nation-wide reputation since it opened more than 20 years ago (see BA #23). Antone and a cousin, Mikal Habeeb Amuny, who plead guilty to one count of distributing marijuana, were among more than 30 people arrested and indicted in a smuggling ring that officials say distributed marijuana from Mexico to at least eight states in the United States and Canada.
In 1997, Antone and six others in Austin were named in a 20-count indictment that charged Antone with possession of marijuana, intention to distribute and money laundering. Authorities charged that Antone had bought more than 9,400 pounds of marijuana he intended to distribute (see BA #31).
Antone had maintained his innocence from the time of the indictment to the plea, which came just days before his trial was to begin and after others charged in the case offered plea bargains. His lawyer, Dick DeGuerin, told the Austin American-Statesman at the time of the plea that if he had lost on any of the 20 counts, Antone would have faced a minimum sentence of 20 years; with the plea the judge has the option to sentence him to less than 20 years.
Antone, 47, will remain free on bond until he is sentenced, probably sometime this spring.
---
Goin' down to Athens, get me a moussaka hand
Since it opened in 1997, Blues Hall has become a hub for blues in the city of Athens (Greece, not Georgia). Besides becoming an outlet and hangout for local blues musicians (Nick and the Backbone, Blues Wire, Blues Cargo, Off Balance among them), it's a home-away-from-home for traveling musicians like Eddy Clearwater, Little Willie Littlefield, Nick Gravenites, Louisiana Red, E.C. Scott and Big Time Sarah. If you're in town, the club is located at Sp. Merkouri 80, 116 34 Athens (phone: 7232242; fax: 7232440). Check out their web site (www.blueshall.gr), but you might want to bone up on your Greek first or have a translator ready.
---
Send information for this column to ACCESS, c/o BLUES ACCESS, 340 S. 42nd, Boulder, CO 80303, fax to (303) 494-1127 or e-mail Lrucker@aol.com.
---
This page and all contents are &copy 1999 by Blues Access, Boulder, CO, USA.