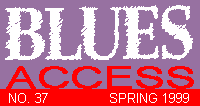 ---

Yes, ladies and gentlemen, we're so glad to have you with us. We're gonna do our best to try and move you tonight. If you like the blues, I think we can.
— B.B. King, Blues Is King
The High Potentate: If there is such a thing as a universally-known blues artist, Riley King would have to be your man. Even your friends who wouldn't know a 12-bar shuffle from a 12-pack of Schlitz will nod their heads when you mention B.B.'s name (even if they follow it with "He's that jazz guy, isn't he?").
In my personal collection, I find 30 of his CDs and another 18 LPs (exceeded only by John Lee Hooker with 45 and 19 and Charles Mingus with 31 and 18). Oddly, my favorite B.B. album has never been issued in its entirety on CD: It's the live 1966 recording from the International Club in Chicago released on Bluesway as Blues Is King. (Four songs did appear on How Blue Can You Get: Classic Live Performances 1964 to 1994 (MCA), one of the very best discs of the past several years.) The welcoming words quoted above precede a blistering, emotional guitar introduction to "Gambler's Blues," proving that his promise is no idle boast. Go ahead, move me, B!
Over 30 years and something on the order of 10,000 performances later, B.B. King still gets the job done, both on-stage and (with the recent much-lauded, self-produced Blues on the Bayou) in the studio. So it shouldn't be too much of a surprise that we chose to devote 16 pages in tribute to the man whose name defines the blues for most Americans. Our Wayne Robins caught up with B.B. earlier this year for a frank discussion about what it's like to be 73 years old and out on the road more than 200 nights a year. Earlier, Will Manus (best known outside these pages for his novel Mott the Hoople, which so impressed British musicians Ian Hunter and Mick Ralphs that they stole the name for their '70s rock band) caught the Great Man in concert on the opposite coast and reports that he's still scuffling — and winning. Long-time blues impresario, manager, photographer, raconteur supreme and the biggest New York Yankee fan in the Delta, Dick Waterman, pitches in with an anecdotal appreciation inspired by the publication of B.B.'s autobiography and the occasion of his being honored by the Kennedy Center. As a bonus, we also asked some of our choicest camera bugs to contribute their favorite likenesses of the King.
You can still win: If you're not already a subscriber, you still have until May 1 to enter our big sweepstakes to win a genuine B.B. King "Lucille" Epiphone guitar, autographed by the blues boss himself. (Of course, if you already subscribe your name is automatically entered — but make sure your subscription is current so you don't miss out.)
There's plenty of other good stuff in our sweepstakes besides the custom axe: We're giving away 15 sets of classic blues on CD from the Columbia/Legacy Mojo Workin' Blues series (one disc each by legends Willie Dixon, Son House, Big Bill Broonzy and Blind Willie Johnson, plus a set of various slide-guitar masters). And every one of the 36 winners will receive a copy of On the Road with B.B. King: An Interactive Autobiography. You can find all the details in our last issue (winter 1999) or go to our online edition at http://www.bluesaccess.com.
Connect the dots: Ernest Tubb, Charlie Rich, Waylon Jennings, Bobby "Blue" Bland, Elvis Presley, Sleepy LaBeef, Otis Spann, Hank Snow, Merle Haggard, Howlin' Wolf, Charlie Feathers, DeFord Bailey, Rufus Thomas, Mickey Gilley. At first glance it might seem somewhat difficult to find the link between all those names.
But as Steve Braun's review of the Allen Lowe American Pop: An Audio History compilation points out, distinctions between styles of American popular music are often only as valid as the opinion of the person trying to distinguish. The 1992 Columbia/Legacy box set Roots N' Blues: The Retrospective 1925-1950 tried to make that same point by juxtaposing Muddy Waters with Bill Monroe and His Bluegrass Boys, Big Maceo Merriweather with the Light Crust Doughboys.
That list of names above? Each is from the American Southland and each is the subject of a chapter in a fascinating book titled Lost Highway: Journeys & Arrivals of American Musicians that I glanced at nearly 20 years ago on the remainder table at a local bookseller. After skimming some of the chapter on Bobby Bland, I decided to buy the book and ended up with more of a musical education than I had bargained for. The author was Peter Guralnick, and now that he's completed his magnum opus on the life of Elvis Presley, we're happy to bring him to these pages in an interview with Justin Mitchell that ties together some of those loose threads in American music.
That hoodoo you do: From John the Conqueror Root to Goofer Dust to Black Cat Bone, regional interpretations of voodoo have made their way into the lyrics of the blues: There's the gypsy woman who told Muddy's mother that he was gonna be a son of a gun; Junior Wells' "Hoodoo Man Blues"; Jimi Hendrix' "Voodoo Chile." In almost every case the singer is either an actor who fancies him/herself as the victim, beneficiary or shaman of the voodaic arts, or else is just injecting some tidbit of folk superstition.
Of course, when the musician is from Louisiana the tales gain a little more credence. Anyone who ever saw the late John Campbell soon became aware that the energies he drew from weren't all coming from the usual channels. Coco Robicheaux's great-grandmama was the local hoodoo woman in the backwoods of rural Louisiana where he grew up and he's never lost the connection to her art. He's also a fine, occasionally spellbinding musician with a life story that reads like the script for a movie. (Coco is also an excellent artist; look for his work on one of our upcoming covers.) Check out the magic he and writer John Sinclair, the Beatnik Mayor of New Orleans, have conjured up for you.
So go ahead, turn that page. We'll see you … inside.
— Cary Wolfson
---
This page and all contents are &copy 1999 by Blues Access, Boulder, CO, USA.