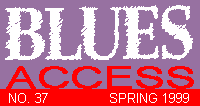 ---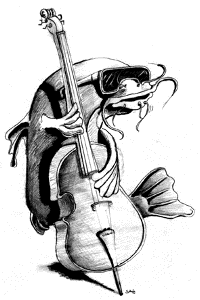 The First Chair
"The blues is a chair; not the design for a chair or a better chair … it is the first chair."
— John Lennon
"My turn to sit down in the blue chair."
— Elvis Costello
As a teenager, I was a garage-band freak, hoarding 45 rpm singles by the Shadows of Knight, Standells, Castaways and the Electric Prunes. Entranced by proto-punk's initial energy burst, songs like "Gloria," "Dirty Water," "Liar, Liar" and "I Had Too Much to Dream (Last Night)" became an important part of my own personal soundtrack, an electric-guitar-energized antidote of sorts to my raging, dazed-and-confused hormones.
But I never, ever, really thought of it as blues. Now I'm not so sure. When I occasionally want to revisit that era, it's usually with a 1972 vinyl collection I bought when it came out. Nuggets marked my entry into genre collections, and I remember clearly the first time I looked at the cover and noticed how many of its 27 songs I had purchased already as singles (12 in all), and how it legitimized my own, growing belief that garage rock was a viable, important genre. Lenny Kaye's liner notes became a grail for the slowly emerging music journalist in me (and, though I wouldn't find out until much later, in many other writers and musicians as well).
As such it seems a perfect candidate for compact disc reissue. Rhino Records had released a series of albums based around the concept in the '80s, but it took until recently to get the original Nuggets right; besides preserving the four sides in order, producers/fans Kaye and Gary Stewart, in a classic case of overkill, came up with three more discs, a total of 118 selections. (And I thought I had too much to dream last night?)
When I first listened to Nuggets, my interests were more centered in the almost-out-of-control, amateurish intensity and puerile lyrical matter of the songs. Today I hear much of it as blues. Pretty immature blues, to be sure, but again, that was part of my original attraction to it. Punk was, after all, mostly white, middle-class kids regurgitating old records and soul riffs. Misguided? Perhaps. But interesting nonetheless.
The Amboy Dukes are best remembered for "Journey to the Center of Your Mind" and flesh-and-gun-loving guitarist Ted Nugent, but the single before "Journey" was a bashing, take-no-prisoners assault on "Baby Please Don't Go." The Dukes rock the blue chair to its core; Joe Williams' song becomes virtually a five-minute blueprint for the next generation, poised to create, for better or worse, heavy metal. It doesn't take much imagination to get from this "Baby Please Don't Go" to Deep Purple, Foghat, Judas Priest or even Nirvana.
Don Van Vliet, a k a Captain Beefheart, is represented on Nuggets by a product of his first session, a bracing version of "Diddy Wah Diddy," which even producer David Gates (who would go on to form the pop/rock group Bread) can't manage to keep under the lid, so hard are the Captain and his Magic Band straining at every crack to break free.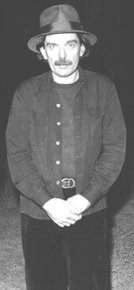 Beefheart is considered little more than an eccentric, musical footnote, but his limited recorded work is worth the effort to find. (He would later go on to quote from Son House's "Death Letter Blues" in a song called "I Feel Like Ahcid" and rework Robert Johnson's "Terraplane Blues" into "Tarotplane.") When he sits in the blue chair, Beefheart, also a painter, spills paint all over it. Should it be any surprise that one recent Beefheart convert is the adventurous Alvin Youngblood Hart, who covered a challenging Beefheart composition, and well, on his recent Territory?
The Groupies called their music "abstract rock," but they manage to stay in the Howlin' Wolf chair for three and a half minutes, just long enough to put a dark and sinister spin to Wolf's "Smokestack Lightning" before they ingloriously fall out on the floor at the end. The Human Beinz tackle an Isley Brothers song, the Underdogs do Motown on "Love Gone Bad," the Lyrics manage a good Brit-blues impersonation and the Vagrants show some r-e-s-p-e-c-t for Aretha Franklin's classic soul tune of the same name. Mouse and Traps do a great imitation of Highway 61 Revisited-period Dylan on the bluesy "Maid of Sugar — Maid of Spice." The Traps' guitarist would enjoy success under his own name, Bugs Henderson, known these days amongst guitar lovers as the master of all genres.
But what impresses me is how many of these do-it-yourself would-be musicians, with their primitive instruments and prehistoric equipment, took their places, however poorly postured, in that battered blue chair. Nuggets sounds like one more reminder that blues is the most pervasive music in recorded history. What began the 20th century as an isolated, regional music became, by the end of it, the bedrock, the chair, for swing, jazz, R&B, rock, soul and rap.
"Blues is a home language, like two friends talking. It's the language everybody understands."
— Henry "Red" Allen
Talk about crossing genres, I noticed a Charlie Parker alto saxophone solo on a Chaka Khan recording of "A Night in Tunisia," one of the great stepping-off places for Parker and trumpeter Dizzy Gillespie's improvisations. Producer Arif Mardin inserted about six seconds of a famous Parker solo into a Khan 1979 vocal remake. And while Parker is certainly known as one of the greatest of jazzmen, like the garage-band punks, he settled his frame into that blue chair quite often for inspiration and something to improvise upon.
Parker grew up in late-1930s Kansas City in the shadow of saxmen like Lester Young and bandleaders Count Basie and Jay McShann, at that time working their way through swing music. It was McShann who took a chance on a green, 19-year-old Parker for his hard swinging blues touring band, which would become an important woodshedding exercise for Parker and the source of his earliest recordings.
And when he moved to New York and, with Gillespie, began experimenting with the music that would become known as bebop, Parker often turned to blues as a stepping-off point for his experimentations and solos. And in the same spirit, one of his compositions, "Now's the Time," passed beyond bop into another generation as the melody for "The Hucklebuck," the enduring R&B tune first popularized by Paul Williams.
In the same way, a listen to Oh Yeah (Rhino), an album legendary jazzman Charles Mingus cut for Atlantic in 1962 and now part of a CD reissue series, shows how Mingus, like Parker, was a jazzman who instinctually spoke the language of the blues. Oh Yeah is a great example: Besides unusual examples of his own guttural blues singing, all seven songs (and the three added tracks from the session) explore blues, with Mingus in a rare turn on piano — Doug Watkins is the bassist — with support from Roland Kirk and Booker Ervin on saxes, Jimmy Knepper on trombone and Dannie Richmond on drums.
"Oh, Lord Don't Let Them Drop That Atomic Bomb on Me" captures the dread, helpless feeling of the Cold War settling into its second decade: "Don't let 'em drop it, stop it, bebop it," Mingus grunts at one point. Call it jazz if you must, but it's being created by a man in a blue chair, and Mingus points us straight forward in the abstract direction of Captain Beefheart and Alvin Youngblood Hart even as he hearkens back to Parker and McShann.
They've all taken their turn in the blue chair. And though the dialects might be hard to interpret at first, the language is the same.
— Leland Rucker
---
This page and all contents are &copy 1999 by Blues Access, Boulder, CO, USA.