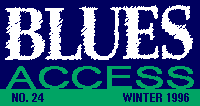 ---

The Usual Blunacy: I'm watching the snow fall along with the temperature outside my home office window and realizing that, yes, this really is the winter issue. Here in Colorado we only have two seasons: the good weather and the other weather. The other weather isn't necessarily bad, it just takes some mental adjustment (and the right clothing) to get into it. But wasn't it just about five minutes ago that I was hammering my bicycle along the trails and roads in every free minute I could find? Right now all I want to do is hibernate.

So it's only natural that our thoughts might turn to Louisiana -- a state where the alligators never have to climb up on a snowbank to catch a few rays -- for some of this issue's featured artists. Ms. Nancy and I caught Ironing Board Sam's act on our very first trip to Bourbon Street. We got roped in by the "Live Music! No Cover!" come on, but we couldn't gripe too much about the overpriced drinks since Sam's music was right in our groove. Sam is profiled by Jeff "Almost Slim" Hannusch, whose "I Hear You Knockin': The Sound of New Orleans Rhythm and Blues" (Swallow Publications Inc.) is an essential introduction to the city's verdant R&B history.

I've often heard Sonny Landreth described as "just a nice, quiet southwest Louisiana fella." He pipes up a bit in an interview with San Diego-based writer Mary-Ann Courtenaye. Mary-Ann, in her spare time, edits/writes JazzFest Jive, an occasional newsletter for festival freaks and fans of Cajun and zydeco music.

It may be a bit of a stretch, but we can also come up with a sub-tropical connection for New England's premiere blues band, Roomful of Blues. It was the last night of the Ultimate Rhythm & Blues Cruise and I had convinced myself that I was absolutely too exhausted to boogie. But Roomful had other ideas. They got a righteous swinging groove going, with horn chorus after horn chorus taking the band higher until guitarist Glenn Vachon cut through it all with a searing guitar break and Sugar Ray's harmonica came riding in on top of that to propel my aching legs into get-down-stomp mode. It's a treat to bring some of their energy to the pages of BLUES ACCESS.
---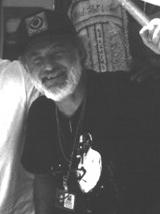 Every Picture Tells a Story: If that saying is true, then New Orleans photographer Mike Smith has more stories to tell than the Naked City. He's been shooting the New Orleans Jazz & Heritage Festival since its inception in 1970, when there were more musicians than audience members. If you've been to recent festivals, you've seen his huge blow-ups all around the fairgrounds. Tens upon tens of thousands of photographs proliferate in his Race Street studio on the sub-basement edge of the lower Garden District.
Thanks to the efforts of his daughter Leslie Smith Doyle and her husband David, you can view -- and order -- some of Mike's work on their Cultural Icons World Wide Web home page at http://www.culturalicons.com. Of course, you don't have to go to that effort to view some of the cream of Mike Smith's photos. Just go to our Photo Gallery.
---
Too Many Brews: Remember when record stores used to actually carry records? If you ever sifted through the cut-out bins, then you know what it is to dig for pearls in what can seem like a sea of sludge. OK, it's a cruel analogy, but that's what Bryan Powell has done for us in preparing his Home Brew column over the past several years. (And nobody ever wrote you a nasty letter when you said, "This sucks!") In his attempt to actually pursue a real career as a journalist and musician, Bryan will be passing the Home Brew mantle to an as-yet-unnamed writer. The good news is you'll still be seeing his by-line on other reviews and articles. In the meantime, budding blues recording stars should pay close attention to the list of tips that close out Bryan's final Home Brew.
---
This page and all contents are &copy 1995 by Blues Access, Boulder, CO, USA.