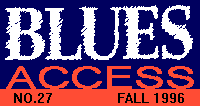 Selected from the Magazine
---

This symbol appears before CDs carried by CD Now, the Web's largest online CD store. Clicking takes you to the order page for the CD. Use the BACK button on your browser to return here.
---
---
R.L. Burnside

A Ass Pocket of Whiskey
Matador Ole 214-2
---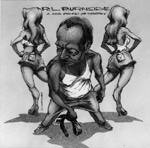 At one point on this collaborative disc, Mississippi singer-songwriter R.L. Burnside shouts, "Cry! Cry!" in a crow's caw. Loud drums pound a marching beat and Burnside declares, "It's bad, you know." This is macho, fighting music, with rhythms that stomp like heavy metal and threats to kick the door in. It sounds sometimes like John Lee Hooker's early boogie and sometimes like Iggy Pop's Stooges, trying to inflict damage on anybody who will listen.
It's punk-blues fusion -- today's version of the Yardbirds backing Sonny Boy Williamson in the '60s or Johnny Winter joining Muddy Waters' band in the '70s. Jon Spencer, leader of the raw New York City groove band Blues Explosion, and Burnside find common ground in sloppy noise and confrontational attitudes.
Like in the middle of "The Criminal Inside Me," when Spencer interrupts the song to ask Burnside a question. He wants 40 nickels for a bag of potato chips. Burnside is taken aback. "If you don't get out of my face quick, I'm gonna kick your ass, you son of a bitch," Burnside responds, relishing the naughty words and rhyming verse. "If you don't get out of here and make it fast, I'm gonna put my foot right in your ass."
The album rarely releases from this metallic teeth-clenching, even on the quieter "Poor Boy" or the story/song "Tojo Told Hitler." On "2 Brothers," the dissonant guitars crash into each other like the noise band Sonic Youth at times but mesh as lyrically as Eric Clapton and Duane Allman at others. Their version of Hooker's "Boogie Chillen" steamrolls right over you so fast and incoherent you can barely recognize the song.
There's a nice chemistry between Burnside, who sounds tickled to be hanging around with convention-battling punks, and the Blues Explosion, who reverentially stand back and let Burnside lead the show. The collaboration helps both artists fix their weaknesses -- Burnside no longer sounds like he's trying to be "bluesy" enough for a record company or producer, and Spencer's hard-to-swallow thrash gets a natural funk.
Why this collaboration between older blues musicians and younger alternative-rockers doesn't happen more often is beyond me. It may be that PJ Harvey is too selfish to share her audience or credit her roots. It may be that much of the blues has grown so rigid it has alienated risk-loving artists. Either way, A Ass Pocket of Whiskey is the refreshing sound of barriers breaking down.
-- Steve Knopper
---
Buddy Guy

The Real Deal
Silvertone 01241-41543-2
---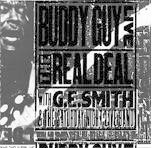 Buddy Guy's shows follow standard '90s blues practice: The songs start with verses and choruses but head quickly towards the jam. The structure is hazardous for mediocre players -- their ideas aren't interesting enough to hold up two hours of performing.
Of course, Guy is no mediocre player. Every few minutes, his fingers explode, and it's at those moments that The Real Deal is rescued from You-Had-to-Be-There-Land. During "I've Got News for You," a 13-minute song with band solos all around, Guy's fast plucking sounds like a sonic machine gun. His low, moaning strings give satisfying punctuation to every verse of his signature "First Time I Met the Blues."
The Real Deal band includes other powerful weapons, including the accommodating ex-Chuck Berry pianist Johnnie Johnson and former "NBC Saturday Night Live" and Bob Dylan guitarist G.E. Smith. Recorded live at the Chicago nightclub Buddy Guy's Legends, the disc is full of great Willie Dixon and Etta James songs, but it's a player's record. The best tracks are the slow ones -- Guy, an underrated singer, moans softly in Robert Nighthawk's "Sweet Black Angel (Black Angel Blues)," and his clipped solos smoothly complement his voice.
On "Damn Right I've Got the Blues," Guy sounds hungry and impatient, like he can't wait to flex his fingers above Paul Ossola's wickedly funky bass line. This version outruns the original because the focus is on the instruments instead of the lyrics: "Damn right I've got the blues, from my head down to my shoes" isn't exactly at the top of the blues lyrical canon. But Guy shouts, "Make it so funky I can smell it," and he succeeds.
What's missing is raw passion. Compared to Stone Crazy! -- a disc where Guy decides to blow away every guitarist who has ever played the blues -- The Real Deal is as safe and calm as a lukewarm hot tub. Still, if Buddy Guy were playing the blues outside my tub, I'd take a nice, long dip.
-- Steve Knopper
---
The Butler Twins

Pursue Your Dreams
JSP 268
---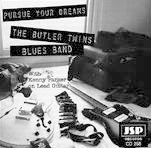 John Stedman has consistently unearthed stateside musical treasures (e.g. Larry Garner, U.P. Wilson, Eddie C. Campbell) and was responsible for bringing Buddy Guy into the studio in the late 1970s, thus ending a decade's recording drought.
Here now (from Detroit) are the Butler twins -- Clarence, harmonica and vocals, Curtis, rhythm guitar -- accompanied by guitarist/producer Kenny Parker and an adroit rhythm section in a program of originals, many of them done in that lazy, relaxed groove that Jimmy Reed perfected. There are also nods to Howlin' Wolf ("Take a Little Walk with Me" derives from his "Ridin' in the Moonlight") and Little Walter (a tribute to whom ends this 13-track disc).
While there's nothing extraordinary here, it is all heartfelt, well-played blues. And how can you not like a band that comes up with a song about the "Blues Walked in This Morning" and imagines that "She was wearing a pink nightgown"? Thanks to Stedman, an Englishman who singlehandedly runs JSP, the Butler twins -- among many others on his label -- are able to pursue their dreams.
-- Miles Jordan
---
Various

Crescent City Soul: The Sound of New Orleans 1947-1974
EMI 37350
---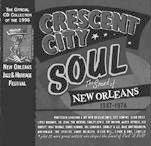 New Orleans musicians seem to have a secret handshake when they play together, an implicit agreement on wisdom to be shared that players from other realms could approximate but never quite capture.
If the downside of this has been marginalized careers and too many records that should have gone worldwide but remained regional, the upside is that even the most casual sessions have a lasting impact. Whether performing B-sides, novelty records or filler for one-hit albums, there's an eloquence to New Orleans R&B from the 1950s and 1960s that has allowed it to endure long beyond its time and place.
EMI's four-CD set Crescent City Soul: The Sound of New Orleans 1947-1974 is concise enough to be an introduction and inclusive enough to be nearly definitive. An overlapping core of session musicians gifted with both chops and musical ESP gives a unified sound to the work of several dozen artists.
It wouldn't be a mistake to say that the New Orleans sound wouldn't be the most joyously elastic music of its era without two men: pianist Allen Toussaint and trumpet player Dave Bartholomew. Their skill on their instruments was a benign by-product of their true genius as songwriters and producers. Bartholomew's recordings of Fats Domino made the chubby one the cement in the foundation of rock'n'roll. Touissaint carried the baton forward, writing and producing some of the true artists and one-shot wild men that kept rock alive between Elvis' army stint and the rise of the Beatles.
Though Domino is represented on 11 of the 119 tracks, the producers, Alan Warner and, for EMI, Bruce Harris, shrewdly choose the road less taken, mostly avoiding Domino's frequently repackaged hits and focusing on the developmental tracks of the late 1940s and very early 1950s.
While Domino, Little Richard and Lloyd Price attained long-lasting national renown, the joy of Crescent City Soul is in exploring a few layers deep. So we get most of the essential Ernie K-Doe: "Mother-in-Law," of course, but also the marvelous "A Certain Girl," "T'Ain't It the Truth," and not just Jesse Hill's sock hop standard "Ooh Poo Pah Doo" but its all-but forgotten fraternal twin "Oogsey-Moo."
For every signature tune from the Meters ("Cissy Strut"), Aaron Neville ("Tell It Like It Is") or Lee Dorsey ("Workin' in the Coal Mine"), there are weird and wonderful oddities from the Senors ("Searching for Olive Oil"), Archibald ("Shake Shake Baby") or Johnny Fuller ("Sister Jenny"). When it comes to novelty, there is probably no better preserved relic of the Twist craze than "New Orleans Twist" by an artist known as Blazer Boy.
For those who associate New Orleans solely with piano-based rama-lama, there are revelations in the form of an abundance of doo-wop tracks by peerless vocal group the Spiders and a smattering of bluesy cuts by guitarist Earl King.
Drawing as it does primarily from the catalogs of the Imperial, Minit and Aladdin labels, the track distribution favors Bartholomew and Touissaint. But who can complain about the opportunity to hear Touissaint as half of the utterly forgotten vocal duo Allen and Allen (the other guy was Allen Orange) singing "Twiddle Winks" or Bartholomew taking the lead himself on "Who Drank My Beer While I Was in the Rear," a tune to which Buster Poindexter should be introduced, if he hasn't already.
-- Wayne Robins
---
Dicky Williams

Full Grown Man
Ichiban 1186-2
---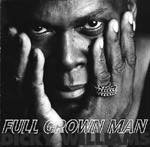 Producer Brian Cole and the rest of the Ichiban crew have played a major role in fueling a resurgence of Southern Chitlin' Circuit soul/blues in the '90s. As their recently issued compilation sets indicate, there is still plenty of rich soil to plow down there. Circuit veteran Dicky Williams gets a chance to make his mark with this debut CD. Judging from the talent displayed here, he has brighter days ahead.
The physically imposing Williams owns a rich, mighty baritone equally suited to tear-stained soul ballads and hard-edged bluesy shuffles. He's a singer in the finest tradition of the genre. The rest of the assembled studio talent provides a lushly produced sound that shifts effectively from bass-pounding funk to horn-driven R&B.
Featured guitarists Marvin Taylor and Jody Worrell are models of restraint as they interplay melodic rhythms against stinging leads. Williams wrote all but one of the nine tracks, and his songwriting shows flashes of wit and a talent for confessional ballads. He complains, "I change your oil and grease you up and down ... and when I want to ride, you want to rest" on the auto-erotic "Our Love Needs a Tune-Up." On "Beer Drinkin' Man" he warns not to "leave your woman in the company of a beer drinkin' man" -- even if he's your best friend! The painful disintegration of a relationship is the subject of "Fall Out of Love," and it's the album's emotional highlight.
The disc is uneven in places. "I Live to Love You" is syrupy pop, and the title track has "filler" tattooed all over it. At just more than 38 minutes, it's a bit stingy by today's standards. Yet, even after a few months, Full Grown Man still gets a regular workout in my digital drawer, which can't be said about many current releases.
-- Jack Oudiz
---
Robert Ealey

Turn Out the Lights
Black Top 1133
---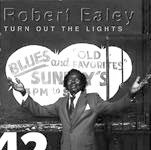 Robert Ealey -- the name is pronounced like that of the Confederate general -- was born in 1924 and grew up singing in gospel quartets in Texarkana. After moving to Dallas in the mid-'40s, Ealey turned to the blues, eventually settling in at the Blue Bird Club in Fort Worth. Ealey was owner of the club for its last 10 years.
During that time, he developed his style of Texas roadhouse blues based on his own committed vocals and songwriting. In 1990 he hooked up with guitarist Tone Sommer and began touring outside of Texas. Turn Out the Lights was originally recorded for Top Cat records in Dallas and is now, fortunately, being reissued by Black Top.
Ealey's music is, for the most part, good down-home fun. There's a lot of top-notch blues dance music here, like the opener "Turn Out the Lights," the rowdy "Goin' to New York" and "The River."
One of the highlights is the great sampling of Texas guitar talent on view here. Although Sommer helped organize and write most of the songs, he is by no means the only guitarist. Others include Mike Morgan, Coco Montoya and Sumter Bruton. Sommer lays down the challenge on "One Love One Kiss," where his tough, gripping guitar comes on like a smack in the head. Bruton plays jump blues in the T-Bone style on "She's a Rocket"; Montoya shows his chops on "All My Worries."
Among the most unusual songs are the ballad "If You Need Me," with good, emotional vocals and terrific sax by Johnny Reno, and the pig-Spanish of "Tica." A most enjoyable recording from a man who should be much better known.
-- David Feld
---
Ernie Hawkins
Blues Advice
Say Mo 002
---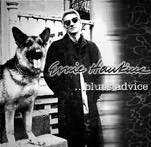 Ever wonder what the Rev. Gary Davis would have sounded like if he had studied with Blind Blake? Or had Davis lived another 20 years, what his playing would be like? Ernie Hawkins answers these questions with his unique, hard-won voice on Blues Advice.
Hawkins is one of the finest acoustic bluesmen between New York and Chicago, and he has augmented the standard blues sound with rich chord playing and moving bass lines. (He sought out and studied with Davis, Mance Lipscomb, Arthur Crudup and Robert Pete Williams.)
Blues Advice is a program of several standards and obscure pieces by Davis, Blake and Skip James. Hawkins draws on equally obscure Blind Willie McTell and Son House tunes, a Jesse Thomas number and includes one original song. Part of the disc's enjoyment comes from Hawkins' accessible affection and reverence for these masters and their creations and his devotion to the blues in general.
Blake's "Police Dog Blues" has an infectious quality. Instead of playing it in open D tuning (as everyone since Blake has done), Hawkins chooses the key of C and throws in some very tasty Gary Davis moves. If you can imagine Davis doing Blake, you've got it.
On "Hard Time Killing Floor," Willie Try's sparse harmonica fills befit Ernie's hollow, Jamesian guitar lines; they've really got James' haunting, high modal sound down. "Where the Mississippi Meets the Monongahela" is Hawkins' homage to his original and adopted cultural heritages, a happy, swinging duet with Big Jack Johnson. He performs Davis' "Cocaine" as a beautiful instrumental. Son House's "Down South When You Do Anything That's Wrong" gets the Ry Cooder electric treatment, with touches of Blind Willie Johnson, Fred McDowell and Jorma Kaukonen.
On the down side, Davis' "Sampson" is pitched uncomfortably high for Hawkins' vocal range -- he could have tuned his guitar down a full step -- and the accompanying unison vocal backing gives it a sing-a-long quality as well. The guys give it a good try, though.
Hawkins singing, always heartfelt, is not always upheld by his breathing, with somewhat craggy results. If he improves his vocals and opens up his range, he'll be as good as John Hammond, Catfish Keith, Paul Geremia or Spencer Bohren. Despite this, I eagerly await Hawkins' next album, wherein he promises to reprise his wickedly intricate "Hawkins' Rag."
-- Sigmund Finman
---
Floyd Dixon

Wake Up and Live!
Alligator 4841
---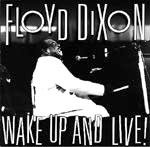 The good news is Floyd Dixon has made his first recording in many years. The better news is it was worth the wait.
Like many other fine R&B piano players, Dixon was born in Texas and moved to Southern California. Like his idol, Charles Brown, he played for a time with Johnny Moore's Three Blazers. Unlike Brown, however, he sports a roadhouse, boogie-woogie style. His classic recordings from the '40s and '50s can be found on three fine Route 66 albums.
After languishing professionally for many years, Dixon teamed up with guitarist Port Barlow and Kathleen Cherrier of the Southern California Blues Society. They helped him put together a band that could perform regularly and learn to play as a unit. With a briefcase full of new songs and a few standards, Dixon finally was ready to return to the studio.
Wake Up and Live! starts appropriately with Dixon's best-known composition, "Hey Bartender." This tribute to alcohol consumption is classic jump blues, with Dixon's vocals and piano backed by a big band-style horn section. Dixon follows this with the inelegantly titled "My Song Is Don't Worry," a slow piano blues expounding his positive philosophy of life, which is repeated later in the title tune ("You know we're only here for a few years/You better wake up and live.").
On the slow tunes, Dixon's piano playing is strong and clear, with two-handed chords and rippling lines in the upper register. His voice certainly shows its age but also exhibits joy and spirit. It reminds me somewhat of Ray Charles, especially when he strains to hit the high notes.
Like several other tunes, "I Wanna Rock Now" has a pleasant, finger-snapping boogie groove, marked by distinguished baritone work from Charlie Owens. "You're the Only One for Me" bears a strong resemblance to Charles Brown, a smooth, sophisticated lament.
Wake Up and Live follows an unnecessary pattern of one fast or mid-tempo tune followed by a slow blues. And it's also true that Dixon's creativity gives out somewhat before the recording ends. But it's great to have him back recording again, and there's much to enjoy.
-- David Feld
---
Charles Ford Band

As Real As It Gets
Blue Rock'it 124
---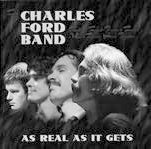 Charles Ford isn't in the Charles Ford Band. His sons are: Robben on vocals and guitar, Mark on harmonica and Pat on drums. Their friend, Stan Poplin, plays bass.
Robben Ford, of course, is the sole practitioner of a Southern California brand of jazzy blues that can peel the paint or soothe the soul in a single outing. It's homogenized, but it still has bite.
The Charles Ford Band broke up in the late 1970s when Robben joined Joni Mitchell's band. As Real As It Gets is a live recording of a pair of 1983 reunion gigs.
For the most part, it's what you'd expect from a Robben Ford-fronted band, and most of his fans will come away satisfied.
Be aware, however, that the material sticks to a democratic format: Each song features lengthy and often wandering solos by Robben and Mark Ford and special guest Russell Ferrante, the keyboardist in the Yellowjackets, a pop/jazz band that once included Robben Ford.
Two problems: Ferrante plays an electric piano that often comes off sounding like a video game, and Mark Ford's harmonica solos are w-a-a-a-y too long. Less would definitely be more.
Still, Robben Ford's contributions are worth the wait.
-- Dave Ranney
---

[ Next Page of CD Reviews ]

---
This page and all contents are © 1996 by Blues Access, Boulder, CO, USA.