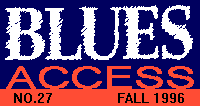 Selected from the Magazine
[ Back to Previous Page of CD Reviews ]
---
---
Brint Anderson Band

Homage to Elmore
Tomato R2 72199
---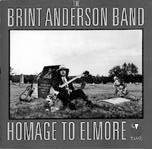 In the liner notes to Homage to Elmore producer Kent Cooper admits that he wasn't too enthused about recording a whole CD -- 17 songs -- of Elmore James covers by a slide guitarist named Brint Anderson.
He writes: "And what does a tribute album mean anyway? Somebody doing songs that somebody else had done as well as you might expect. So why trail in behind and make a weaker duplication?"
Good questions. Too bad Anderson doesn't do much to answer them, not on this outing, anyway.
"Homage to Elmore" is standard stuff throughout, though keyboardist Rick Allen proves himself worthy of the big leagues.
Duane Allman could have pulled this off. Anderson bombs.
-- Dave Ranney
---
Otis Rush

Blues Interaction: Live in Japan 1986 with Break Down
Sequel 1009-2
---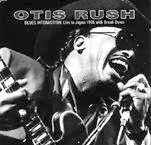 Otis Rush doesn't try, like Buddy Guy or a bebop jazz musician, to reconfigure a standard into something completely different. He plays straightforward melodies, often bending the same string over and over until it sounds like a bell chiming. He's terrific at it, finding depth and strength in simplicity and repetition.
It's a good thing his licks are so stellar on Blues Interaction, because without them this show is nothing. There's little give-and-take chemistry between Rush and Break Down, the local pickup blues band that backed him in this 1986 Tokyo concert. A few of the players, especially the expressive saxophonist Chikashi Takagi, are fine soloists, but they aren't versatile enough to adapt to anything beyond 12-bar standards.
Not surprisingly, the strongest songs in this start-to-finish concert recording are Howlin' Wolf's "Killing Floor" and Rush's "Right Place, Wrong Time." Rush and Break Down find common ground in these familiar classics; the band volleys with a few verses, getting comfortable until Rush is ready to begin. Every time, it's worth the wait: The bluesman steps to the spotlight and unleashes a whirlwind of barbed shrieks and comforting murmurs.
Rush, who first made his name in late-'40s "head-cutting" Chicago guitar contests, opens his "All Your Love (I Miss Loving)" with a spooky, hypnotic ring. His "Double Trouble" and the Preston Foster standard "Got My Mojo Working" are (relatively) short songs full of teary slide lines. The encore, B.B. King's "Gambler's Blues," effectively substitutes Rush's howling lines for King's more pristine cocktail blues.
He's less convincing with James Brown's "Please, Please, Please," which demands a bottom-line funk, not just good solos. Break Down aren't exactly the JBs, so the song sounds hollow. And the bluesman's cracking voice is usually tolerable, but it occasionally oversteps its range and becomes a liability. His version of Ben E. King's standard "Stand By Me," for example, falls flat because as a classic soul singer, Rush is a tremendous guitarist.
No doubt Rush, who deserves credit for branching from conventional blues into funk and soul, could pull off James Brown and Ben E. King with the right band behind him. As it is, Live In Japan is a one-man blues showcase, failing only when Rush tries to make it something else.
-- Steve Knopper
---
Oliver Sain

St. Louis Breakdown: The Best of Oliver Sain
Excello/AVI 3016
---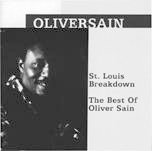 Oliver Sain has been a producer, songwriter, arranger and reedman for sundry R&B stars. Even had he not been, he would be acclaimed for the soul sax instrumentals comprised on these 21 cuts, recorded for his St. Louis label, A-Bet, from the late '60s to the mid-'70s.
Main men of soul sax were King Curtis and Junior Walker, and the usual weapon of choice a tenor. Sain, however, is an altoist. When you say an altoist's tone is "dry" (Paul Desmond was famously dry), you're complimenting him, and Sain's tone is dry enough to strike matches on. Yet with this penetrating aridity of tone he combines fluidity of execution and a lyrical quality which must lead one to surmise he's lent an ear to David "Fathead" Newman, a master of lyrical alto and something of a forerunner of soul sax.
Some of Sain's tunes are dance floor ravers with titles like "Booty Bumpin'," "Party Hearty" and "Feel Like Dancin'," with infectious rhythms redolent of the era of elephant bells, maxi-coats and Shaft flicks. Others are slower, insistent soul/funk items like "Over the Hill" and "Strollin'," the latter with Sain's tart sax tones alternating with similarly piquant guitar leads while a tight combo lays down the groove. Some of the cuts feature a sizable horn section, but most have small band accompaniment. (Liner copy reveals who plays on some of the cuts, but irksomely, not all of them.) Sain proves to be an intense but economic player with a great instinct for playing only notes that matter.
Another plus is that, while the music is far from coarse, it's gorgeously free of big studio polish. It sounds very close to the street, and given today's popularity of "acid-jazz," is far more fresh and timely than much of the over-produced pseudo-soul that came in its wake.
-- Tim Schuller
---
Satan & Adam

Living on the River
Rave On Records
---
Sterling "Mister Satan" Magee plays electric guitar with both hands and a tambourine-and-cymbal drum kit with both feet. Adam Gussow, a Bronx writing tutor at a community college, plays blues harp. They don't have a contract with a major record label (their first two discs were with Flying Fish and this one's on the tiny Rave On imprint). They play festivals, but they still hit the streets of Harlem, too.
Thus freed of convention, the 10-year-old blues duo Satan and Adam can do anything it wants. Magee actually names the rooster -- Rufus -- in the Willie Dixon classic "Little Red Rooster." He's convincing as the Bobbie Gentry stand-in on the old folk-country hit "Ode to Billy Joe." And Gussow, a blues student and purist (and BLUES ACCESS columnist), is the constant soloist, slipping just underneath Satan's rough, drawling voice.
It's a bizarre configuration: Magee's fuzzy guitar and stomping tambourine-drums kick out a flurry of rhythm. Gussow sounds less like Little Walter or Sonny Boy Williamson, classic blues harpists who rationed their solos, than the always-jamming Muddy Waters pianist Otis Spann. They find new melodies in surprising places -- during an extended jam within Ray Charles' "I Got a Woman," in Satan's overhauled phrasing of "Ode to Billie Joe."
Living on the River is sometimes rough: The opening "No More Doggin' " lurches awkwardly to its first chorus, with Gussow and Magee playing at seemingly different speeds. But rawness has never been a big problem in the blues -- out of the jagged pieces, such as the staccato harp riff that opens "Unlucky In Love," comes a cohesive funk sound.
The record peaks on the Ike and Tina Turner/Creedence Clearwater Revival hit "Proud Mary," a triumphant party of rhythm, doo-wop vocals (by Yassmin and Karmine Alers) and horns (by the Uptown Horns). It opens with echoed guitar, like Lou Reed's at the beginning of "Rock and Roll," and rolls into Magee's barely comprehensible scat-singing. The best part is hearing the ultra-pro singers and hornists cram themselves into Satan and Adam's raw-rhythm system, rather than the other way around.
-- Steve Knopper
---
Guitar Slim Junior

Nothing Nice
Warehouse Creek 1224
---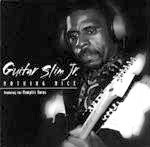 The line between blues and R&B is often so fine that casual fans of one genre frequently embrace the other. Guitar Slim Junior's Nothing Nice banks on this crossover -- and cashes in -- with tight horn arrangements and vintage Stax-era rhythms that bring a wealth of depth and dimension to the classic 12-bar blues idiom.
Slim Junior (a k a Rodney Armstrong) is the son of Guitar Slim (Eddie Jones), who dominated the R&B charts in 1954 with "The Things I Used to Do" before his death four years later at age 32. Slim Junior, who grew up on the same New Orleans streets where his father played, has picked up the torch and is running with it.
The result is a blend of Delta blues with a variety of other strains, including R&B, soul and even a touch of country. Far more than a guitar-bass-drums blues album, Nothing Nice is a cleanly recorded musical history lesson that starts in the Delta and makes its way north, picking up gospel and jazz inflections along the way. Slim Junior manages to capture it all with the help of multi-instrumentalist/arranger/producer Art Wheeler and the long-celebrated Memphis Horns.
"I Feel So Bad" is 12-bar blues dressed up with punchy horns, a clean, tight harp solo and shades of vintage Wilson Pickett's improv vocal style in the slow fadeout. The smoldering ballad "Oo Wee Baby" has a simple, but definitive bass line and a sparse arrangement in the tradition of Booker T and the MGs. Midway through the sequence, Slim's reading of the classic "Try a Little Tenderness" brings the R&B flavor home more than any other track on the album.
Slim adds a personal touch a few times along the way, tipping his hat to his father with "Our Only Child," "I Got Sumpin for You" and the centerpiece, "The Things I Used to Do."
Wheeler's instrumental work deserves mention, if for no other reason than its versatility. In addition to arranging and co-producing with George Wayne, Wheeler plays keyboards, harp, tambourine and slide guitar. He even handles horn arrangements on "If You Think That Jive Will Do" and "I Want You."
There is a down side to Wheeler's omnipresence. The production is extravagant at times, and Slim's noteworthy guitar work is either cut short or buried altogether. But his vocals punch through loud and clear in a style that falls somewhere between Bobby Bland and Ray Charles. Slim croons and growls, conjuring up a range of emotions from the poignant to the sexually charged.
Don't be fooled by the title. There's plenty of nice music here. Purists in search of a straight blues album should look elsewhere, but those who appreciate the subtle shadings among blues, gospel, R&B and soul will enjoy this one.
-- John C. Bruening
---
Various

Mean Old World: The Blues From 1940 to 1994
Smithsonian Collection of Recordings 110
---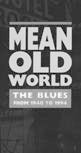 The Smithsonian's new four-disc Mean Old World picks up where The Blues: A Smithsonian Collection of Classic Blues Singers left off three years ago. Arranged chronologically, the 79 songs carry us from the end of the Country Blues era into the 1990s. The link with the past is obvious on the opening number, Memphis Minnie's tribute, "Ma Rainey," but acoustic blues pop up throughout -- Elizabeth Cotten's "Freight Train," Sonny Terry and Brownie McGhee's "Living With the Blues," Robert Pete Williams' "Pardon Denied Again," right up to the closing "Between Midnight & Day," a 1994 piece by Corey Harris. It's clear that most of the blues styles of the last 70 years remain in currency.
Still, song by song, year by year, you can feel the music change as electric instruments take over, groups replace solo performers, and R&B inflections transform even traditional blues, witness Ray Charles' "Come Back Baby" and Junior Parker's 1961 rendition of Roosevelt Sykes" "Drivin' Wheel." The throbbing electric bass lines of B.B. King's "Why I Sing The Blues" or Little Milton's "Little Bluebird" just wouldn't have been possible in an earlier time. And, of course, there's a generous dose of the electric Chicago Blues of Muddy Waters, Elmore James, Howlin' Wolf, Little Walter and Junior Wells, showing what they -- and big city life -- did to the Mississippi Delta blues.
That city life wasn't the Promised Land that many Southern blacks expected is illustrated by the subject matter of some songs. Already by the early '40s, Lead Belly was complaining about Washington being a "bourgeois town," T-Bone Walker was telling his listeners about this "Mean Old World" and Louis Jordan was dreaming about getting out of the city and moving to the outskirts of town, where his woman would be left alone. Before long, Big Bill Broonzy was speaking about racial discrimination in "Black, Brown and White" and J.B. Lenoir was doing topical songs like "Eisenhower Blues" in a Chicago style. More recent recordings like Buddy Guy's "Cities Need Help" and Billy Branch's "You" continue to use the blues form for political and social commentary.
Relationships between men and women have never stopped being the main inspiration for the blues, however. From Percy Mayfield's plea to "Please Send Me Someone to Love" to Taj Mahal's proclamation that "Big Legged Mamas Are Back in Style," themes of love and sex dominate the lyrics here (just as they do with pop lyrics). And, as most of us know, these things can get awfully complicated. Just give a listen to a double-crossed Denise LaSalle inform her lover's wife that "Your Husband Is Cheatin' on Us."
While some may question why this song was chosen or that one left out, just about every record gathered on Mean Old World is a gem. Virtually all the greats of the past half century are represented -- John Lee Hooker, Lowell Fulson, Jimmy Rushing, Gatemouth Brown, Magic Sam, both Sonny Boy Williamsons, you name 'em. Those with large collections may want to check the contents before investing, but I can recommend this latest Smithsonian box set without reservation.
-- John Douglas
---
Dave Specter, featuring Lynwood Slim and Jack McDuff

Left Turn on Blue
Delmark 693
---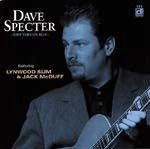 Left Turn on Blue is an absolutely gorgeous blend of vintage blues and jazz. No "I'm-the-next-Stevie" guitar. No thundering bass. No hard rockin' drums. Just 13 tracks of subtle beauty.
T-Bone Walker would love Left Turn on Blue. So would Coleman Hawkins.
Specter, 33, played guitar behind Son Seals, followed by stints with Hubert Sumlin, Sam Lay, Valerie Wellington and the Legendary Blues Band (he replaced Billy Flynn for a summer). He started his own band in 1989.
This time out, Specter's band, the Bluebirds, features Lynwood Slim, most recently in Kid Ramos' and Junior Watson's bands, on vocals and harmonica. John Brumbach (tenor sax) and Rob Mazurek (cornet) are both well-known on the Chicago jazz circuit (Mazurek has a couple CDs out on the European HAP label), and pianist Barrelhouse Chuck is Little Brother Montgomery incarnate.
But the big news here is bloozy jazz legend "Brother" Jack McDuff's appearance on Hammond B3 on four tracks. He's perfect. The material is too.
Left Turn on Blue starts out in a jump-blues format with "Get Back Home," followed by "Stop! Hold It," a Mose Allison-ish tune that has McDuff, Specter and the horn section trading leads. A McDuff-led "Killer Jack" is a take-off on the jazz classic "Killer Joe," followed by a moody "Till the End of Time," T-Bone Walker's "Party Girl" and Eddie "Cleanhead" Vinson's "Juice Head Baby."
"Unleavened Soul" and "When Will the Blues Leave" sound right out of the Miles Davis songbook, while "Tremble" is a jazzed-up version of an Albert Collins tune.
Albums like this don't come along very often. It's one to cherish.
-- Dave Ranney
---
Studebaker John & the Hawks

Tremoluxe
Blind Pig 5031
---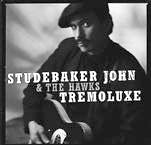 Like his namesake 1963 Studebaker Silver Hawk, Chicago native John Grimaldi is a model of uncluttered lines and supercharged performance.
Born in 1952, John observed first-hand the musicianship of One-Armed John Wrencher, Little Walter, Johnny Littlejohn, Hound Dog Taylor and other regulars of the Maxwell Street blues scene. He developed his own instrumental style, becoming adept on both harmonica and slide guitar, specifically the hard-to-play, but great-toned Danelectro.
On Tremoluxe, his third Blind Pig release, John turns in another fine set of electric blues and blues-rock. Like 1994's Too Tough and last year's Outside Lookin' In (actually recorded in 1989), Tremoluxe features all original compositions, with the instrumental focus about equally divided between guitar and harmonica. John's reedy, plaintive voice is perfectly suited to convey the emotion of his tales of faithlessness, hurting love and bad luck.
Producer Jim Gaines, who has done albums for Stevie Ray Vaughan, Jimmy Thackery and Santana, imparts a fitting amount of grunginess to the mix. He also frequently separates John's vocals and instrumentals into different channels, whereas I might have opted for a more natural sound.
Despite the hard-luck lyrics, Tremoluxe is actually a pretty raucous affair, in part thanks to Kelly Littleton's propulsive drumming. Littleton and rhythm guitarist Mike Garrett are former Blues Imperials from Lil' Ed's band making their first recorded appearance as Hawks. Along with bassist Ron Regnas, they provide a solid backdrop for John's fluid, stinging slide leads and harmonica raunch.
While most of the tunes move, the album offers a couple of the aching slow numbers that are part of John's signature, "Missing You" and "Voodoo Woman," the latter featuring super-amped, otherworldly harmonica squonk. Of the uptempo cuts, the menacing growl of "Two Time Boogie" and the Elmore James-ish "Talk to Me Baby" are standouts. "Last Night" not only rocks hard but even holds out some wary optimism.
Not everything on Tremoluxe works. For instance, I could have done without the band's backing vocal response on "Hey, Hey, Hey." Still, this Chicago-styled blues disc easily stands up to repeated listenings.
-- Michael Dixon
---
Carl Weathersby

Don't Lay Your Blues on Me
Evidence ECD 26075-2
---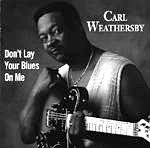 Born in Jackson, Mississippi in 1955, Carl Weathersby is a Chicago-based artist who played in Albert King's band and drew acclaim for guitar playing and songwriting on Billy Branch's The Blues Kept Following Me Around on Verve.
As befits a King alumnus, his guitar work is tense and often fierce. But he plays more notes than King and takes way longer solos. This 10-cut set finds him working with a taut combo that includes David Torkanowsky, a keyboard modernist equally at home with jazz, blues and funk.
The opening selection is the rouser you would expect from something called "Rock Your Town," and it's the most gleeful of the songs. Two slow blues, both Weathersby-penned, are downright harrowing. In "The Things the Blues Will Make You Do," blues is a nebulous pain tangible not in form but in its deleterious effects on one's psyche. "Somebody Help Me" is a doper's confession that chills the blood. You want it to end all happy and snuffly like a television show, where users enter rehab and all's instantly well. No such luck -- in this narrative the listener is left with the far more realistic image of addicts wandering alone and un-fixed, their cry for help unheeded.
"Poverty" seemed almost fraternal when Bobby Bland sang it, but there's nothing chummy about Weathersby's rendition, which seems to indicate that relief is just plain not coming. There are three covers, "Killing Floor," "Fanny Mae" and "The Same Thing," chestnuts all, but done quite unlike the versions we're used to. On the latter, Weathersby's slide playing seethes and roils like acid on steel. He proves to be one badass on guitar. He's certainly capable of melodicism and restraint (like on his soul-ish and sunny "Your Love Is Everything"), but when he turns on the heat you know he's a lock for Guitar Hero status.
Watch for Weathersby! He's not among the many who obligatingly narrow their shoulders to fit in the Old Guard's blues niche. Rather, he plays the blues the way it will be as it preps for the 21st century.
-- Tim Schuller
---

[ Previous Page of CD Reviews ]

[ Back to Main Review Page ]

---
This page and all contents are © 1996 by Blues Access, Boulder, CO, USA.