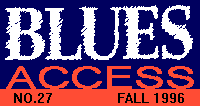 Selected from the Magazine
[ Back to the Main CD Review Page ]
---
William Clarke

The Hard Way
Alligator 4842
---
Pat Ramsey
It's About Time
Rampat Records
---
Magic Dick & Jay Geils

Little Car Blues
Rounder 3141
---

The blues world held its breath this past spring when reports came from Indianapolis about Bill Clarke's collapse on stage, subsequent hospitalization and diagnosis of serious, but curable health problems. Clarke, whose writing and pioneering style on chromatic harmonica had been hinting at an engaging mix of Chicago styles and West Coast jump, was seen as a bright light in the evolution of the blues idiom. He also had a heavy live act and band, anchored by former Butterfield bassist Rick Reed. The good news is that he's back to full health and will be back on the road this September.
Richard "Magic Dick" Salwitz, Jay Geils and Pat Ramsey are also survivors, but of another era. Ramsey was the renowned harp player who toured with Johnny Winter in the late '60s, became a mainstay on the Southern club circuit in the '70s, and then disappeared in the '80s.
Dick, who came to immediate fame with Jay Geils' band, was a pioneer on the instrument 20 years ago, always looking for new ways to inject his harp into the band's rock-flavored mix; his work on later Geils albums was fascinating and often trend setting. He had the good fortune to play with Geils, an excellent guitarist and one of the most sympathetic to an exploratory harp player since the Myers brothers. With the demise of the Geils band, however, Dick disappeared, as did Geils, rumor had it wealthy but tired of the music business.
Bill Clarke once told me, "I believe the blues can stand on its own," and that seems to be the standard borne by Geils and Dick as well. All three have some fine blues on their new recordings but have quite obviously pointed their music away from that idiom to a jazzier, fresher sound. In Clarke's case, that means the organ/sax/drum trios -- like those of Gene Ammons -- that came to prominence in the early 1960s. Dick and Geils are obviously fascinated with Louis Armstrong, Ellington and Basie. Even their main instruments have changed, the diatonic harmonica giving way to the 16-hole chromatic for Clarke, and Dick's new line of "Magic" harps, 10-hole instruments tuned specifically for the changes prevalent in bop, swing and big band music, among others.
The similarities between The Hard Way and Little Car Blues seem to end there. Clarke, working here with his touring band, jumps right off into new territory with "The Boss," the opener, featuring an urgent harp-tenor sax-baritone sax ensemble head over the pulsating throb of Reed's undulating stand-up bass (the baritone-chromatic harp combination is an inspired one). It's back to the blues with "Five Card Hand," but only briefly before "Fishing Blues" with its great chordal and single note chromatic work (nodding to both Toots Thielemans and Stevie Wonder). "Evil" is a fine take on Muddy with a squalling, big-toned solo and great handling of the sinister lyric.
Fine blues and singing continue throughout, but "Moten Swing" and "Walkin' " reprise the chromatic work and horn ensembles, the latter a perfect way to end the recording, with as much (or more) kick than the opener. "Moten Swing" is a fine example of Clarke's growing prowess as a soloist, and the showpiece of all the "new" tunes, Reed and drummer Eddie Clark laying down a superb groove, while perfectly placed guitar comping fills behind Clarke's explorations over the famous changes. No bluesman I'm aware of, with the exception of Paul deLay, is playing chromatic with the assurance and freedom shown here.
If Clarke favors the more freewheeling, looser vibe of the organ trio and the Kansas City bands of the 1930s, Dick and Geils lean toward a more tightly wound ensemble sound, the music more sculptured (much like that of Armstrong and Ellington).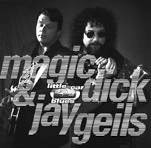 They've successfully captured much of the Chess feel of the early 1950s blues classics (Geils even listing the vintage guitars and amps he uses on each song), and the songs here are also dated mostly to the '40s and early '50s.
Of course, there's a heavy dose of Little Walter thrown in, where Dick can display all the talent he's became famous for, especially on "Feel So Bad." Again, however, the jazz tunes are where things get hopping, with Dick's new harmonica tunings allowing him to solo, horn-like, over more complex changes. Dig his especially compressed, muted tone on the Roosevelt-era songs "Some Sweet Day" and "The Jumpin' Blues," so trumpet-like that a casual listen reveals little difference between the two instruments. Dick continues his oft-successful search for a vocal style that can move freely amidst this musical variety.
Dick and Geils have also included short snippets of outtakes, and these, along with the swing tunes herald the real discovery of Little Car Blues -- Jay Geils' great guitar work. Only hinted at on their 1995 comeback release, Bluestime, his fat, woody-toned soloing is solidly in the jazz tradition, but with more of a personal approach than much of what you hear from other blues players who have strapped on a Johnny Smith or ES-150. There's a subtle, understated eloquence on tunes like "Fool That I Am" and a jumping bite on "Hot Leftover No. 3." In combination with his more traditional blues attack Geils shows an emotion and creative voicing well-suited to the wide-ranging musical tastes he and Dick share.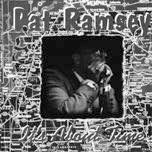 Pat Ramsey may not display the stylistic range of Clarke, Geils and Dick, but his approach is decidedly his own and It's About Time shows his strong Southern leanings, with a soulfulness rooted in the Allmans, Memphis and Muscle Shoals. With nods to mentors like Winter -- whose visage inhabits the vocals on the boogie tunes -- and Butterfield (especially the harp turn on "Too Many Drivers"), Ramsey favors a compacted, flowing style on harp. It's somewhat reminiscent of Sugar Blue (but without all the hyperbole of Blue's soloing), seasoned and on target with tunes he's obviously lived with for a long time. And he's brought along a host of fine Southern players, like harpist (and producer) Billy Gibson, guitarists Sean Costello and Julian Kasper, and the King Bee Horns, mainstays at B.B. King's Memphis club.
It's a potent combination. On song's like Fenton Robinson's "Somebody Loan Me a Dime," you can hear the nod to Boz Scaggs' classic reading, but Ramsey's and Kasper's solos update and personalize the song to Ramsey's experience. "King of Fools" is a fine slow blues with an emotional reading on harp and vocals, "Allergic to Work" a Southern-fried boogie, "I Need Money" a mojo workout and "We Can Fly" a Stax-like funky dance number. Variety aplenty and all done well, harp sparks flying throughout.
If this represents what these guys are now playing live, you want to be in the audience. Not just for their great singing and instrumental work -- and the playing of their stellar bands -- but to be present as these survivors chaperon the blues, and its audience, into the future toward something new and exciting for all of us to grasp onto.
-- Tom Ellis III
---
Alvin Youngblood Hart

Big Mama's Door
Okeh Music 67593
---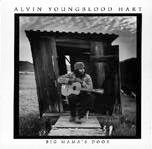 Here's another name to add to the short but growing list of artists keeping the Delta blues alive.
Alvin Youngblood Hart sounds like a young Taj Mahal and, like Mahal, he plays just about anything with strings attached. It's no surprise that the latter sits in on three tracks; Hart is as bold as he is good.
Born in Oakland, Hart grew up in Chicago and spent seven years in the Coast Guard, a stint that included time in Mississippi, New York and California. Back in the Bay Area, he started hanging out with Mahal, Joe Louis Walker, Roy "Chops Not Chaps" Rogers and John Hammond Jr. The rest, as they say, is history.
Most of "Big Mama's Door" appears to have been recorded with two microphones, one for Hart's vocals, the other on his guitar -- sometimes a 12-string, usually a six-string -- National steel guitar, lap steel guitar or banjo.
Hart's influences include the grousings of Robert Johnson and Son House and Leadbelly's storytelling. "Big Mama's Door" is dedicated to Brownie McGhee, and Hart's "Rest Your Saddle" to Bukka White.
Fortunately, Hart is blessed with a strong voice that, while necessarily raw, remains listenable.
Best of all, he's not afraid to take chances. He does a killer version of Charlie Patton's (and Son House's) "Pony Blues." He even tackles an update of Led Zeppelin's ancient "Gallows Pole."
Half of the 14 songs are Hart originals. Two are instrumentals. No clunkers.
-- Dave Ranney
---
Big Jack Johnson & the Oilers
We Got to Stop This Killing
MC 0033
---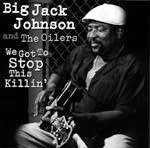 Rockin' the blues Clarksdale style. Taking the jagged-edged, rough-and-tumble country blues of the Delta and electrifying it through a generator badly in need of new bearings. It's loud, and it's churning and shaking the corrugated tin off the juke. But everybody's sweatin' and drinkin' and way past carin'. Big Jack is in a deep groove, and right now there ain't nothing else in the world that matters.
Big Jack Johnson has built a cult following on the strength of several powerful Earwig recordings and electrifying festival appearances. The big man also flashes one of the most endearing smiles in the business. After a musical career that spans back to stints with Robert Nighthawk and Sonny Boy II, Big Jack is proving he deserves to take his place among the very best Delta bluesmen. He's taken the music of his progenitors and planted it squarely in the '90s with uncompromising intensity and a highly individual approach. Nobody else does it like Big Jack Johnson.
Listen to the way he boogies through "No Good Cow," growling his angry lyrics while building an excruciating tension with his rhythmic chording. Then he kicks into the funked up instrumental "Cracklin' Bread," and his guitar spits and crackles like a downed, high-voltage line.
"Sweet Home Mississippi" starts in the traditional style of its namesake but takes a sharp turn into a raucous solo while the rhythm section doggedly keeps up its chainsaw attack. Baby, this ain't no wine sippin' music; this is the soundtrack to three-yards-and-a-cloud-of-dust football. Jack's guitar on the slow blues "Black Rooster" is the fiercest and rawest this side of Otis Rush on his good nights.
While the title track suggests a set of socially conscious songs, and though all of the songs were penned by Johnson, the explicit messages end there. For the first time in many years, Jack's bandmates do not include fellow Mississippians Sam Carr and Frank Frost. This is Jack Johnson's musical vision through and through.
We Got to Stop This Killing is no-nonsense, belly-rubbing, play-it-till-the-sun-comes-up, Saturday night music, down home blues for the new millennium.
-- Jack Oudiz
---
Joe Guitar Hughes

Texas Guitar Slinger
Bullseye Blues 9568
---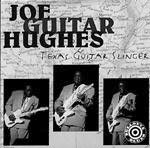 Like so many Texas guitar players, Joe Hughes grew up in and around Duke Records. He spent many years toiling behind Grady Gaines and Bobby Bland, and the band and arrangements on Texas Guitar Slinger are reminiscent of Bland's. Many of the best songs feature five-piece horn sections that round out Hughes' music and contrast well with his Texas blues stylings. Hughes guitar playing has that biting, metallic, characteristic Texas sound; it must be a reflection of those wide open spaces.
Eleven of the twelve songs are originals, and they reveal a real attention to detail. The opener, "A Blues Song," starts with the horns, which give way to a guitar intro; the unusual bridge sports a catchy unison figure. The lyrics concern the difficulty of writing a blues song: "I've got everything I need for a blues song/Words just won't come to me/Thoughts of you, now baby/Keep on hurtin' me."
The title song is Hughes' tribute to his predecessors: He mentions Lightnin', Gatemouth and T-Bone -- as well as staking a claim to his place in the pantheon. "Texas and me and guitar makes three," he sings while making his ax sound like a pistol.
"Ouchee Baby," Hughes' signature line, is a 16-bar blues about seeing life from the other side, a sort of vegan blues. As he notes, "It ain't no fun when the rabbit got the gun." "Moving to the Country (blues jam)" sings the praises of fish fries and barbecue.
A number of songs just seem to be marking time. The instrumental "U Turn" doesn't go anywhere, and "Bystanders" just stands around watching. But for fans of honest Texas guitar playing, Hughes has plenty to say.
-- David Feld
---
B.B. King

How Blue Can You Get?
Classic Live Performances 1964 to 1994
MCA D2-11443
---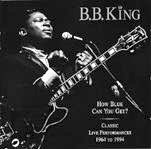 It's only been four years since MCA whiz Andy McKaie put together the definitive B.B. King collection -- The King of the Blues -- a superb, four-CD boxed set that traced King's recorded career from its beginnings (in 1949 on Bullet) on through his 1991 collaboration with Gary Moore.
What could he possibly do to top that, you ask? Check out this two-disc, 30-year compilation of King's live recordings culled from 13 different concerts. From 1964's Live at the Regal to an unreleased selection from a 1994 Mannheim performance, these 26 songs clock in at a healthy 2 hours and 47 minutes of King and his band in peak form.
On these versions of "Caldonia" and "Everyday I Have the Blues," I think King forces the tempo too much. But on the slow stuff -- look out! His six-minute "Don't Answer the Door" (from 1969's Alive and Well) is absolutely stunning. Equally fine are two relaxed items from 1966's unjustly overlooked Blues Is King, "Baby Get Lost" and "Gambler's Blues."
Of his later work, two solid entries come from a 1993 video featuring him at his Memphis club with Ruth Brown ("Ain't Nobody's Business") and Joe Louis Walker ("T-Bone Shuffle"). But throughout the two discs, there are his patented guitar licks, magnificent voice, spoken introductions and humble thanks, those riffing horns, the B-3 sizzling in the basement and the excited buzz from those present. Grab this one while you can.
-- Miles Jordan
---
Lacy Gibson
Switchy Titchy
Black Magic 9002
---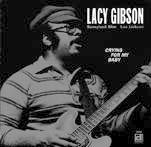 Lacy Gibson's Switchy Titchy is one of those compact discs that seemed unspectacular when it was first released on vinyl, but upon reissue proves to be a purer blues product than much of what initially overshadowed it.
This 1982 session features the Chicago guitarist backed by a compact combo that included pianist Sunnyland Slim and reedman Abb Locke. Gibson's guitar style is rhythmic and chord-oriented, with rather hinky lead breaks. Anyone fond of the sort of playing that influenced Rusty Zinn and Rick Holmstrom will find him of interest. His voice isn't extremely strong, but it has an appealing burnish.
Some cuts have a rock'n'roll zest to them, most notably "Somebody Somewhere," which is much in the style of Little Richard sans those trademark falsetto whoops. The opening "Take My Love" is similarly lively, with paint-peeling saxophone from Locke. The title track is too much on the cute side; better is "Easy Woman," low and slow, with appropriately mournful piano work from Sunnyland. Gibson's guitar break is jazzy, with a brief but tasty Wes Montgomery-type fillip in one of the choruses.
Gibson also does two instrumentals, one a positively perky take on a Bill Doggett oldie, "Quaker State." It's good, but downright killer is his version of "Lucky Lou," an obscure but influential Jody Williams item. Otis Rush copied it rather flagrantly on "All Your Love," and it additionally foretold everything that ever happened in the genre of surf guitar. Gibson does it up in masterful guitar noir style, backed by rumbling tom-toms, speaker-rattling bass and sax that sounds like ripping leather.
Sound quality is a bit bass-y, and the 36 minutes or so of playing time is a short count for those used to CD overkill. But all in all, it's good music from one of Chicago's seasoned sidemen in a rare role as bandleader. Liner notes by Dick Shurman are generous and informative.
-- Tim Schuller
---
L.V. Banks
Let Me Be Your Teddy Bear
Wolf 120.887
---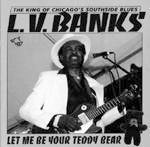 Mississippi-born L.V. Banks grew up singing Muddy Waters' songs while picking cotton and later played house parties in Indianola for his idol B.B. King. In 1965, Banks made the inevitable journey to Chicago, where he has remained one of the South Side's most prominent journeymen. It was King who encouraged the young Banks to take up the guitar to complement his fine voice, and his influence on Banks' use of both instruments is evident in the emphatic falsetto phrases and the snap of the single string solos.
Recorded in 1995, Let Me Be Your Teddy Bear features John Primer on guest solos as well as inspired performances by a group of in-the-pocket Chicago sidemen. There's nothing new or startling here -- some might even use the dreaded "d" word, derivative. On the other hand, Banks' impassioned voice and sense of swing and the band's driving rhythm provide as memorable a set of South Side blues as one could hope to hear on a visit to clubs like the Tam-Tam or the Checkerboard Lounge.
Banks authored all but two of the 11 tracks, and those exceptions were hits by two of Chicago's greatest, Howlin' Wolf ("Taildragger") and Muddy Waters ("I'm a Man"). Banks' rendition of the latter is a stunning update that does justice to the original and breathes new life into what is usually an overworked bad idea. Listen for Primer's barely-in-control slashing slide solo.
Allen Batts contributes some fine boogie-woogie piano, particularly on the rocker "She's Fine," and Charles Kimble adds some on-the-money sax solos to "That's the Way Our Love Goes" and "New Kind of Love." "Blue Guitar," a six-minutes-plus, guitar-led instrumental, is another highlight. Fear not: This is no ear-splitting "L.V. plays Jimi" but a soulful shuffle in the best Earl Hooker tradition.
It's about time that a musician with Banks' talent receives wider exposure and, thankfully, this recording catches him at his best.
-- Jack Oudiz
---
Paul Black and the Flip Kings

King Dollar
House of Blues 7001087009-2
---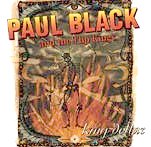 If you were turned off by all the hype surrounding the start of the House of Blues record label, get over it, because Paul Black and the Flip Kings -- one of the label's early signings -- are definitely worth hearing.
Black plays a herky-jerky brand of slide guitar and sings like he's got a mouthful of marbles, while cohort Andy Linderman's harmonica sounds like Little Walter sitting in with Slim Harpo. They're backed by Brian "Chance" Howard on heavy-on-the-snare drums and John Tubb's steady bass.
Though unrecorded and unheralded until now, Black has been around. He spent four years on the South Louisiana lounge circuit with then-undiscovered slide whiz Sonny Landreth, followed by stints in Austin, Texas, and, later, San Francisco, where he recorded jingles with Mike Bloomfield. Now he's back home in Madison, Wisconsin, a city that's produced Steve Miller, Boz Scaggs and Tracy Nelson.
Black and the Flip Kings are unique: They're electric and they rock, but they're not overpowering. They have a Delta-swamp edge, but they use a lot of percussion. They don't sound like anyone else. Totally captivating.
The secret lies in the material. Black is a delightfully quirky songwriter, coming up with lines like "When I'd come home, she'd be waiting on the back porch/With a rolling pin or a pitchfork ... fixin' for a fight," or, while singing about a cross-eyed acquaintance: "(She) make me jump and shout/shakes the wise man in me, makes the fool run out."
They're also masters at taking old chestnuts like the Rolling Stones' "Factory Girl" and "The Last Time" and reworking them in ways that are catchy but barely familiar. They do the same with three Robert Johnson obscurities, "Malted Milk," "Honeymoon Blues" and "Dead Shrimp Blues."
Their remake of Pat Hare's "Murder My Baby" is downright terrifying.
The folks at House of Blues hit the mark on this one.
-- Dave Ranney
---
Sonny Rhodes

Out of Control
Kingsnake 031
---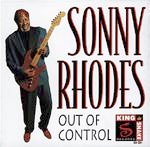 Check out the picture of Sonny Rhodes on the front cover; he's one snappy dresser who looks like he's in total control. Love that turban with matching red patent leather shoes and kerchief! The music inside is as classy and eloquent as Mr. Rhodes himself, a bluesman in control of all variations of blues beats, along with the unique lap steel guitar as an instrumental voice to accompany his own gruff, hoarse and knowing vocalizing.
The lap steel works especially well on the title track, a song bemoaning a society corrupted by family abuse and drugs. Rhodes gets off some appropriately chaotic and screaming leads. He waxes eloquent with a sweeping, sustained sound on his duet with guest star Kenny Neal on "Drink Muddy Water," with a great vocal to boot. The lap steel is also effective on Rhodes' tale of a survivor who comes back from the edge of self-destruction, "Waggin' My Tail," the guitar like a lifeline in Rhodes' hands.
Rhodes' vocals are in fine form, backed by a steady band featuring bassist Bob Greenlee, who produced and co-wrote most of the album. There's a certain Stax-like vibe to the proceedings. Though recorded in Florida, it's released by a Memphis-based label, so that makes sense. The title track features a funky Memphis groove powered by a driving horn section, and "Lifetime Thing" has a double-stop lead riff courtesy of Steve Cropper that is vintage MGs. Out of Control is a solid effort carried by Rhodes' singing and lap steel. Good work.
-- Jon Martinez
---
Jimmy Rip

Way Past Blue
House of Blues 70042
---

The big question here is: Can a New York session guitarist go back and discover his blues roots without faking it? Rip has played with alternative-punk legend Tom Verlaine, soul innovators Kid Creole and the Coconuts and Mick Jagger, one of the biggest blues dilettantes ever.
But Rip delivers a unique fusion of rock and blues, recalling the simple raunchiness of his blues idols and updating that sound with a modern studio-rock approach. Way Past Blue runs an impressive gamut of styles -- dance tunes, moody atmospheres, crunching and grinding guitar freakouts -- sewn together with quick segues and a cacophony of guitars swirling in and out of the mix. Being the studio ace he is, Rip would be expected to use lots of overdubs, but none of them seem extraneous.
Great care is spent on dynamics and textures. The first cut, "It's Going Round," starts with a distant, chain-gang yell from Rip, and then the calm is shattered when the whole band comes crashing down with a huge groove, which recedes midway for another guitar vocal section before coming back for the big finish. "Snake Eyes" is Fred McDowell via the Rolling Stones' "You Gotta Move"-groove, with that funereal bass drum, Carey Bell wailing away on harp and dubbed-in "scratchy-record" sound for ambience.
On "Detroit Jewel," Rip plays all the instruments to back up a great woman-as-burning-store metaphor with a great blues grind. "Walk" uses multi-tracked guitars to evoke a Zeppelinesque, levee-breaking mood. "Mojo" is stripped down to percussion ensemble, skeletal rhythm guitar and ghostly backing vocals courtesy the "Marie Laveau Memorial Choir" to create a real voodoo vibe, while "Insanity Please" is a straight-ahead duet with Mr. Jagger, with harp from Larry "Big House" David and a particularly frenzied Rip guitar solo. All the bases seem well-covered.
Rip plays mean guitar and has a surprisingly good voice, although he uses lots of distortion on most of his vocals, ala Tom Waits, which may be annoying to some. All in all, though, Way Past Blue is an interesting update of the blues tradition. It's dense, big, noisy and nasty and quiet and subtle. Give it a spin or three.
-- Jon Martinez
---

[ Next Page of CD Reviews ]

[ Back to Main Review Page ]

---
This page and all contents are © 1996 by Blues Access, Boulder, CO, USA.