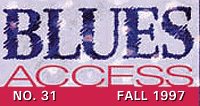 ---

Remembrances of things past: Catfish Whitey and I each had the opportunity to return to our roots this summer, with results both reminiscent and revelatory. Our trip to the Kansas City Blues and Jazz Festival gave the Catfish -- who was orphaned in the late '50s when a tornado hit his family's home -- a chance to revisit some poignant sites with old friends. Together we went to the famous Arthur Bryant's Barbeque, a place where many years ago the ever-suave Catfish brought his life-partner-to-be on a date. He hoped to impress her with this earthy establishment of carnivorous cuisine ... totally spacing out the fact that she was a vegetarian.
He also took us to the area around 18th and Vine streets, the one-time epicenter of a vibrant Kansas City blues and jazz scene, currently undergoing a revitalization. And he was able to catch up with one of the true heroes of that scene, the great pianist and bandleader Jay McShann. You can read about that encounter in his own column.
My own trip down Remembrance Road brought me to Ye Olde Alma Mater of the '60s. There was a lot of deja voodoo as I spent a week at Common Ground while simultaneously viewing the ghosts of that turbulent time. (Outside one of the women's dorms I was struck with this thought: "Gee, that's the spot where I was rolling on the ground with Dee Greenlee five minutes before curfew." Who knows what we'd been imbibing that long-forgotten night.) For sure, the years had softened the edges of my memories of dormitory life. One look at the bare cinderblock-walled, linoleum-floored, un-air conditioned cell that was going to be my home for a while made me realize that I'd have to be a gregarious boy this week. I sure wasn't going to spend any more time than I had to here. That I did manage to survive and even thrive in this environment (both as an undergraduate and as a workshop faculty member) is the subtext of this issue's "Rooster Pickin's."
Nostalgia isn't necessarily limited to experiences that happened decades past. Was it really just a year ago that Leland and I drove through a spectacular electrical storm to catch William Clarke and Luther Allison at a pair of Denver clubs? (Hey, two national blues acts on the same night in Cowtown? This is a big deal.) Watching the riveting performances they put on, it was inconceivable that they would both be taken from us so soon. Too sadly true, though, that they joined the list of artists in what is the most personally painful section of an ongoing publication like this one. It's hard to fathom that since BLUES ACCESS began in 1990 we have chronicled the passing of Willie Dixon, Albert King, Albert Collins, Champion Jack Dupree, Luther Tucker, John Campbell, Son Thomas, Shakey Jake, Big Twist, Andrew Odom, Johnny Shines, Sammy Lawhorn, Lafayette Leake, Louis Myers, Buddy Ace, Little Joe Blue, Sunnyland Slim, Wayne Bennett, Valerie Wellington, Johnny "Guitar" Watson and Johnny Heartsman, among so many others. (And just at press time we learned of the demise of the much-loved Annie Lockwood, wife of guitarist Robert Jr. Lockwood, on August 25, after a brief illness. Condolences may be sent to the Lockwood family at 7203 Lawnview Ave., Cleveland, OH 44103-3317.)
Still, the recent deaths of Johnny "Clyde" Copeland and Luther Allison seem to carry a special sting. Not only were they performing at career-high levels, they each possessed an engaging personality that further endeared them to so many blues fans.
While it's easy to despair when confronted with such a roster of what has been lost, we can take some hope from the newer artists who are beginning to emerge and claim a wider audience of their own. Chris Cain and Gary Primich are two such musicians, and we think their stories offer the promise of more great blues generations to come.
One more look back is in order, though, before we completely turn our thoughts to the future. This issue marks the fifth and final installment of Tom Ellis III's exhaustive (but never exhausting) assessment of the career of Paul Butterfield. Once again Tom has done yeoman's research in tracking down the people who really knew Butter and what was going on with him at the end of his life. That he has been able to combine such detail with strong writing makes for the kind of article that we hope keeps you coming back to these pages each issue.
How do I get my CDs reviewed: Most record labels and musicians have figured this one out, but it bears repeating for those that haven't. We do our best to get all the blues CDs we receive into the New Releases section of the magazine. To be eligible for a full review you must send us two copies of your disc. (We keep one copy on file here for the Rooster to possibly use on his radio show and send the other to a reviewer.) Space limitations obviously limit how many CDs actually get full reviews, but you won't even be considered unless you send those two copies.
-- Cary Wolfson
---
This page and all contents are &copy 1997 by Blues Access, Boulder, CO, USA.