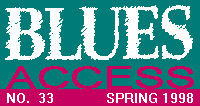 ---

Top of the Ninth: Do you ever have anxiety dreams? You know, like the one where you're walking into a final exam and it dawns on you that you've cut all the classes in this course and never read the book? (That was one of my favorites for years.) Eight years ago, when I started publishing BLUES ACCESS, my dread turned to "What if I don't come up with anything to put in the next issue?" This was hardly unfounded paranoia, since we had basically no staff, no stable of contributors and were dependent on what I could wheedle out of my friends or what showed up on the doorstep.
Somehow we always filled those issues (give or take a nervous breakdown or two) and they continued to get fatter. We even found a way to pay our writers a meager buck or two, as well. All the while, we've stuck to our personal vision of the blues and feel like we've earned the right to call ourselves "The Distinctive Blues Magazine." We've also stuck to our own way of doing business -- old counter-culture types that we are. Whatever your image of how an international magazine is run, this ain't it. I've always placed a high value on my personal freedom and rankled at the strait-jacketing that invariably seemed to accompany other jobs I've held. So my management style is pretty basic: "You know what you're supposed to do. Just do it. And let's have some fun and be creative while we're at it." That attitude is probably one of the reasons that none of us is getting rich at this, but making lots of money is no guarantee of happiness either, is it? (Not that I'd know from personal experience, of course.)
Maybe it's because of all the above -- it couldn't just be serendipity -- that like-minded contributors seem to constellate to us just when we need them. In most cases we couldn't expect better even if we had Rolling Stone's budget.
Take our cover story for an example. I've admired Stanley Booth's writing ever since I read an excerpt from his book Rythm Oil many years ago, and more recently, Keith: Standing in the Shadows, a biography of Keith Richards. We'd been sending him comp copies of the magazine for years because he was on some media list or other and I recognized his name. One day he got in touch with Leland, saying, in effect, "I've appreciated all the free copies, but how come you guys have never asked me to write something for you?" (To his credit, Leland didn't respond, "Because we're a couple of barely organized ex-hippies.")
It didn't take much prodding to go along with Stanley's desire to interview Mose Allison. There is a whole group of people who became aware of Mose when the Who covered his "Young Man Blues." But even when The Who Live at Leeds came out 28 years ago Mose Allison was a well-established musician, albeit one who was difficult to stick a handle on. As a pianist, his chops were those of an impressive jazz player, but his overall style was that of a wry and laid-back bluesman. Just check Atlantic's Best of Mose Allison: The song list includes two Willie Dixon songs and Muddy's "Rolling Stone," along with Mose's own "New Parchman" -- a reworking of his "Parchman Farm," a subject that's about as Delta as they come.
Exciting photographs are something we've been pleased to feature more of in recent years. For the most part, we have relied on photographers whose eyes have been trained on the contemporary blues landscape. When a message from veteran lensman Raeburn Flerlage popped into our email in-basket, we were quick to take notice. Rae had several ideas for thematic photo spreads (some of which you're certain to be seeing in future issues). One of them was a set that focused on the interaction between the artist and the audience. When we saw the prints we were bowled over: These were not just technically excellent shots, but images that were soulfully evocative of the special moments that they captured. It wasn't feasible to present them all ... but you need only take a look at these early-'60s shots of B.B. King, Bobby "Blue" Bland and, especially, Jackie Wilson -- exuding that kind of magnetism that shouldn't be able to show up on film, but does here -- to know that Mr. Flerlage is on to something. (To purchase prints, contact him at 2231 East 67th St. #13-C, Chicago, IL 60649-1206.)
Also new to our masthead, but ready to weigh in on a regular basis are Twist Turner and Bill Kisliuk. Twist has played drums -- both on record and in performance -- with a slew of Chicago artists. I first became aware of his talent as a story-teller from his pithy posts to the Blues-L newsgroup. Kisliuk takes over the Homebrew column from another denizen of the Bay Area, Joseph Jordan, who spent a year-and-a-half sifting through stacks of self-produced CDs for us, a job that takes its toll on a person. Bill is a legal reporter and editor in San Francisco who has written about blues for Jazz Now, the San Francisco Chronicle, BAM and other publications.
Finally, we want to acknowledge a couple of the most respected non-musicians in the blues who took on the unenviable task of writing moving personal tributes to dear and recently departed friends. Thank you, Mary Katherine Aldin (Robert Palmer) and Dick Waterman (Junior Wells).
-- Cary Wolfson
---
This page and all contents are &copy 1998 by Blues Access, Boulder, CO, USA.