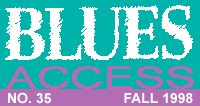 The Kids Are Alright
A New Generation in Search of Respect
by Bryan Powell







Jonny Lang

The sell-out crowd at the outdoor amphitheater at Chastain Park in Atlanta has just been treated to 75 minutes of dare-you-not-to-dance, butt-rockiní blues and R&B from Jimmie Vaughan and his Tilt-A-Whirl Band. Despite the disruption of late arrivals, who filed in through most of the set, and the picnic-dinner ambiance ("I see a lot of roasted chicken out there," Vaughan jokes to the crowd), Vaughan & Co. win over the audience as the summer sun slips behind the horizon.

After a brief intermission, 17-year-old Jonny Lang and his four band members take the stage. Lang is wearing a white T-shirt (inside out!); blue print bell-bottom pants; brown suede tennis shoes; two leather strap necklaces, one with wooden beads, one with a metal pendant; a silver chain on his right wrist and a black oversized sports watch on his left. His blonde hair is shorn close on the sides and teased up on top, soft, loose and spiky. Rail-thin, he has the look of a lean blonde rooster, ready to crow. His hands and feet seem a bit too big for the rest of him, suggesting that heíll be a larger man by the time he grows into them. He looks every bit of 17 years old, a teenager among a band of men.

The band launches into the first song. Cocked at the waist and ready to wail, Lang props one foot on the base of the mike stand, leans in and grabs the mike and sings the first verses of the song. He sounds 17, too, singing with a stylized blues growl.

At his first solo guitar break, and without a momentís hesitation, Lang rips into his Fender Telecaster, unleashing one blistering verse after another of fluent blues guitar licks. His head bobs wildly and he grimaces through his solos, as if the guitar were sending a steady, shocking electrical current through his body.

For anyone who thought Lang was a pretender, a youthful, pretty face carefully sculpted by a major record label to fill the Stevie Ray Vaughan blues-rock guitar niche, this is a moment of truth. Itís time to shut up and face the music. The Kid is for real, and boy, can he play. The exuberance, abandon and energy of youth color his approach, but Jonny Lang plays man-sized electric guitar, even if itís not all blues in the strict sense.

For the next hour and 25 minutes, Lang leads his band through songs from his first album, Lie to Me, as well as new tunes from the upcoming Wander This World, set for October release. The crowd loves every minute of it, from the mania of the Tinsley Ellisí minor blues, "Quitters Never Win," to the swinging "Rack íEm Up" to Sonny Boy Williamsonís "Good Morning Little Schoolgirl" to the funky, unrecorded "I Am" (his next hit?) to the encore cover of Jimi Hendrixís "Spanish Castle Magic."

Lang is a phenomenon. Lie to Me, released in January 1997, debuted at No. 1 on Billboardís New Artist chart, and recently went platinum, indicating sales of more than one million copies. Lang has toured with B.B. King, Buddy Guy, Aerosmith and the Rolling Stones. Newsweek included him in its "Century Club" last year, a list of "100 people to watch" as America approaches the next millennium. His face has appeared in almost every entertainment, guitar (and teeny bopper) magazine imaginable.

Lang is but the most commercially auspicious of a new generation of musicians from whom blues is a principal stylistic influence.
| | |
| --- | --- |
| Kenny Wayne Shepherd's Trouble Is Ö, released last fall on the heels of 1995's Ledbetter Heights, was recently certified gold (500,000 copies sold). Shepherd, who turned 21 this summer, has shared bills this year with Van Halen and Bob Dylan, among others. | Kenny Wayne Shepherd |
| | |
| --- | --- |
| Shemekia Copland | Shemekia Copeland, 19-year-old daughter of the late R&B/bluesman Johnny Clyde Copeland, hit the road for the first time this summer in support of her Alligator debut, Turn the Heat Up, wowing festival and club crowds from Chicago to New York. |
| | |
| --- | --- |
| "Monster" Mike Welch, from Massachusetts, celebrated his 19th birthday this summer with the release of his third Tone-Cool disc, Catch Me. | Monster Mike Welch |
| | |
| --- | --- |
| Josh Smith | Florida-based Josh Smith, 18, recently released his third indie CD, Too Damn Cold, produced by Jim Gaines. |
| | |
| --- | --- |
| Susan Tedeschi, at age 27 practically an elder stateswoman of this crop of new talent, is out in support of her convincing debut, Just Wonít Burn. | Susan Tedeschi |
Who are these youngsters? Where did they come from? A recent Associated Press review said "up-and-coming musicians" as Lang, Shepherd and Smith represent "the future of the blues," an assertion that leaves some traditionalists more than a little queasy. Is it true? Or do they, as some critics counter, lack the authenticity and experience to perform this music?
And isnít something amiss when Lang and Shepherd, via major label support, already have reached the kinds of commercial heights that their musical heroes ó Albert Collins, Albert King or even B.B. King ó could only dream of?
In one respect, thatís inevitable; it has been that way from the moment Elvis waxed "Thatís Alright, Mama." It took the Stones and the Beatles and Cream ó British bands with blues roots that evolved into something else ó to popularize Howliní Wolf, Robert Johnson, Jimmy Reed and Albert King in their own land. It isnít right, but it appears to be only way mainstream America can come to terms with this music.
That point doesnít settle well with Lang. "Itís unfair, in a way, to a lot of people, like B.B., for instance," Lang says, in a backstage interview before the show. "B.B. plays 260 shows a year and has been doing it forever. Heís the best, you know? Or one of the best. Why canít he sell a million albums every time? Thatís just unthinkable."
From the wings, Lang watched Jimmie Vaughanís opening set with a mixture of awe and pure pleasure, his hands spontaneously bending into air-guitar playing position as he took in Vaughanís masterful, economical style. ("Even though weíre co-billed on this show, I donít feel right about Jimmie Vaughan playing first," he tells me. "Itís just wrong.")
Langís success has been part of a larger movement in which blues has achieved unprecedented mainstream recognition and acceptance. It may not be the brand of blues that purists cherish, but face it, the music is everywhere, from VH-1 to beer commercials to mainstream rockíníroll radio to countless music festivals and neighborhood barbecue joints.
Much of that is attributable to the phenomenal impact in the 1980s of Stevie Ray Vaughan. Vaughan introduced countless new listeners to the blues, many of them kids whose fathers went out and bought them Stratocasters, whereupon they began imitating SRV and his influences, including Albert King, Buddy Guy and others.
Mike Welch has seen that impact in mainstream media coverage, which links Welch, inaccurately, to Vaughanís influence. "The real people who listen to real radio, theyíve heard of B.B. King, but theyíve heard Stevie Ray Vaughan. So when I get press outside the blues public, thatís the first point of comparison. Itís interesting to see how one person can become so pervasive and sort of permeate the entire culture."
While Vaughanís inspirational playing launched a thousand hopeful careers, his tragic death in August 1990 also left a commercial void in the music industry. He showed record companies that blues-based music could sell. No doubt companies were anxious to crown SRVís successor, one who was versatile enough and rocked enough to appeal to mainstream buyers.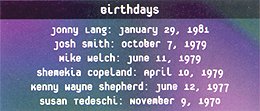 At the heart of such mainstream appeal is youth. Ask yourself this: Is Leonardo DiCaprio a better actor than, say, Robert Duvall? Do moviegoers care? Lang and Shepherd are young DiCaprioís blues equivalents: Each, while clearly talented, is young, blond and pretty enough to offer genuine sales potential.
Lang takes his music seriously enough that he doesnít want to be perceived that way. Look for a different, more honest marketing spin on the second album, he says. "In the past Iíve done all those teen magazines and crap. I think this next go-round and for the time to come Iím going to try to stay as real as I can. Thereís a good rhyme: ĎBe real, donít appeal.í I think I want to do my thing and not cheat, you know what I mean?"
Purists may find it easy to dismiss or even resent Lang on these terms, just as some might see Kenny Wayne Shepherd and Josh Smith as mere SRV stylists. They might deem Welch and Susan Tedeschi, whose influences range to the Beatles and Bob Marley, respectively (with a shared love of Aretha Franklin), as too diverse to be considered blues artists. They might say Shemekia Copeland, despite her blues pedigree, lacks the mileage to bring meaning to the music sheís singing.
Such dismissals, though, are shortsighted and ultimately unfair. Put Lang on your disc player, cue up the minor-keyed "Darker Side" or the bouncy "Matchbox," (or better yet, hear him live), close your eyes and pretend heís a neighborhood kid youíve just discovered. What would you think then? Now try Smithís jazzy, swinging "Packing Her Bags," Tedeschiís plaintive "Looking For Answers" or Copelandís joyful "My Kind of Guy." You just might be persuaded.
Like them or not, Lang and Shepherd, like Stevie Ray Vaughan before them, will open the door through which hundreds of thousands, if not millions, of record buyers will discover the blues. Some of them will subsequently purchase the latest B.B. King, Albert Collins or Jimmie Vaughan release.
As for the new generation of artists profiled here, they ask only to be heard and to be judged on their own merits, not just as young artists, and maybe not exclusively as blues artists, but simply as musicians who are true to their influences. Each is growing up before our eyes, artistically (and in some cases literally), and their music is likely to change over time. Still, each, to a person, is sincere, committed and serious about their brand of blues. Theyíd like you to give them a listen.
---
This is an abridged version of The Kids Are Alright. For the complete article,
get the hard-copy version of BLUES ACCESS.
---
&copy 1998 by Blues Access